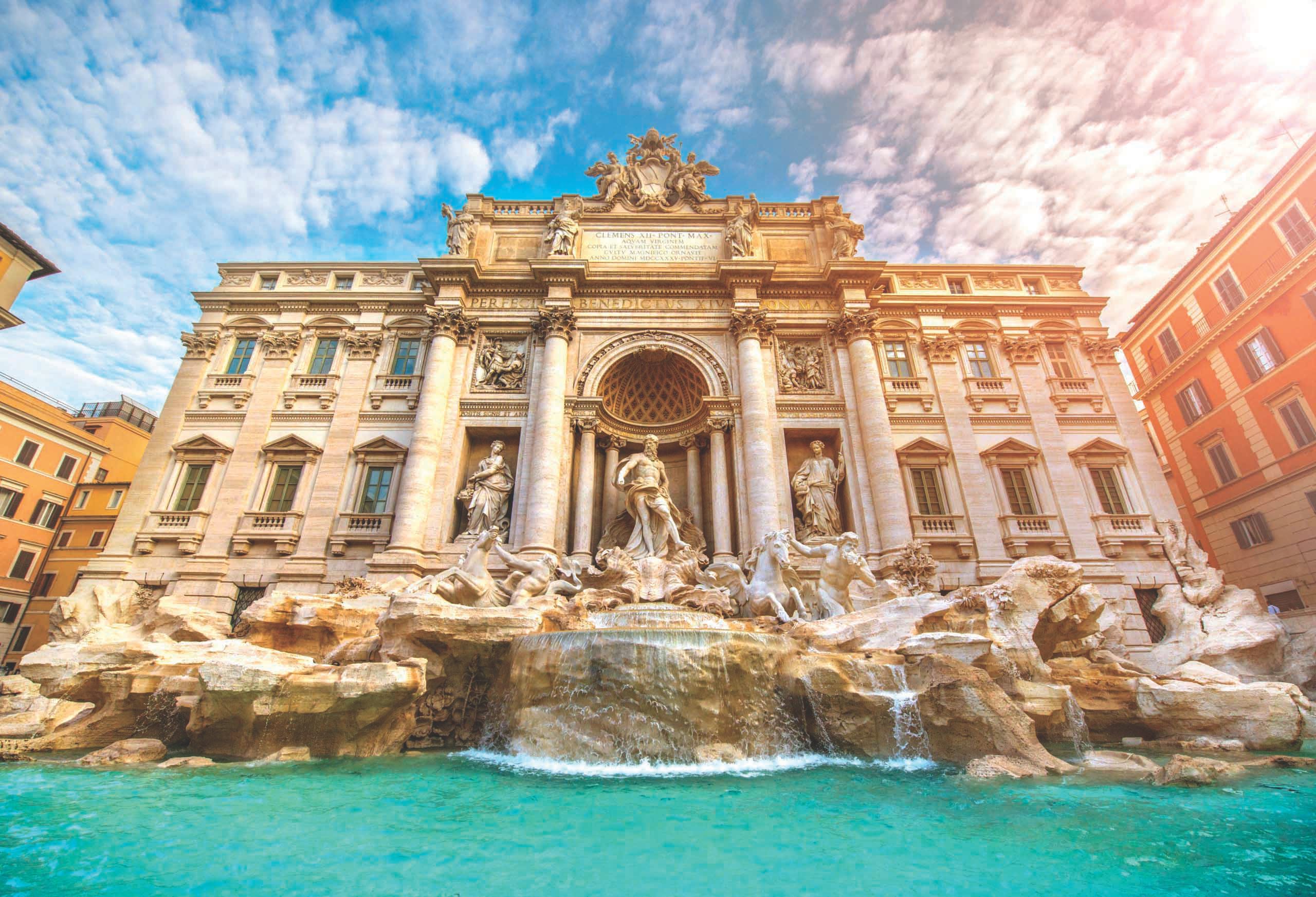 Italy is a strategic partner for Mexico and the economic-commercial relations between them have been greatly improved during the last 10 years. According to the Ministry of the Economy, approximately 1,600 Italian companies have presence in Mexico, among which are 150 factories and production establishments. Italian companies have presence in every main sector: energy, automotive, pharmaceutical, food, mechanical, footwear, to mention a few.
In recent years, Italy has positioned itself among the main foreign investors within Mexico. This thanks to the simultaneous actions of large Italian groups such as: PIRELLI (in 2016 invested US$200 million in Mexico for a new plant in Silao, raising to over US$600 million its investments since 2012), TECHINT / TENARIS-TERNIUM, FIAT-CHRYSLER, ENEL GREEN POWER and FERRERO.
Some other of the main Italian companies investing in Mexico are Brembo, Barilla, La Perla and Hermenegildo Zegna. There are also Armani, Assicurazioni Generali, Finmeccanica-Agusta-Westland, and Calzedonia. Add to the list Danieli, Fata, Ferragamo, Luxottica, Max Mara, Maccaferri, Metecno, Merloni, Saipem and Urbanatti with an important presence in Mexican territory.
Recently, seven years after arriving at Guanajuato, Pirelli reached a production figure of 20 million tires; this factory stands out for its productivity and human talent. Due to its productivity and the type of tires they manufacture for the Premium car market, the Pirelli plant located in Guanajuato Puerto Interior stands out as the third most important of the Italian group.
Currently, the company generates around 70 million tires at its 19 factories, from which of 6 million are produced in Mexico, being surpassed only by their sister plants located in Romania and Brazil. Marco Crola, CEO of Pirelli NAFTA, stated that the Guanajuato Plant stands out for high-level manufacture of tires and for rolling its products in more than 40 countries on four continents.
"This plant stands out for its productivity. It supplies large assemblers throughout the world, which allows for significant growth in our industry, turning the Silao plant into our third one most productive in the company," he said. "It is an important moment for the group because this translates into our effort to continue to strengthen Pirelli's presence in the world and reaching this volume of production is proof of the constant training and commitment that our associates have to keep growing," said Marco Crola, CEO of Pirelli NAFTA.
With its two plants in Silao, Pirelli México produces more than 500,000 tires per month, and they want to increase to over one million tires per year.
For its part, in 2016, Italian brakes manufacturer Brembo inaugurated its US$36 million aluminum calipers plant in Mexico and recently announced the construction of a new foundry, located "next door" which will produce cast iron discs for American, European and Asian original equipment manufacturers that have manufacturing facilities located in Mexico.
Brembo is a world leader in the design, development and production of braking systems and components for cars, motorbikes, industrial vehicles and machinery, for the OE market, after-market and racing. Brembo's plant is located in Escobedo, in the northern state of Nuevo Leon, and is one of the company's most modern and cutting edge facilities.
It features state-of the-art manufacturing processes that combine high efficiency with the latest technically integrated solutions. Eni has been present in Mexico since 2006 with a representative office and the creation of its wholly owned subsidiary Eni México in late 2015.
The oil company Eni started producing crude oil in Mexico in early July of this year. This is located in the Miston Area 1 in the shallow waters of Campeche. Production at Miston has a 34 meter water depth and will start
with a production of 15,000 barrels of oil per day. During its peak production, the company aims to reach 100,000 barrels of crude oil equivalent daily by 2021. "The development plan for Area 1 also includes two additional rigs in the Amoca field and in Teocalli," the company detailed.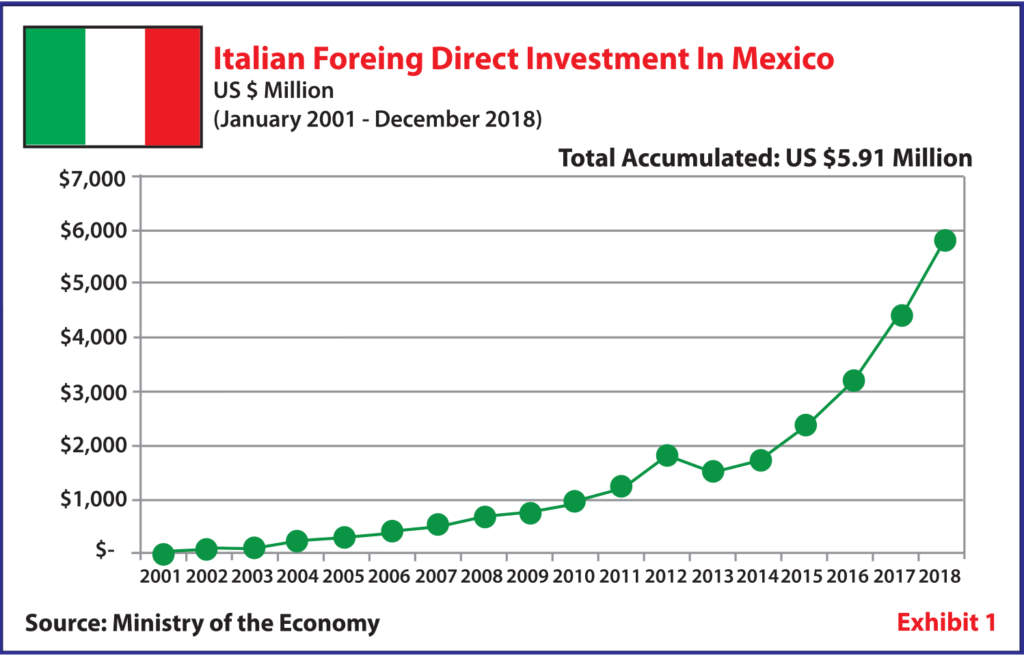 "We have achieved a start of production in less than two and a half years after Eni started its first well in Area 1 and in less than a year since the approval of the Development Plan. This is in line with the expectations of the Mexican government to increase the country's overall production. Eni
is the first international company to begin offshore production in Mexico after the Energy Reform," said Eni's CEO, Claudio Descalzi, in a statement.
Enel is the largest renewable energy operator in Mexico in terms of installed capacity. Last year, the Magdalena II solar photovoltaic plant was inaugurated, built by the company Enel Green Power, in the State of Tlaxcala.
The 220 megawatt (MW) plant, which involved an investment of US$165 million, incorporates several technological innovations, starting with more than half a million bifacial panels, which increase the generation capacity of each module by 12% to 15%, according to Paolo Romanacci, CEO of Enel Green Power in Mexico.
All electricity production, amounting to 640 Gigawatts per year, will be sold to private buyers in the wholesale electricity market. "La central", whose construction created 900 jobs, of which 95% were for people from local communities, opened the same day that Enel Green Power obtained the AAA rating, thanks to the fact of being a company that invests almost exclusively in renewable energy globally, Romanacci said.
At a press conference, Romanacci commented that Enel expects a clearer definition of renewables from the federal Government: "The conditions are created to keep investing." He acknowledged that Enel is defending itself in legal matters against the new guidelines for clean energy certificates, CEL. The renewable energy price range is cheaper than that of the most efficient gas combined cycle, he added, and CELs are a fundamental piece to fulfill Mexico's commitments in the Paris Agreement.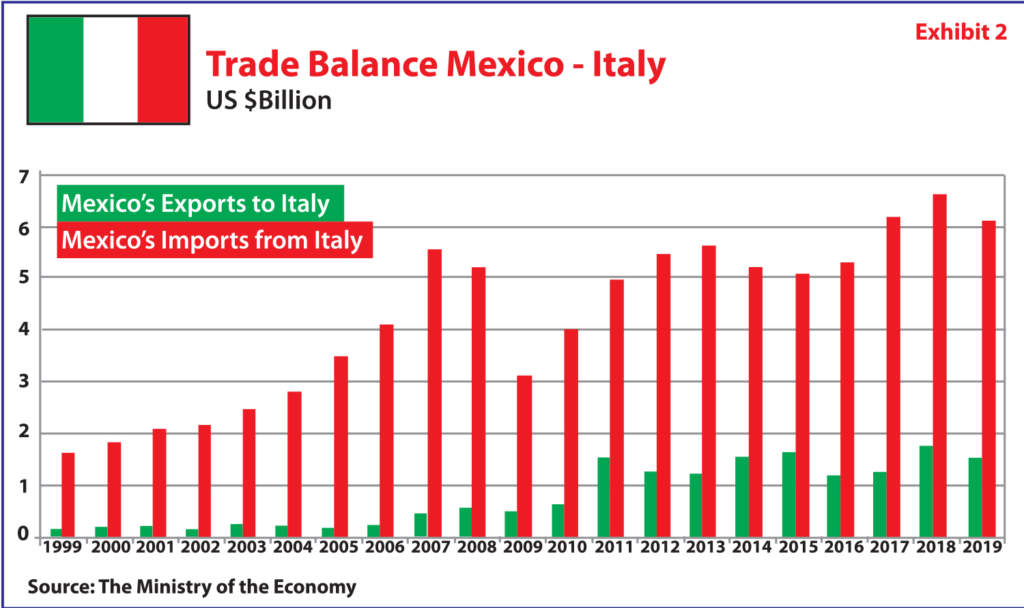 "Renewables are unstoppable, despite the regulatory context," he emphasized. The operation of the Magdalena II plant avoids the emission of about 350,000 tons of CO2 into the atmosphere annually. Luigi di Chiara, Ambassador of Italy to Mexico, affirmed that Enel is a futuristic example of development at the global level and of the fight against climate change.
Regarding direct investments of Italy in Mexico, the companies with Italian participation in our country have materialized investments for US$5.91 billion from January 2001 through the end of 2018, according to the Ministry of the Economy, as shown in Exhibit 1. Most of the investment has come after the year 2016, when the relationship became stronger after the structural reforms approved in Mexico, especially in the energy sector. Also the automotive sector has increased its investments from Italy in Mexico. The tendency seems to keep growing.
Exhibit 2 summarizes the Trade Balance between Mexico and Italy. It shows that commerce between the two countries reached its maximum level in the year 2018, with data recording US$8.39 billion, being an exceptional year regarding the bilateral commerce. The bilateral commerce has always been positive for Italy so far. Important factors in the trade balance between Mexico and Italy are important to explain, like the the fact that during the 19-year time span from January 2000 to December 2019, total exports from Mexico to Italy increased from US$22 million to US$1.55 billion. And at the same time, imports from Italy to Mexico also showed an even more impressive growth, going from US$1.85 billion (2000) to US$6.10 billion (2019).
Total commerce between the two countries and reciprocal action brought in US$7.64 billion during 2019 in trade between the two partners and another interesting detail is that in 2019 commerce stats decreased 8.90% over the data of 2018 (US$8.39 billion) which we previously mentioned was an exceptional year in the bilateral trade.