Aeromexico presents its B737 MAX 9 aircraft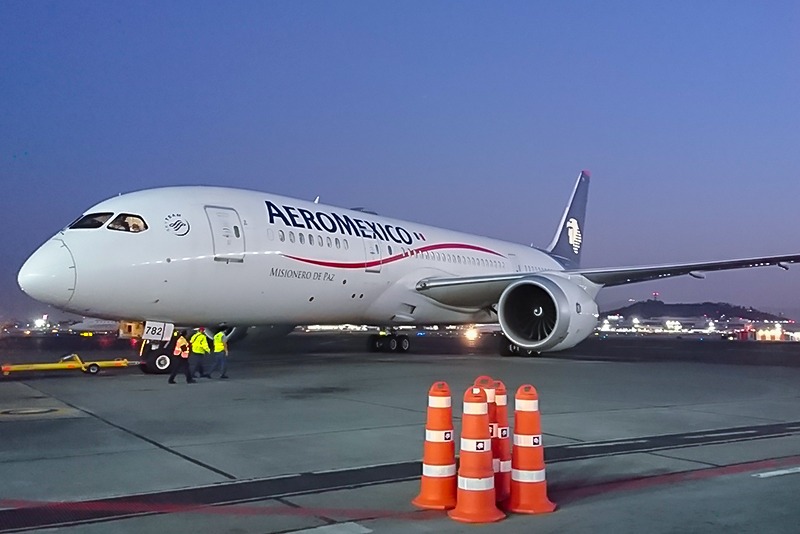 MEXICO – Grupo Aeromexico presented its newest aircraft, the Boeing 737 MAX 9, which already has five units in its fleet, some of which already operate domestic flights to destinations such as Cancun, Monterrey and Tijuana.
These aircraft are part of the airline's fleet renewal plan, in which the original order with Boeing was recently modified to 60 MAX units. The two companies approved a reduction from 54 aircraft to 24, and four Boeing 787 Dreamliners. These aircraft are expected to be delivered over the next two years.
Aeromexico's MAX 9s have 181 seats in a three-class configuration: Premier with 16 seats and 96-centimeter spacing; AM Plus with 18 seats and 84 centimeters between each seat; and 147 in Economy with 78.74 centimeters.
In addition, these new aircraft have Wi Fi connection, touch screens for entertainment and HEPA filters that completely clean the cabin air every five minutes, which helps the aircraft not to be a vector of Covid-19 contagion
Aeromexico's current fleet consists of a total of 118 aircraft, although this number will be reduced in the short term. Aeromexico has 18 Dreamliners, 33 Boeing 737-800s, five Boeing 737-700s, ten Boeing 737 MAX 8s, five Boeing 737 MAX 9s and 47 Embraer 190s.
However, Fernanda García Solís, senior maintenance engineer at Aeroméxico, said that several aircraft will be retired in the coming months, including five 737-700s and some Embraer 190s topping the list.
Source: A21