Aging Airplanes and Passenger High Demand Boost Global Commercial Aircraft Market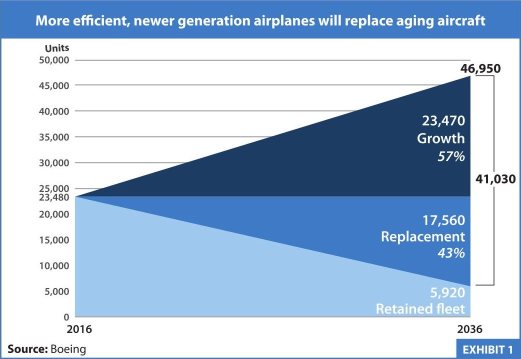 The global commercial aircraft market is in its longest super cycle–starting in 2003 and still going strong–propelled by multiple, favorable macroeconomic factors, such as low airfares and higher living standards with a growing middle class in emerging economies.
The Original Equipment Manufacturers (OEMs) have focused strongly on ramping up aircraft production rates to meet delivery schedules and to reap the rich harvest of a healthy and robust order backlog spearheaded by the narrow body aircraft segment. Aircraft deliveries by the industry this year are likely to reach a record high with all OEMs boosting production rate.
In the next 20 years, the market will need up to 41,030 new aircraft deliveries, worth US$6.1 trillion, to meet the global demand as well as to replace the old airplanes, according to Boeing's Current Market Outlook. A total of 57% of the new deliveries will cover the growth, while 43% will be to replace old airplanes. (EXHIBIT #1)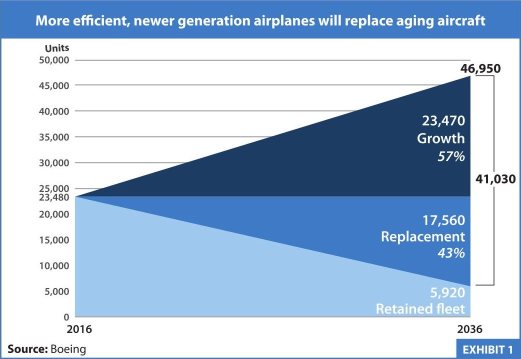 "Demand in the commercial market is forecast to more than double over the next two decades. To meet this demand, we forecast the number of jet airplanes will nearly double to almost 47,000, at an average annual growth rate of 3.3%. To support this fleet growth, Boeing forecasts a need for more than 41,000 new deliveries, valued at over US$6 trillion, for growth and replacement over the next 20 years," Boeing's Current Market Outlook shows.
The report says single-aisle airplanes command the largest share of new deliveries at more than 70%, with airlines needing more than 29,500 over the next 20 years. These new airplanes will continue to stimulate growth for low-cost carriers and will provide required replacements for older, less-efficient airplanes.
In addition, more than 9,100 new wide-body airplanes will be delivered, which will allow airlines to serve new markets—passenger and cargo—more efficiently than in the past.
Consistent with growth trends in air travel demand, Boeing forecasts that by 2036, approximately 40% of all new airplanes will be delivered to airlines based in the Asia region. An additional 40% will be delivered to airlines in Europe and North America combined, with the remaining 20% delivered to the Middle East, Latin America, Africa, and the Commonwealth Independent States (CIS).
Nowadays, 64% of the world jet fleet is single-aisle airplanes. Over the next 20 years, this share will increase to 69% or more than 32,000 passenger airplanes in 2036.
Boeing's report says many factors drive the robust global demand for new single-aisle airplanes. First, single-aisle airplanes are the backbone of the low-cost business model strategy that is growing around the world. In addition, strong replacement needs in more mature aviation markets and robust overall growth in emerging markets are driving increased demand for single-aisle airplanes.

Second, Asia Pacific, Europe, and North America are the three largest market regions for new single-aisle airplanes; they represent nearly 80% of all single-aisle demand. Low-cost carriers' expansion is anticipated to increase their fleet share in the single-aisle category from roughly one-quarter to one-third of the globe, representing approximately 11,000 single-aisle jets in the commercial fleet over the next 20 years.
On the other hand, Bombardier Commercial Aircraft forecasts 12,550 deliveries in the 60- to 150-seat segment in the next two decades. The total market is valued at US$820 billion. Revenue from large regional aircraft is forecast at US$240 billion with 5,750 deliveries globally.
Bombardier uses retirement modeling by seat segment to determine the replacement demand for the forecast. Around 75% of the current global fleet in the 60- to 150-seat segment will retire by 2036. (EXHIBIT #2)
The small single-aisle segment will be the key driver for the retirements with approximately 86% of the fleet to retire. Since the large regional aircraft segment is comparatively younger, around 64% of the fleet will be replaced. However, over 2,000 aircraft from the lower seat segment will be retiring by 2036 and will require replacement. This could have a ripple effect in all the other seat segments.

Furthermore, Airbus forecasts the need for 34,166 passenger aircraft–worth US$5.1 trillion–in the next 20 years. Asia Pacific has the highest demand for new airplanes, comprising 42% of the global demand. (EXHIBIT 3)
Airbus Global Market Forecast shows 40% of passenger aircraft demand needed for replacement while the remainder 60% will be used to meet the growing demand.
Commercial aviation is a dynamic industry that continuously adapts to various market forces. Worldwide air travel has grown at a historically brisk pace. Year-over-year passenger travel growth for the past five years has averaged 6.2%.
Low air fares, higher living standards with a growing middle class in large emerging markets, and the growth of tourism and travel relative to total consumer spending in major economies are all driving strength in the demand for air travel.
In 2017, airlines earned a record US$38 billion, according to the International Air Transport Association (IATA).
"Solid profitability is holding up in 2018, despite rising costs. The industry's financial foundations are strong with a nine-year run in the black that began in 2010. And the return on invested capital will exceed the cost of capital for a fourth consecutive year. At long last, normal profits are becoming normal for airlines. This enables airlines to fund growth, expand employment, strengthen balance sheets and reward our investors," said Alexandre de Juniac, IATA's Director General and CEO.

This year, the return on invested capital is expected to be 8.5%, down from 9% in 2017. This still exceeds the average cost of capital, which has risen to 7.7% on higher bond yields. The IATA says this is critical for attracting the substantial capital needed by the industry to expand its fleet and services.
Passenger air travel is forecast to expand by seven percent in 2018. This is slower than the 8.1% growth recorded for 2017, but still faster than the 20-year average, of 5.5%, for the sixth consecutive year. Demand is getting a boost from stronger economic growth and the stimulus from new city-pair direct services.
Capacity is expected to grow by 6.7%, while the total passenger numbers are expected to rise to 4.36 billion. This will be the first year for strengthening yields since 2011, driven upwards by the 5.2% rise in unit costs.
The IATA shows growing uncertainty in the direction by which global affairs will evolve could present risks to the industry's outlook. These include the advancement of political forces pushing a protectionist agenda, uncertainty following the U.S. withdrawal from the Iran nuclear deal, lack of clarity on the impact of Brexit, numerous ongoing trade discussions and continuing geopolitical conflicts.
"Aviation spreads prosperity and enriches the human spirit. That truth lays the foundation for a very important message. The world is better off when borders are open to people and to trade. And our hard work as an industry has primed aviation to be an even stronger catalyst for an ever more inclusive globalization," said De Juniac.
Furthermore, the commercial aircraft industry is headed for further technological generation shift with electric propulsion technologies aimed at rapid reduction in CO2 emissions to meet regulatory guidelines while simultaneously bringing down operating costs significantly over long term.
Moreover, 2018 is going to be an important year for the industry with three new aircraft programs scheduled to enter service, led by Boeing's 737 MAX 9, Airbus A321 LR, and Embraer's E190-E2.
Going forward into 2018, rising crude oil prices and escalating workforce costs are likely to be the biggest challenges for legacy as well as low cost carriers to maintain profitability level in an overall favorable operating environment with the long-term demand drivers and fundamentals for commercial aviation remaining firmly in place with strong passenger traffic growth trend projected over the next 20 years.