Airbus inaugurates helicopter pilot school in Yucatan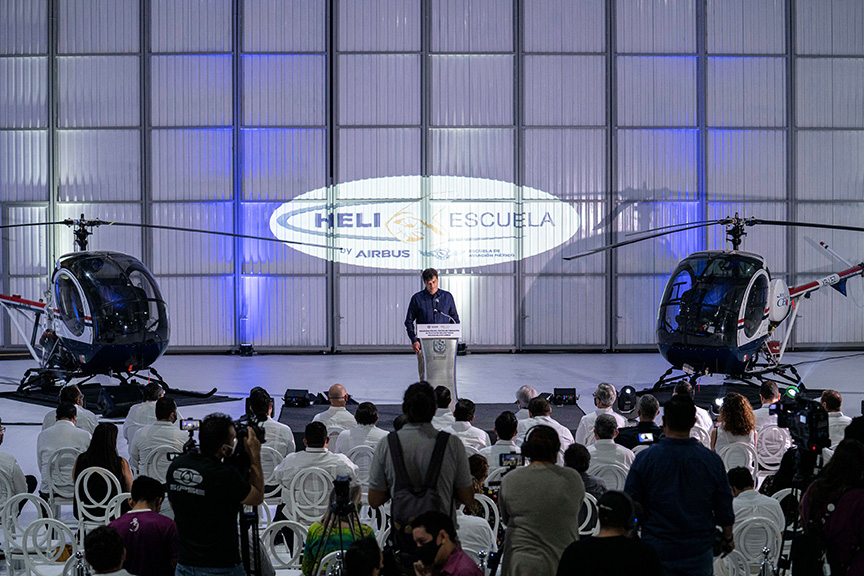 YUCATAN – Airbus, Escuela de Aviación Mexico (EAM) and the State of Yucatan have officially inaugurated Heliescuela, a new helicopter pilot school in said state.
The inauguration ceremony took place at Merida International Airport in the presence of Mauricio Vila Dosal, governor of the state of Yucatan; Alfredo Velazquez, managing director of Escuela de Aviacion Mexico; and Ricardo Capilla, CEO of Airbus Mexico.
Heliescuela Yucatan can train up to 12 commercial pilots during its first year of operation, with a capacity of 1,800 flight hours per year. After that, Heliescuela will increase its cadet training capacity to 18 pilots per year, with the option to further expand its training capacity based on industry and operator demand.
This new training center will offer several types of training, including Ab-Initio courses for new pilots, courses for current commercial pilots, fixed-wing to helicopter transition courses, among other curricular options. These trainings will be offered aboard three Schweizer 300CBi helicopters and an Elite TH-100 simulator.
This new pilot school is the result of Airbus and EAM's commitment to pilot training as a pillar of air safety in Mexico. The state of Yucatan offered the ideal conditions to establish a pilot school and conduct training operations in a safe and efficient manner.
More than 140 Airbus helicopters are currently flying in Mexico in key sectors such as offshore energy, utilities, private and business aviation, and the expectation is that this quota will increase in the near future, revealing the need for highly trained pilots.
Airbus has been present in Mexico for almost 40 years and has a long-term commitment to the development of its aerospace industry.
Airbus in Mexico directly employs more than 500 people in its three divisions and generates more than 4,000 indirect jobs and US$400 million annually in purchases through its supply chain.
Source: Cluster Industrial