Airbus Leads Market Share in Mexico's Commercial Airliners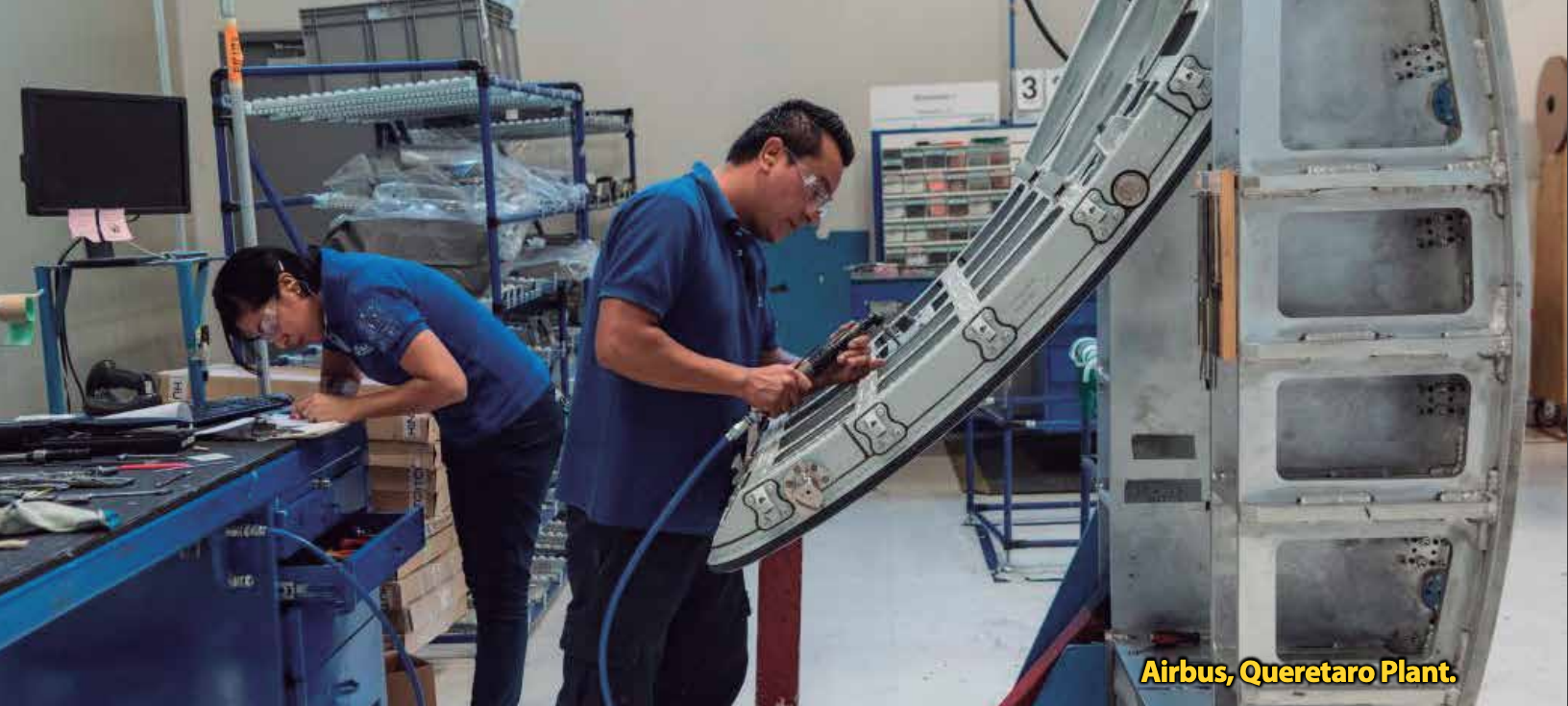 By Nancy J. Gonzalez
Airbus has a long relationship with Mexico. The French company not only manufactures some components in Mexico, but also Airbus aircraft dominate the Mexican sky by being the brand of choice of Mexican airlines. The company has more than 60% market share of the country's in-service fleet in commercial aviation. In the next decade, Airbus forecasts to deliver 200 commercial planes to airlines such as Volaris, VivaAerobus, and Interjet and, once those planes are in service, the company's fleet in Mexico might be up to 70% of the market share.
"The Mexico-Airbus relationship has been successful," said Ricardo Capilla, head of country for Airbus Mexico. "Mexico is going through a change. The focus of the government is public services, making sure whatever is done serves to society. It matches perfectly what the products of Airbus are. Our products are there to transport people, to fight insecurity, to search and rescue, and to communicate."
In Mexico, Airbus employs directly 700 people across its three divisions. Airbus has also generated more than 5,000 indirect jobs through its supply
chain.
Moreover, Mexico is also the largest operator of Airbus military transport aircraft in Latin America, with 22 military aircraft in service and an in-service fleet of more than 170 helicopters. In 2018, Airbus delivered 44% of the helicopters in Mexico. Nowadays, there are more than 420 Airbus helicopters flying in the region served from Mexico in civil, parapublic and military configurations.
Mexico also serves as the headquarters of the Latin America offices for the Airbus Defence and Space Secure Line Communications (SLC) business unit.
In 2013, Airbus opened an industrial plant in Queretaro to manufacture emergency exit and bulk cargo doors for Airbus commercial aircraft, as well as structural parts of the Airbus Ecureuil AS350 helicopter. The volume of production went up from 100 doors in 2013, to a current capacity of 4,000 pieces yearly.
"Mexico has a very strategic location in terms of regional competitiveness. This is very interesting for our global supply chain," explained Capilla. "We
mainly produce doors here, but in the future, it can be even more diversified products. We also source from here to all over the country. The industry is going through a booming period; we have a lot of aircraft delivery and this pulls up the supply chain. Mexico is strategic in that sense."
Marc Vibes, director of Strategic Procurements at Airbus, said the supply chain in Mexico must be strengthened because there are plenty of opportunities within the industry.
Some of the areas he considers critical are composing in titanium, aerostructures and special treatments. Even though Mexico has some suppliers in these areas, Vibes believes they are not enough to supply to the industry or they have limited capacity or are in the process of improving their quality.
"We have studied the new nanoengineering technology for carbon fibers within Airbus. This should be injected in the supply chain also in Mexico,"
Vibes expressed. "There are many other things such as automation. Automation is critical because the number of volumes is increasing. The supply chain needs to be ready to meet this demand.
This is why we need to step up in new technologies."
Capilla said the growth would be organic because as more aircraft is delivered, the supply chain will be benefited from this activity.
"Airbus also believes and trusts Mexico in terms of its industry capabilities. We do work together with the whole industry stakeholders to continue to improve the global supply chain, and to improve Airbus's global supply chain. However, the speed in which we integrate the global supply chain will be also be determined by that access to market," Capilla added.
The COVID-19 pandemic forced Airbus to reduce its aircraft production, but the company has not disclosed yet how this measure will impact its Mexican facility.
Even though training is not part of Airbus core capabilities, the company has also trusted in Mexico for this endeavor. The Airbus Training Centre
Mexico houses a full-suite of A320 pilot training equipment, and has capacity for more than 1,000 trainees annually—offering pilot-type rating, recurrent and maintenance training for the A320 Family.
Officially opened in September 2016, Airbus Training Centre Mexico is the result of an agreement between Airbus and ASA, a federal agency overseeing the management, operations and development of Mexican airports.
"Training centers are not a core competence or core business for Airbus, but they are part of our social contribution," Capilla said. "It is very important to contribute towards the right training and to form the right pilots to fly those helicopters in very different conditions."
Furthermore, the 'ab initio' Pilot Cadet Training Programme, co-developed by Airbus and France's ENAC civil aviation university, supports airline customers in contributing to the long-term availability of qualified pilots. With the 'ab initio' training programme, once cadets complete their initial training, they can finish in the Airbus Mexico Training Centre to become fully qualified A320 pilots on the Airbus A320.
Capilla said the Mexico-Airbus relationship is strong enough and based in mutual trust and reciprocity.
"We have always partnered with Mexico and we will continue to do so. Mexico believes and trusts our products; therefore, they use them and purchase them," Capilla highlighted.
The current COVID-19 pandemic has negatively impacted the aerospace industry, thus, companies are still evaluating future global investment and at this moment it is not possible to know if Airbus plans to increase its investment in the country.