Airbus transports medical equipment through Viva Aerobus and Volaris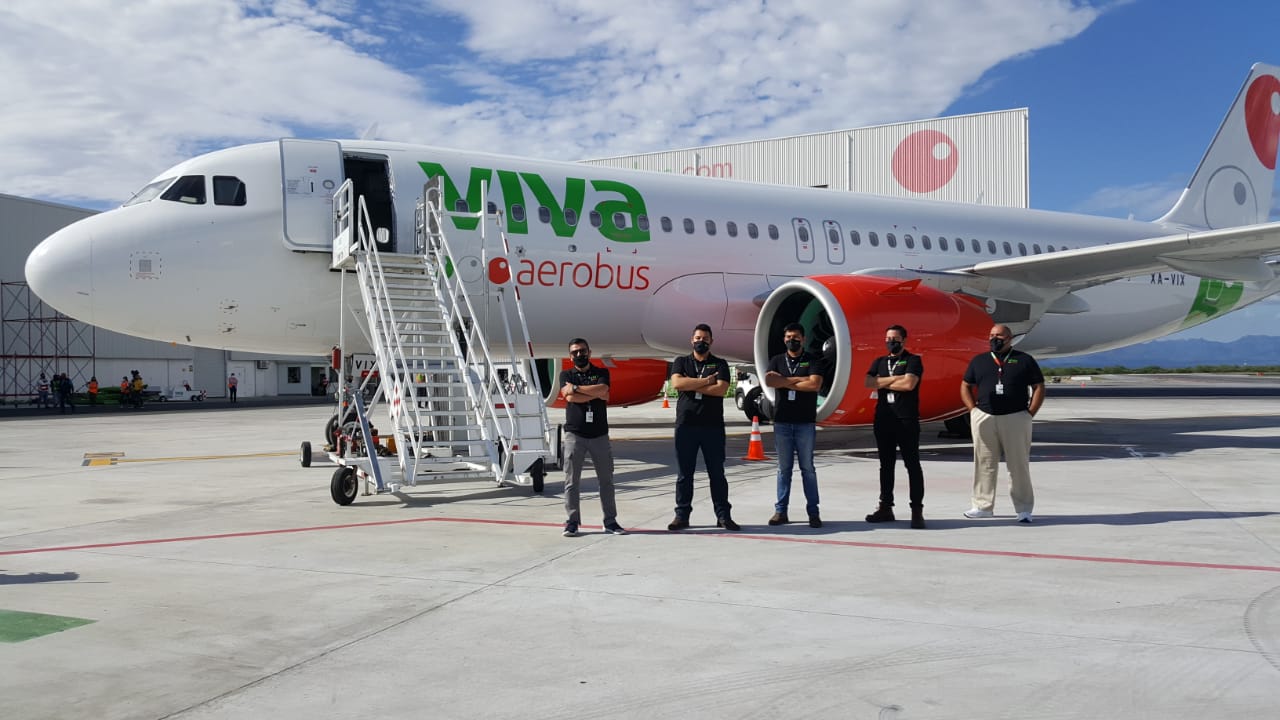 MEXICO – Fundación Airbus collaborated with Viva Aerobus and Volaris to carry out two humanitarian flights from Toulouse, France, transporting 336,000 face masks and 6,560 face shields to the Mexican Red Cross.
Both Mexican low-cost airlines took advantage of the reception of their new A320neo units to transport medical supplies.
Viva Aerobus transported more than 200,000 face masks to Monterrey, Mexico. The trip was carried out on August 1 aboard an Airbus A320neo, registration XA-VIX, which took off from Blagnac International Airport, in France, stopping at the terminals of Keflavík, Iceland, and Bangor, United States, to finally arrive at the General Mariano Escobedo Airport.
"We thank Airbus for this great donation, the Monterrey Airport (Grupo OMA) and Aerocharter for all the facilities granted to carry out this great humanitarian achievement. Undoubtedly it is time to work as a team, join for Mexico and be in solidarity", mentioned Juan Carlos Zuazua, general director of Viva Aerobus.
For his part, Fernando Suinaga, president of the Red Cross, thanked the ultra-low cost airline and the Airbus Foundation for joining efforts. Viva Aerobus has carried out 54 special repatriation services and essential works, all on board the Airbus A320neo.
Similarly, it plans to make 10 extra trips, the next will link Mexico City with Panama. "Viva Aerobus continues to work to reunite families and friends. With these flights we made possible a safe, efficient and reliable return home for more than 4,000 people and we are going for more", added Zuazua.
Repatriation flights have been made in 18 countries of the American continent, among which, nine cities were visited for the first time: Guatemala (Guatemala), Barranquilla (Colombia), Guayaquil (Ecuador), Lima (Peru), Managua (Nicaragua ), Santiago de Chile (Chile), Sao Paulo (Brazil), Sint Maarten and Willemstad (Curaçao).
According to the ultra-low-cost carrier, the A320neo is the third of five aircraft they plan to receive in 2020 (three A321neo and two A320neo), and it is the latest 320neo model delivered. For its part, Volaris through the "Avión Ayuda Volaris" program has transported almost 40 tons of medical supplies, health kits, ventilators, health personnel and volunteers to more than 25 cities throughout Mexico.
Source: A21