Airbus training center in Mexico keeps pilots trained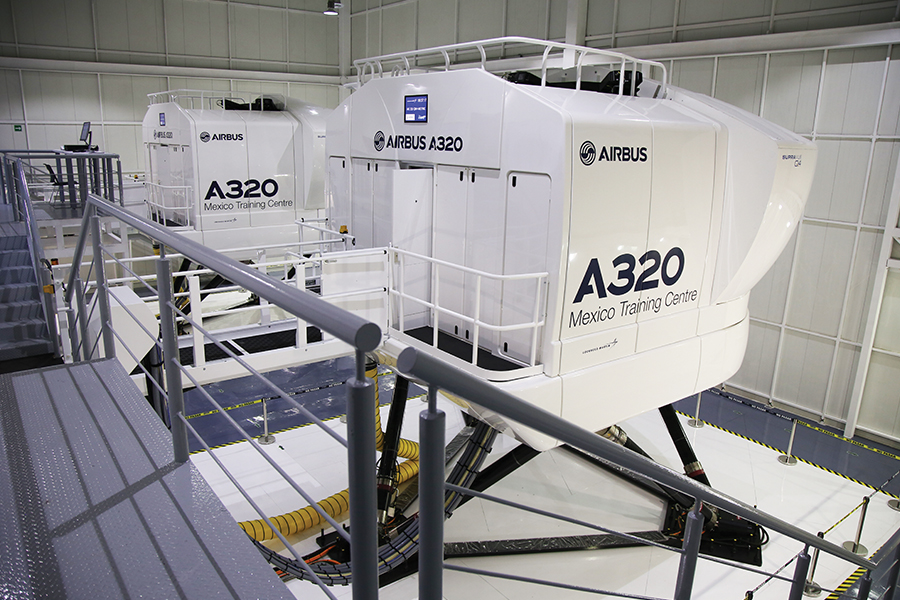 MEXICO – During the COVID-19 health emergency, the Airbus Training Center in Mexico has allowed some Mexican airlines to keep their pilots trained despite the fact that some of them have not flown or have reduced their flight hours.
Throughout the five years that the center has been operating, two A320 level D simulators (among the most advanced) have been the tools on which more than 4,500 pilots from Mexico and other Latin American countries have been trained. These aircraft operate 20 hours a day, 7 days a week.
Inaugurated on September 23, 2016, this center was opened with the growth of A320 operators in Mexico in mind.
"Currently, the European manufacturer has a share of almost 60% in the domestic market, with Volaris and Viva Aerobus being the main operators", explained Jesus Duran, general director of the center.
On the outside, what is most noticeable is that the cabins are mounted on pneumatic pistons, but on the inside, these devices house a cabin exactly like those installed in airplanes.
In addition to the controls, images of different airports, as well as weather conditions, movements and even accelerations can be reproduced here, in order to involve the pilots' senses as they would in a real flight.
The price of these simulators varies depending on the sophistication of the equipment installed in them, ranging from US$10 million to US$20 million, plus the price of the infrastructure required for their installation.
The Center is currently preparing to introduce the Mobile Airbus Training experience (MATe) program in 2022, a solution for remote pilot training that would replace the Airbus Cockpit Experience (ACE) platform.
Source: A21