Amazon to Open a Fulfillment Center in El Paso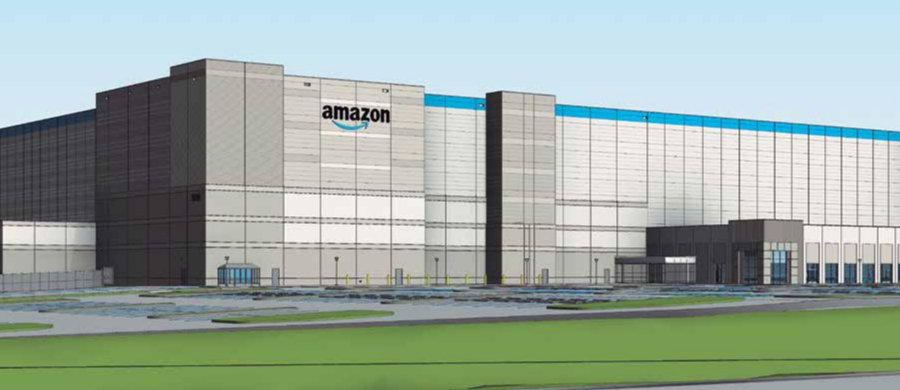 In late 2017, El Paso proposed to host Amazon's second headquarters (HQ2) in North America, offering the company a binational approach. It did not get it. Two years later, Amazon announced it is instead establishing a fulfillment center in this border community. Amazon announced recently plans to open a 625,000-square-foot fulfillment center in El Paso, which is anticipated to open in 2021. It will create over 700 full-time jobs with industry leading pay and comprehensive benefits starting on day one.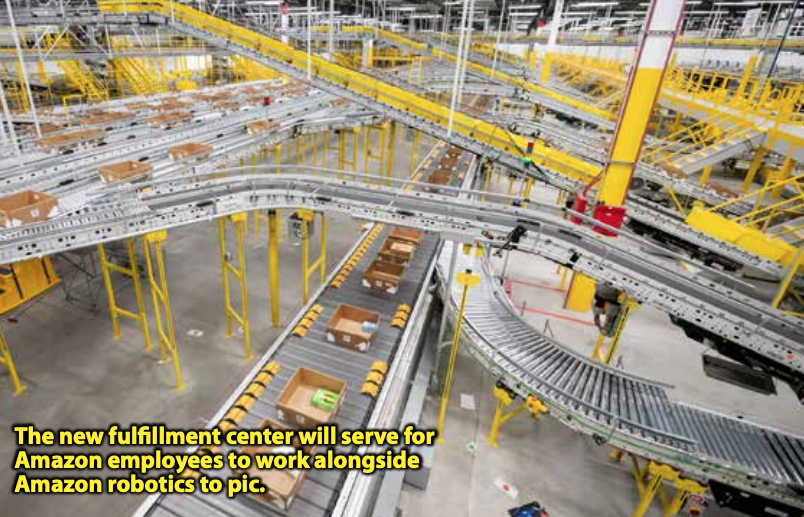 "We're excited to be growing our operations in West Texas and look forward to building out our network in El Paso," said Alicia Boler Davis, Amazon's vice president of global customer fulfillment. The El Paso fulfillment center will sit midway between existing Amazon warehouses in San Antonio, Texas, and Phoenix, Arizona. This new facility is being built in East El Paso, between Rojas and I-10, near Eastlake boulevard. The location has easy access to either East or West of the U.S. and nearby Mexico.
The new fulfillment center will serve for Amazon employees to work alongside Amazon robotics to pick, pack and ship small items to customers such as books, electronics and toys.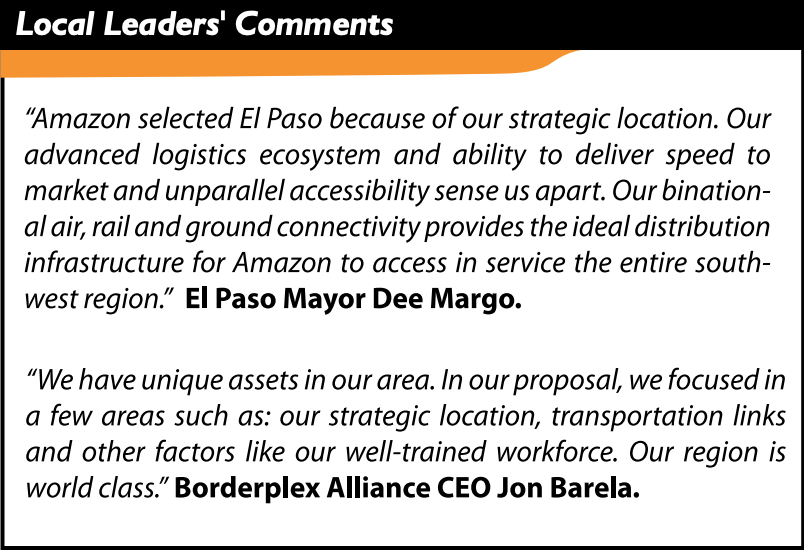 "Amazon is a transcendent company, and this is one of the most significant economic development projects for our region in decades," said Jon Barela, CEO of Borderplex Alliance. "For years we've worked diligently with our partners at Amazon to demonstrate our region's value and capabilities. We're grateful for Amazon'spresence in our community during these difficult economic times, and I remain optimistic that our region will help lead our nation's economic recovery."
On top of Amazon's industryleading minimum starting wage of US$15, the company is offering its El Paso full-time employees comprehensive benefits including full medical, vision, and dental insurance as well as a 401(k) with
50% match starting on day one. The company also offers up to 20 weeks of maternal and parental paid leave and innovative benefits such as Leave Share and Ramp Back, which give new parents flexibility with their growing families.
Moreover, El Paso border region is well known by Jeff Bezos, founder, CEO and president of Amazon. His company, Blue Origin, has a West Texas suborbital launch and engine test site near Van Horn, a few miles from El Paso.
Economic Impact
Amazon has continuously invested not only in the U.S., but also in Mexico. The company has increased its market share in both countries throughout the years. According to its website, since 2010, Amazon has made more than US$270 billion in investments in corporate offices, customer fulfillment and cloud infrastructure, wind and solar farms, eco-friendly equipment and machinery, and compensation to its teams.
Moreover, in the last decade, Amazon has invested more than US$10.5 billion into its local fulfillment center infrastructure and through compensation to thousands of employees in the state. Amazon's investments in Texas contributed an additional US$9 billion to the Texas economy, and using methodology developed by the U.S. Bureau of Economic Analysis, Amazon estimates its investments in the state have created an additional 32,000 indirect jobs on top of the company's direct hires.
Nowadays, Amazon has more than 500,000 U.S. employees across 40 states and 250 counties. The company owns 175 fulfillment centers around the world, 110 of them are in North America. Recently, Amazon opened a few of these centers in Western U.S. "Our investments have produced a ripple effect of more than 680,000 indirect jobs that help communities across the nation thrive. On top of that, we are supporting the rapid growth of small and medium-sized businesses (SMBs) to launch and grow by selling their products online," details a recent report from Amazon.
The document says SMBs have created more than 830,000 jobs in communities across the U.S. as a result of selling on Amazon. Moreover, SMBs from all 50 states that sell with Amazon are more than twice as likely to see 25-50% hiring growth compared to those that do not, according to research by IDC.
"At Amazon, supporting small and medium-sized businesses is a fundamental part of our work and an extension of our customer-centric culture. Our success depends on their success," said Jeff Wilke, CEO, Amazon Worldwide Consumer. "COVID-19 has changed the way we live and work and has created daunting challenges for small businesses around the world. Yet smaller companies have continued to grow with Amazon, despite the crisis. Third-party sellers have seen record sales in our stores and continue to outpace our first-party sales."
Amazon's finances show positive numbers. According to its first quarter report (Q1-2020) the company's operating cash flow increased 16% to US$39.7 billion for the trailing twelve months, compared with US$34.4 billion in the same period in 2019.
Free cash flow increased to US$24.3 billion for the trailing 12 months, compared to US$23.0 billion in 2019. Net sales increased 26% to US$75.5 billion in the first quarter, compared to US$59.7 billion in first quarter of 2019. Excluding the US$387 million unfavorable impact from year overyear changes in foreign exchange rates throughout the quarter, net sales increased 27% compared to the first quarter of 2019.
Amazon in Mexico
Amazon is a relative newcomer to Mexico. It opened its Kindle e-books site to Mexican customers in 2013 and expanded into sales of physical goods, and now it has fulfillment centers in the country. Amazon's largest distribution center in Latin America is located in Mexico.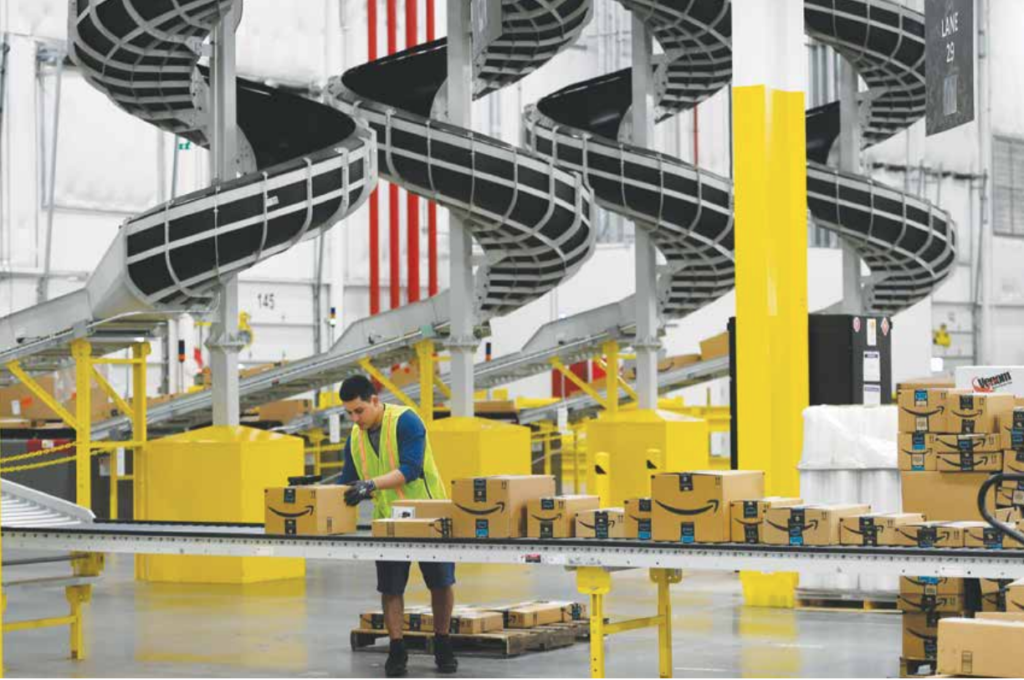 Official data shows the facilities Amazon owns in Mexico represent a total investment of more than US$125 million. "We are very excited to have created more than 3,000 jobs in the region until now. Specifically, 1,500 jobs in this distribution center, all of them with excellent opportunities to grow, competitive wages in the industry and comprehensive benefits since day one," said during the inauguration ceremony Luis Correa, director of operations of Amazon in Mexico.
In Mexico, Amazon is the e-commerce leader with at least 36.54% of the market share. The company has the option to grow within its existing facilities in Mexico.
The new Amazon fulfillment center in El Paso would represent an additional link to the growing international retail e-commerce within the new USMCA.