AMLO and Joe Biden meet at the White House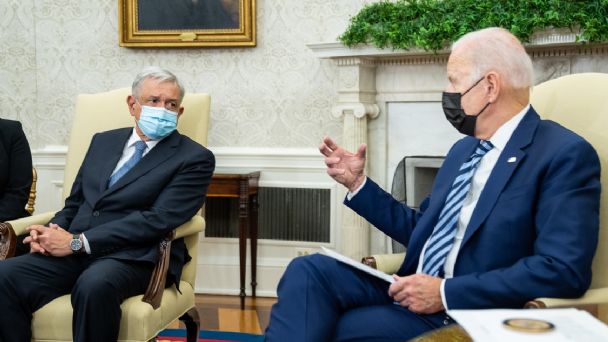 WASHINGTON D. C – U.S. President Joe Biden said that dealing with immigration is a continental challenge shared by his country and Mexico.
In a press conference at the White House after receiving his Mexican counterpart, Andrés Manuel López Obrador, Biden said the two have a good relationship, which he described as solid and productive.
Regarding the immigration issue, President López Obrador reiterated the need for an orderly immigration flow and proposed a joint work plan to allow technical and professional workers of different disciplines to cross the border with temporary work visas to avoid paralyzing the economy.
Meanwhile, Biden also stated that the United States sees Mexico as an equal partner and that the two countries are making large infrastructure investments in the common border.
Obrador noted that there is potential to intensify bilateral relations under the North American Free Trade Agreement (T-MEC), to which Canada is also a party, although he warned that some tariffs under that agreement may be suspended immediately.
The Mexican President also urged the U.S. government for joint collaboration to combat inflation and economic pressures caused by the COVID-19 pandemic and the Russian invasion of Ukraine, which would focus on securing gas and fuel supplies for both countries.