Bimbo invests US$137 million in Mexico City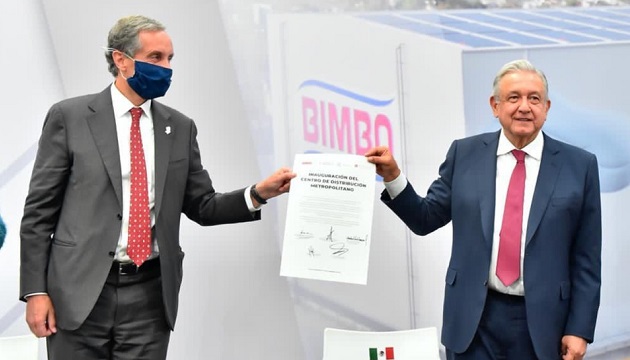 AZCAPOTZALCO – The Mexican company Bimbo inaugurated its new distribution center in the Azcapotzalco mayor's office of Mexico City, in which US$ 137 million were invested while more than 300 direct jobs will be generated.
The president and CEO of Grupo Bimbo, Daniel Servitje, celebrated the 75th anniversary of the company with the opening of the Metropolitan Cedis, "the largest and most modern of the group" and for which millions of dollars were invested translating into "more and better jobs for the city," he said.
In his message, Servitje highlighted the principles of the company, including the safety and well-being of people, "these facilities are a reflection of that," he added.
The metropolitan Cedis, which has a total area of ​​just over 89,000 square meters -where more than 29,000 m2 have been allocated to green areas-, will save 6,500 delivery trips per year thanks to its location, which will benefit the reduction of city ​​traffic and air pollution. In addition, it has the highest technology in the environment, as "the largest solar energy roof in Mexico and the third largest in Latin America."
The distribution center also has rain catchment technology and electrical terminal transports.
President Andrés Manuel López Obrador (AMLO) and the president and CEO of Grupo Bimbo, Daniel Servitje unveiled the plaque of the distribution center in the presence of Governor Claudia Sheinbaum, the minister of Economy , Graciela Márquez Colín and the mayor of Azcapotzalco, Vidal Llerenas Morales.
The inauguration of the distribution center in Azapotzalco is part of an industrial reactivation strategy in the north of the Mexican capital. The head of government Claudia Sheinbaum celebrated the start-up of the Bimbo facilities, "an example of clean industry" that allows the city to continue industrializing without causing environmental pollution.
Sheinbaum stressed that Azcapotzalco "is today the main contributor to the manufacturing GDP in the metropolitan area" and that they are working with the Ministry of Economy and Conacyt to launch an innovation and data center in Vallejo.
Source: Economía Hoy