Border Leaders Are Cautiously Optimistic About New Trade Deal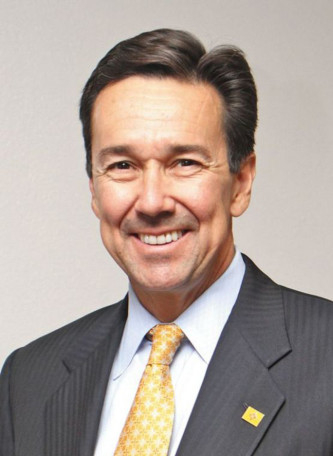 Warning
: foreach() argument must be of type array|object, bool given in
/home/mexiconow/public_html/sites/mexiconow/wp-content/themes/mexiconowwpnew/single.php
on line
253
Business continues as usual at the U.S.-Mexico border, but the new free trade agreement reached between the U.S., Mexico and Canada-the USMCA-has lowered the uncertainty that companies had dealt with for the last 18 months.
Even though USMCA still needs Congress approval from all three countries, experts said this initial step might begin to strengthen the regional economy and increase trade.
"The uncertainty had some chilling effect on the willingness of CEOs to expand operations. I think removal of this uncertainty will be helpful. Still, some details still need to be worked out," said Robert Kaplan, president and CEO of the Federal Reserve Bank of Dallas.
Likewise, Jon Barela, CEO of The Borderplex Alliance in El Paso, said the trilateral agreement was the optimal outcome for NAFTA renegotiations.
"I'm optimistic the accord will help bolster the Borderplex region's position as the fourth largest manufacturing hub in North America and continue the positive economic trends of low unemployment and regional economic growth. As a community built on free trade and globalization, we have a vital stake in ensuring North America remains economically competitive and open to trade," Barela added.
U.S. Sen. Tom Udall, D-N.M., was critical of the Trump administration's negotiating strategy in a statement released by his office, saying the "chaotic approach to NAFTA, and often hostile rhetoric toward Mexico, have cast a cloud over New Mexico's economic progress."
Trade is really important for some New Mexican communities such as Santa Teresa.
The new deal changes the rules for the automotive industry. For tariff-free auto trade, minimum vehicle content produced in the three countries must increase to 75% by 2025, up from 62.5%.
In addition to updated rules of origin, auto content made by workers earning more than US$16 per hour must rise to 40% to 45% by 2023 for passenger vehicles and by 2027 for heavy trucks, and at least 70% of steel and aluminum used to produce the vehicles must be sourced from North America.
The resolution of the U.S. investigation into the effects that imported vehicles and parts have on national security did not become a part of the USMCA. However, Mexico and Canada each agreed to a quota of 2.6 million passenger vehicles, which is above current export levels to the U.S. if this country imposes a 25% tariff on auto imports. Also, Canada will be able to send US$32.4 billion worth of parts without getting hit by tariffs, while Mexico is going to be able to export US$108 billion worth of parts.
Thomas Fullerton, professor and Trade in the Americas Chair in the University of Texas at El Paso (UTEP) Department of Economics & Finance, said a positive impact for the border region is going to be an increase in manufacturing activity, especially in the Mexican side, and the strengthening of the supply chain.
Fullerton expressed that a positive trend in manufacturing in Mexican border cities means more employment in both sides of the border. He forecast more manufacturing activity in Juarez, while El Paso will have an increase in retail, warehousing, and logistics.
All the Mexican northern cities manufacture auto parts and most of the global corporations have operations in the region. Therefore, experts said the U.S.-Mexico border region might have a positive impact with the USMCA.
Jerry Sanders, president of the San Diego Regional Chamber of Commerce, said USMCA is expected to help manufacturing, technology and service industries in the San Diego-Tijuana region.
He expressed the San Diego business community not only is supporting free trade, but also new infrastructure and technology to accelerate trade in the region.
Agricultural exports from the U.S. to Canada and Mexico have more than quadrupled to US$39 billion since NAFTA took effect, according to the United States Department of Agriculture (USDA). Furthermore, NAFTA supports 25,000 U.S. jobs related to corn production and processing and facilitates the sale of one-third of U.S. pork exports and more than half of all U.S. vegetable exports.
The new deal also prompts each country to remove tariffs on each other's products that have hurt U.S. prices for pork, cheese and other food. Mexico also agreed to allow imports of certain U.S. cheeses.
"Trade is vitally important to cattle producers who, on average, send more than US$2 billion in U.S. beef exports to Mexico and Canada each year. We are extremely pleased to hear the new United States-Mexico-Canada Agreement will maintain the market access that has been so beneficial to U.S. cattle producers over the last decade. We look forward to swift approval by Congress and the certainty of a bright future with our trading partners," said Robert McKnight, Jr., president of the Texas and Southwestern Cattle Raisers Association.
Mexico's trade with the U.S. rose to US$405.1 billion through the first eight months of this year, according to the latest U.S. Census Bureau data. Mexico ranked number three among the U.S. top trade partners for that period. In the same period one year ago, it ranked number four.
The top U.S. exports to Mexico by value through August were gasoline and other fuels, motor vehicle parts, computer parts, while the top categories of U.S. imports from Mexico includes motor vehicles, computers, motor vehicle parts, commercial vehicles, and oil.
The Census Bureau data shows 38% of the trade flow passes through the Port of Laredo, 13% by El Paso, and 7.5% by Otay Mesa. Pharr is fourth place with 5.6%. Most of the trade is made by truck. This kind of transportation is going to be impacted by the new trade deal.
An annex of the USMCA will allow the U.S. more control over the existing cross-border trucking program by allowing it to limit the number of Mexican-domiciled carriers who can receive U.S. operating authority, while the U.S. Department of Transportation will have the opportunity to evaluate Mexican-based carriers who already have U.S. operating authority. Mexican carriers that already have authority would be grandfathered in.
The Federal Motor Carrier Safety Administration website shows 41 carriers currently have authority to operate outside of the commercial border zone within the U.S., but cannot haul a load that originates and ends in the U.S.
Still, the USMCA has a long way to go. The U.S. Congress will likely not vote the new deal on until 2019. The Democrats may take control of the U.S. House during the November midterm elections, which could undermine Trump's ability to win approval.
"This trilateral deal will continue to spur growth and economic development for all three countries, as it has since its inception over two decades ago. I look forward to reviewing the final agreement in Congress and working with the Administration to solidify this deal," said Congressman Henry Cuellar.
In Mexico, the Movimiento Regeneración Nacional (Morena) party, which now controls the majority of the Mexican Congress, is having round tables to discuss the USMCA. This discussion groups will end on November 21. The Enrique Peña Nieto administration wants to sign the agreement before the new government takes over on December 1.