By adding four new trucks and SUVs, Ford aims to replace 75% of its lineup in 2 years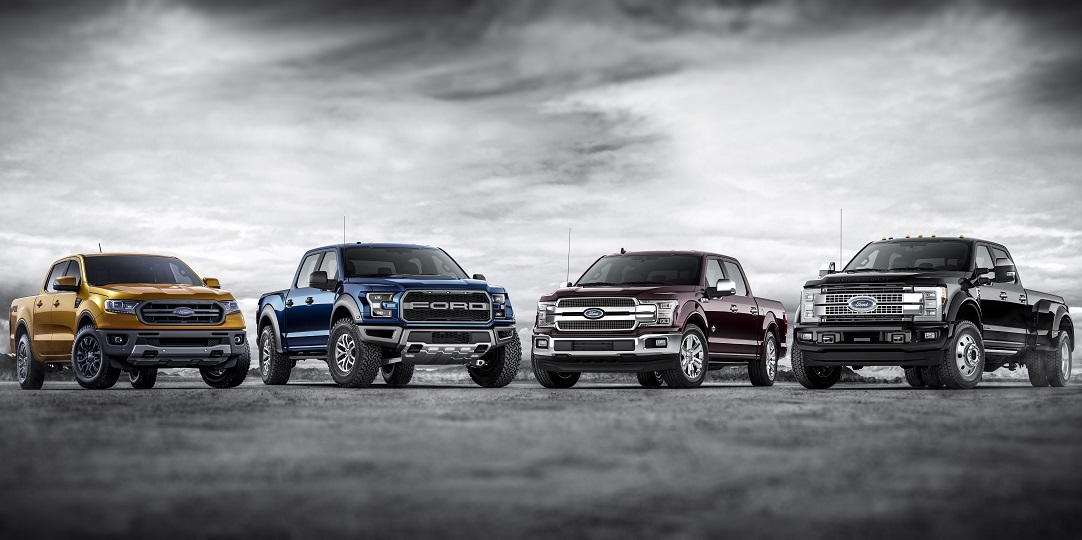 Ford today announced plans to revamp its lineup, building on truck, SUV and commercial strengths, investing in new propulsion and delivering standard connectivity on new vehicles, paving the way for over-the-air updates and the Transportation Mobility Cloud, "an open platform that will empower tomorrow's mobility systems".
By 2020, Ford aims to offer North America's freshest lineup among all full-line automakers, with its average showroom age dropping from 5.7 to 3.3 years as it replaces three-quarters of its lineup and adds four new trucks and SUVs.
Ford is going all-in on hybrids, offering customers more performance and capability yet serving as a hedge against higher gas prices. 
All new Ford vehicles will have 4G LTE connectivity by the end of 2019. Ford is also introducing Ford Co-Pilot360, a new driver-assist technology package with standard automatic emergency braking and helps protect from the front, rear and sides.
"Our passion for great vehicles is stronger than ever," said Jim Hackett, Ford president and CEO. "This showroom transformation will thrill customers, drive profitable growth and further build toward our future of smart vehicles in a smart world."
Ford is strengthening its position in the following segments: trucks, SUVs (including off-road and performance versions), hybrids, battery electric vehicles and commercial vehicles.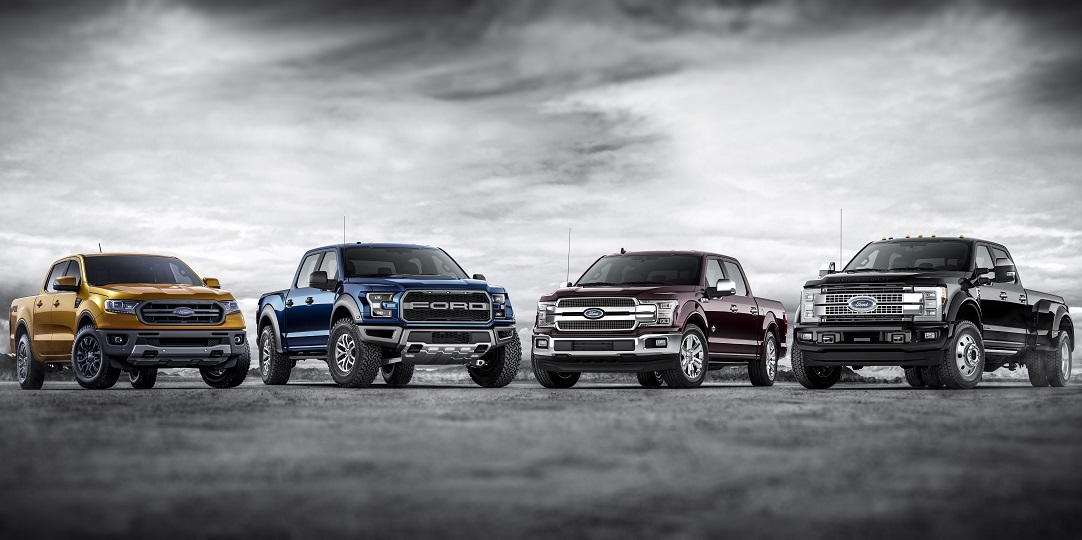 Trucks: Since the 2014 debut of the new F-150 with a high-strength, military-grade, aluminum-alloy body, Ford has gained 1.3 percentage points of share in the full-size pickup segment. Average F-Series transaction prices lead the segment – up US$ 6,700 per vehicle since 2014 – because of high-end versions like Lariat, King Ranch and Platinum. Ford's F-Series revenues alone are higher than revenues of Fortune 500 icons such as Facebook, Coca-Cola and Nike.
Ford's truck business will continue growing as the company adds new models and powertrains with an eye toward continued growth in high-end trims. Some highlights include:
2018: New 3.0-liter Power Stroke® diesel engine for F-150, updated version of the popular F-150 Raptor
2019: Ranger returns to midsize truck segment; new F-Series Super Duty debuts
2020: New F-150 debuts with new hybrid powertrain featuring a mobile generator
SUVs: By 2020, Ford estimates SUV sales could account for 50% of U.S. industry retail sales – one reason Ford is reallocating US$ 7 billion in capital from cars to SUVs. By 2020, Ford plans an industry-leading lineup of eight SUVs – five of which will offer hybrid powertrains and one battery electric. Ford SUV sales are estimated to grow 20% –more than double the industry rat – to more than 950,000 by 2020, according to LMC Automotive, and surpass 1 million by 2021.
After recently introducing an all-new model at each end of the SUV spectrum – the subcompact EcoSport and full-size Expedition – Ford's next push is in the highest volume SUV segments. Entirely new versions of the Escape and Explorer debut next year; combined, these two models make up 70% of Ford's SUV volume.

Ford also plans to drive growth with two all-new off-road models: the new Bronco and a yet-to-be-named off-road small utility – both designed to win a growing number of people who love getting away and spending time outdoors with their families and friends.
"Ford helped start the off-road phenomenon and has majored in off-road capability for decades – from the Bronco to the Raptor," said Jim Farley, Ford president, Global Markets. "Now, we're ready to reclaim our rightful place as the off-road vehicle leader."

Ford also will grow its lineup of performance SUVs. Two additions to the Ford Performance lineup include the all-new Edge ST later this year, and an Explorer ST will soon follow. These two new SUVs will help Ford Performance deliver on its promise of 12 new models by 2020, and will help extend the division's growth, which has risen 81% in the last four years.
Ford Performance sales are on track to grow another 71% by 2020, driven by SUVs.

Next-Gen Hybrid Electrics: Part of Ford's new strategy includes going all-in on hybrids to bring more capability to customers of our most popular and high-volume vehicles like F-150, Mustang, Explorer, Escape and Bronco – and serve as a hedge for customers against higher gas prices.
Ford's new hybrids will offer customers more space than today's hybrids. On the F-150 Hybrid, Ford will lean in to capability, such as the low-end torque for extra pulling power and the fact it can serve as a mobile generator. Mustang Hybrid will be all about delivering V8-like performance with more low-end torque.
"Hybrids for years have been mostly niche products but are now on the cusp of a mainstream breakout," Farley said. "The valuable capability they offer – plus fuel efficiency – is why we're going to offer hybrid variants of our most popular and high-volume vehicles, allowing our loyal, passionate customers to become advocates for the technology."
Ford's new hybrid system is designed to be more efficient and less expensive than previous generations. These lower costs – achieved through supply base relationships, using common cell and component design and by manufacturing motors, transmissions and battery packs – with the intention of lowering cost of ownership for customers.
MexicoNow
Related News
– Volkswagen confirms production of new SUV in Puebla starting 2020
– GM to boost Bolt EV production due to high demand in global markets, including Mexico
– Report: Ford plans new headquarters, R&D center in Mexico
– Report: Ford plans to shift production of Fusion sedan to China
– Ford to build a 300-mile range electric crossover in Mexican assembly plant