BYDeléctrico inaugurates first Mass Recharging Hub for trucks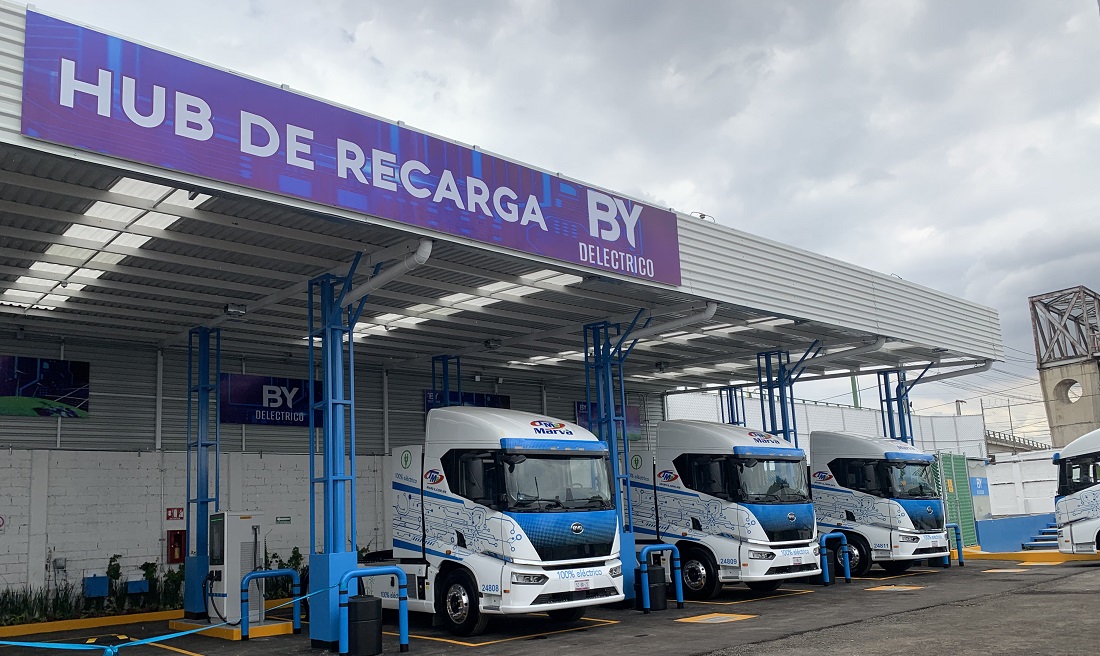 STATE OF MEXICO - BYDeléctrico, BYD's master dealer in Mexico, which last year marketed the first Class 8 electric trucks in our country, inaugurated the first Mass Recharge Hub in Mexico and Latin America exclusively for heavy-duty vehicles, located in Tultitlán, State of Mexico.
With an investment of US$2 million, the company's objective is to remain at the forefront of electromobility for heavy-duty vehicles in Mexico. This center has a capacity of 2 megawatts distributed in 7 dual charging stations, each with a capacity of 150 kW, capable of meeting the demand of customers in the area.
The BYD tractor-trailer model marketed by BYDeléctrico, called Q3MA, is the 3rd generation of its kind which, in addition to being DOT certified, also has the highest quality assembly and materials, the ADAS system (active and passive safety), its Cab Over design maximizes maneuverability in the city.
It also boasts the best technology in lithium ferro phosphate (LFP) batteries that have greater autonomy, are lightweight and compact, do not emit smoke or fire and have accredited extreme weather and altimetry tests meeting and exceeding the expectations of the world market.
"We are very proud to present the first Mass Recharge Hub in Mexico, hand in hand with great allied companies," explained Lorena Martinez, General Manager of BYDeléctrico.
Currently BYD, through BYDeléctrico, is the only brand that has launched real exercises of electric mobility with class 8 tractor-trailers in Mexico; which today are becoming the best long-term investment for different reasons, among which stand out the zero CO2 emissions, energy savings and mechanical simplicity.