CANADA IN MEXICO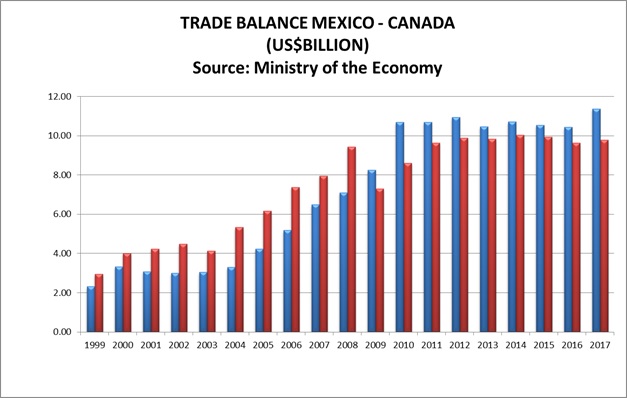 Canada and Mexico share a vibrant, multi-faceted relationship that is characterized by deep people-to-people ties, rich cultural connections and growing trade and investment. Both Countries have become important strategic partners that share ongoing dialogue and engagement.
Canada and Mexico have also focused on collaboration within North America, working closely with our common neighbor, the United States. Their trade and investment relationship has seen strong growth since the entry into force of the North America Free Trade Agreement (NAFTA) in 1994. Canada and Mexico are each other's third largest trading partner. Despite the uncertainties surrounding the future of the North American Free Trade Agreement, the truth is that in any of the scenarios analyzed features an even greater approach between both countries and an increase in commercial relations and investments in two directions.
Their collaborative efforts are pursued through a variety of means, ranging from periodic high-level consultations and inter-parliamentary meetings to more institutionalized mechanisms such as the Canada-Mexico Partnership (CMP). The CMP, established in 2004, aims to promote collaboration between the public and private sectors and operates through a series of working groups covering: energy; agri-business; labor mobility; human capital; trade, investment and innovation; environment; mining; and forestry. A yearly security dialogue involving security consultations, as well as political-military talks, is complemented by strategic security programming through the Anti-Crime Capacity Building Program and the Global Partnership Program. At the same time, Canada works closely with Mexico to advance common interests through international and regional forums such as the United Nations and the Organization of American States.
More than 100,000 direct and indirect jobs are generated by Canadian companies operating in Mexico, according to the data handled by the Canadian Chamber of Commerce in Mexico (CanCham). These figures reveal the growing influence of Canadian investments in the Mexican economy, not in vain Canada is the second commercial partner and one of its main sources of direct foreign investment. Export Development Canada (EDC), which opened an office in Mexico since 2000, has identified Mexico as a priority market that offers high growth expectations due to the demographic and economic prospects of Mexico.
There are key sectors in this expansion, such as mining: Seventy-four percent of the mining exploration concessions in Mexico are in the hands of Canadian companies. Other sectors such as aerospace, automotive, construction, oil and gas, telecommunications and chemical products have experienced an important development in Mexican territory, which has definitely contributed to strengthen the economic ties between both countries.
At present, Canada remains for Mexico as its second trading partner worldwide, only behind the United States. Exhibit 1 summarizes the Trade Balance between Mexico and Canada. It shows that commerce between the two countries reached its maximum level the past year 2017, with data recorded (US$21.17 Billion) where commerce passed for the first and only time the US$21 billion mark.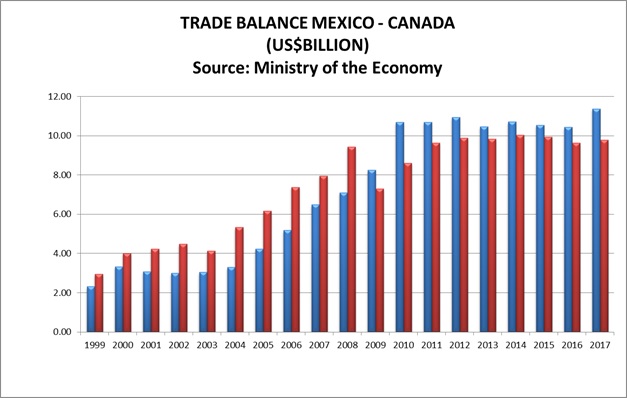 The bilateral commerce historically was negative for Mexico, but after the year 2009 it has been always positive for Mexico. Important factors in the trade balance between Mexico and Canada are interesting. For instance, take the fact that during the 18 year time span from January 1999 to December 2017, total exports from Mexico to Canada increased from US$2.31 billion to US$11.38 billion. And at the same time, imports from Canada to Mexico also showed an impressive but less accelerated growth from US$2.95 million (1999) to US$9.79 billion (2017).
Total commerce between the two countries and reciprocal action brought in US$21.17 billion during 2017 in trade between the two partners. And another interesting detail is that in 2017 commerce stats increased 5.5% over the data of 2016 (US$20.06 billion).
Regarding direct investments of Canada in Mexico, the companies with Canadian participation in Mexico have materialized, according to the data of the Ministry of Economy (SE) of Mexico, investments for US$31.85 Billion from January 2001 through December of 2017 according to the Ministry of the Economy, as shown in Exhibit 2.

Bombardier has been operating in Mexico for twenty-five years through several business lines and its two factories in Ciudad Sahagún and Querétaro. Its activities are mainly segmented in the area of transport (rail), and the aerospace industry. In fact, the Canadian company has been instrumental in developing the aeronautical cluster in the city of Querétaro. In 1992 it acquired the National Constructora de Carros de Ferrocarril (Concarril) and settled in Ciudad Sahagún, Hidalgo state, where it built trains for the Monterrey Metro and the Urban Electric Train System of Guadalajara. It generates about 5,000 jobs in Mexico.
Canadian businesses in Mexico see benefits in creating value chains in North America to increase their global competitiveness and access different markets. Andrés Friedman, Manager of Supply Chain for Bombardier Aerospace in Mexico, in interview for The Canadian Foundation for the Americas (FOCAL) said: "Bombardier Aerospace set up its Mexico operation in 2006, adding to the already important presence of Bombardier Transportation. Our presence in Mexico gives us the advantage of increasing our competitiveness and having a better understanding of the Latin American market. Whether in regional, business aircraft or amphibious aircraft, we see the globalization of our industry as very positive and have been progressively extending our presence around the world directly or through partnerships. This has allowed us to take advantage of local knowledge, improve our competitiveness by reducing costs and better understand local needs".
Joelle Cournoyer, the company's Vice President of Operations in Mexico said to Pro Mexico. "We have been very impressed with our Mexican workforce. They are young, enthusiastic, and eager to learn. Couple that with the fantastic cooperation we receive from state and federal governments and you can see how we have been so successful in Mexico," she says.

Cournoyer recalls Bombardier's close connections with Querétaro began in 2005 when the company announced the city's selection as its location for additional manufacturing capacity with an initial investment of US$200 million. One year later, Bombardier began manufacturing the flight control for the Q400 turboprop, as well as the aft fuselage for the Global family of business jets.
In 2008, the company announced that its Queretaro facility would be responsible for the manufacture of the major composite structures for its new Learjet 85 aircraft program, bringing an additional investment of US$250 million to its Mexico operation.
And in 2011, a mere five years after starting its Querétaro operation, Bombardier announced a further US$50 million investment for the manufacture of the aft fuselage for its new Global 7000 and Global 8000 business jets.
Automotive Industry is one of the main point of interest for Canadian Companies. Among the more than 40 participating companies are: Magna,Martinrea, Linamar, Summo, Laval Tool, Celestica, Concours Mold, Omega, Integrity Tool & Mold and MTP Molds.
Reaching an agreement in the automotive sector, a key export industry for the United States, Canada and Mexico, has become one of the most difficult issues for negotiators making efforts to modernize the North American Free Trade Agreement (NAFTA).
Magna is the largest automobile component manufacturer in Canada and one of the Canadian companies with the largest operating presence abroad. In fact, it is the company of Canadian origin that generates more jobs in Mexico, about 28,000 today. It has over 30 manufacturing plants and two engineering offices, products and sales in seven states of the country: Sonora, Nuevo Leon, Coahuila, San Luis Potosi, Guanajuato, the State of Mexico and Puebla.
Its growth and presence in Mexico have been constant in recent years: in 2011 it announced an investment of US$100 million dollars in San Luis Potosí and in 2013 it inaugurated two new plants in Coahuila. In 2015, Magna decided to open a new plant in Querétaro with an investment of US$135 million and the creation of more than 600 jobs.
The president of Magna Exteriors, Grahame Burrow, stressed that the investment of Magna in Mexico responds to the growth of the global automotive industry, where Mexico plays a fundamental role as the seventh producer of auto parts in the world.
Martinrea International Inc. is a leader in the production of quality steel and aluminum metal parts, assemblies and modules and fluid management systems focused primarily on the automotive sector. As a Tier One supplier we serve all the most important vehicle manufacturers as well as automotive suppliers but we also serve other industrial sectors worldwide. This company has operations in Ramos Arizpe, Saltillo, Silao, Hermosillo and Queretaro.

The subsidiary in Mexico of the global financial services group The Bank of Nova Scotia (Scotiabank), is one of the financial institutions with the largest presence in the country. According to the National Banking and Securities Commission (CNBV) it is the sixth largest institution in the country for the value of its loan portfolio. Scotiabank currently has over 13,000 employees among the bank, brokerage firm, its investment fund operator, the Crédito Familiar and Servicios Corporativos Scotia. By 2020, the Canadian bank will triple the number of new clients in Mexico through the digital transformation the company has undertaken, which could add 900,000 new users to its portfolio, according to the Company directors.
The mining industry in Mexico is basically dominated by Canadian companies. Goldcorp, Agnico Eagle, New Gold, Yamana Gold, Torex Gold Resources and Alamos Gold have permits to operate 7 of the 10 largest gold mines in Sonora, Chihuahua, Durango, Sinaloa, Zacatecas, Jalisco, Guerrero and Oaxaca.
Goldcorp is one of the leading mining companies in Mexico. At present, the Canadian mine operates the Peñasquito mine in Zacatecas, which is considered the main deposit of the precious metal in the country and one of the most important in the world. It produces around 400,000 ounces of gold per year, in addition to silver, lead and zinc. The Canadian mining company generates approximately an average of 6,000 jobs per year.
NAFTA is on of the world's largest trade agreements. It's on the path to be improved for the convenience of the three partners (Mexico, United States and Canada). Canadian Prime Minister Justin Trudeau said to CNN that he is "legitimately concerned" about the future of NAFTA: "We know we can work towards a good deal. But we also know that we will not be pushed into accepting any old deal, and no deal might very well be better for Canada than a bad deal".
"I continue to believe in NAFTA; I continue to believe that as a continent, working together in complementary ways is better for our citizens and better for economic growth, and allows us to compete on a stronger footing with the global economy," Trudeau said on his latest visit to Mexico City.