Chihuahua and Canada review environmental and mobility projects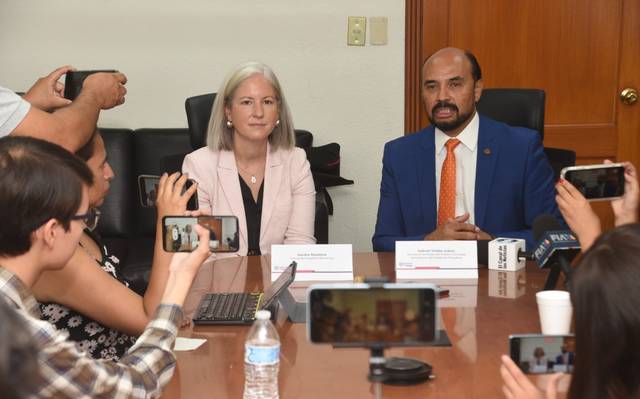 CHIHUAHUA - The Secretary of Urban Development and Ecology (SDUE), Gabriel Valdez Juárez, and the Consul of Canada in Monterrey, Sandra Shaddick, held a meeting to address areas of opportunity for both governments and issues of mutual interest such as mobility, housing and environmentalism.
The purpose of the dialogue was to strengthen the bonds of friendship between the two regions, as well as to give continuity to the cooperation of development objectives and strategies.
Valdez Juarez explained that the Consul expressed having identified similarities between the city of Ottawa and Chihuahua, meeting points that will be explored in order to share best practices and experiences, to be subsequently developed in a joint work agenda through the Canadian Embassy in Mexico.
According to the Chihuahua official, special emphasis was placed on the Circular Economy, specifically with regard to waste, also, to learn not only how other countries have advanced in the collection, transfer and final disposal, but also in the advances observed in other parts of the world in terms of recycling.
Regarding the landfill, the good practices carried out both in Canada and Chihuahua were shared, which differ in that in this city only separates what has a value, such as PET, cardboard or aluminum, in contrast to Canada, which has more advanced processes that will be implemented in Chihuahua to achieve a lower generation of waste.
Sandra Shaddick is the representative of her country in the states of Nuevo León, Coahuila, Tamaulipas and Chihuahua. The Consul indicated her interest in the activities carried out by Chihuahua, especially the methodology applied in Cadastre, drone flights and the geographic information system applied throughout the state.
The next step, explained Valdez Juarez, is to contact the embassies of more countries that have specific working groups to address these issues, in order to continue paying attention to these problems in a more structured way through the advice of different specialists.