Chihuahua and Sonora sign megaproject for US$459 million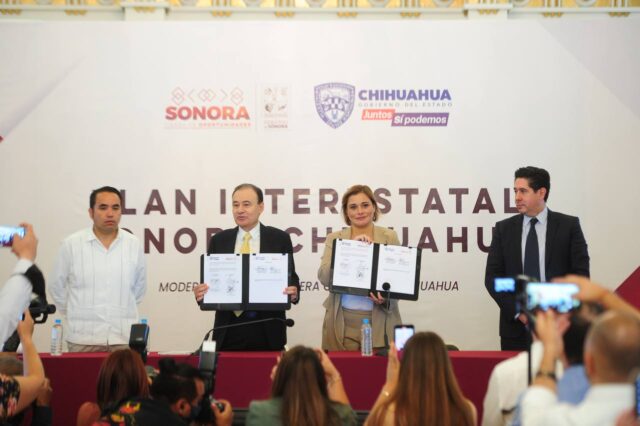 CHIHUAHUA, CHIH – The governors of Chihuahua and Sonora, Maru Campos and Alfonso Durazo, signed a collaboration agreement to advance the mega-project that will link Guaymas with the city of Chihuahua with an investment of US$664 million, of which US$459 million corresponds to said city.
This agreement will enable the highway project, with a length of more than 400 kilometers in both states, to take advantage of the port's potential to receive large-capacity ships that will be moved to Chihuahua.
In an event held in Sonora, Durazo commented that the project includes the complete modernization of the Sonora port, in addition to the use of a railroad for the mobilization of goods.
For her part, Maru Campos Galvan emphasized that Chihuahua and Sonora share the same challenges, which must be faced together, which is why the project to connect Chihuahua with the Sonoran sea through the port of Guaymas, which today represents a key point for the economy of both entities and which will be carried out in three stages, with an estimated completion date for the year 2025, has begun.
"This is a robust project that will change the image of the states of Sonora and Chihuahua. It is an ambitious project that we are not afraid of," Campos Galvan emphasized.
In the state of Chihuahua, the aim is to modernize the La Junta to Temosachic section, which is 185 kilometers long, in which US$459 million will be invested for its rehabilitation with the expansion of existing drainage works.
In addition, 11 bridges over rivers will be modernized, horizontal and vertical signaling will be installed, and overpasses will be built at the most important intersections for the correct operation of the road.
Durazo said that it is being proposed to modernize the highway that joins Chihuahua with Sonora, with the advantage that in the case of Chihuahua there is already a four-lane highway up to La Junta, municipality of Guerrero, for which 185 kilometers remain to be modernized, while in Sonora there are more than 250 kilometers.
Source: Diario.mx