Commercial Airlines in Mexico Prosper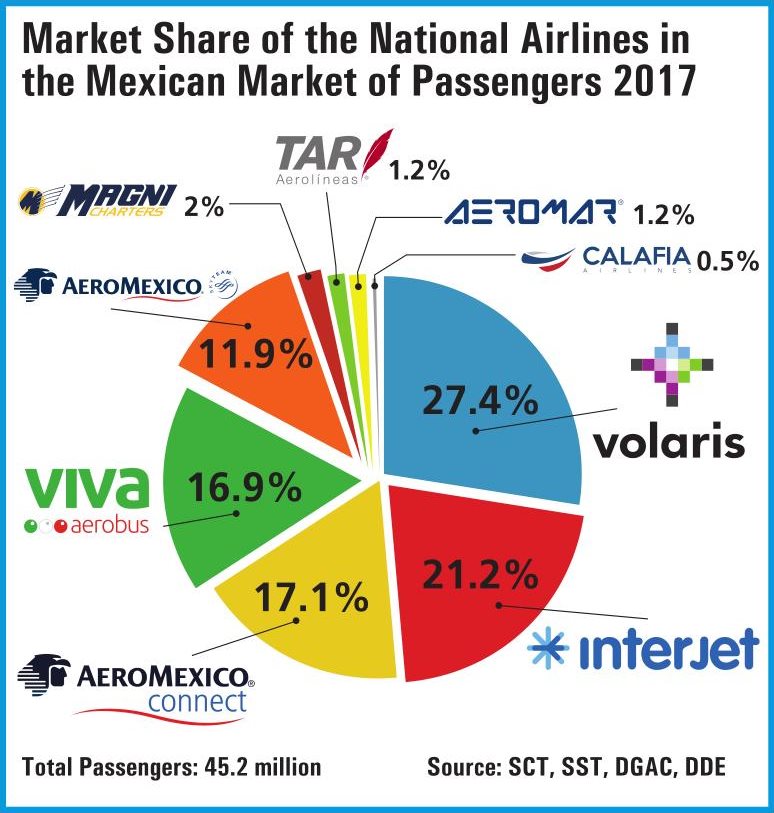 TThe National Chamber of Air Transportation (Canaero) said Mexico needs a competitive and healthy Mexican air industry, which is strategic to boost the economic development in Mexico, to facilitate exports, to encourage investment, and detonate parallel industries such as tourism.
"With over 800 national and international routes, one million direct and indirect jobs and a contribution to GDP of 2.9 percent, the airline industry has important relevance to consolidate its growth by increasing competitiveness with a social sense, which can be achieved through a solid agenda that includes the priority topics for the industry" said the president of Canaero, Sergio Allard.
According to the Canaero statement, the topics focus on: security, growth, smart regulation, infrastructure, passenger facilitation services, and sustainability.
In terms of infrastructure, based on the participation of over 70 national and international airlines in Mexico, with a commercial fleet of 355 aircraft and the transportation of more than 240,000 passengers per day, Canaero recognizes the importance of having sufficient infrastructure to meet the growing passenger demand in a sustainable and balanced manner that does not generate additional costs on air transport.
Thus, a key element to achieve this objective is the construction and start of operations of the New Mexico International Airport (NAIM). The new airport is projected to be one of the top three airport infrastructure projects worldwide, just below the terminal of Britain, in the United Kingdom, which receives 172 million passengers a year, followed by Istanbul, with 150 million. At its peak, the airport in Mexico City will receive 120 million passengers per year.
"This project will allow Mexico to take off and consolidate the potential that we have as a nation and raise the quality of life of its citizens," said the Secretariat of Communications and Transportation (SCT) Gerardo Ruiz Esparza.
2018 has been so good so far for Commercial Airlines in Mexico, according to data from the Directorate General of Civil Aviation, where during the span of time of January through April of 2018, stats recorded a total of 4,097,000 domestic passengers by air carrier which is 10 percent higher than the data recorded during the same period in 2017.
Users of the airlines in Mexico grew 8.13 percent in 2017, compared with the year 2016. Air travelers registered 45,220,789 during the year 2017, compared with 41,795,635 passengers in the same period in 2016, according to data from the Directorate General of Civil Aviation.
Exhibit 1 illustrates the passenger market share of Mexico during the year 2017.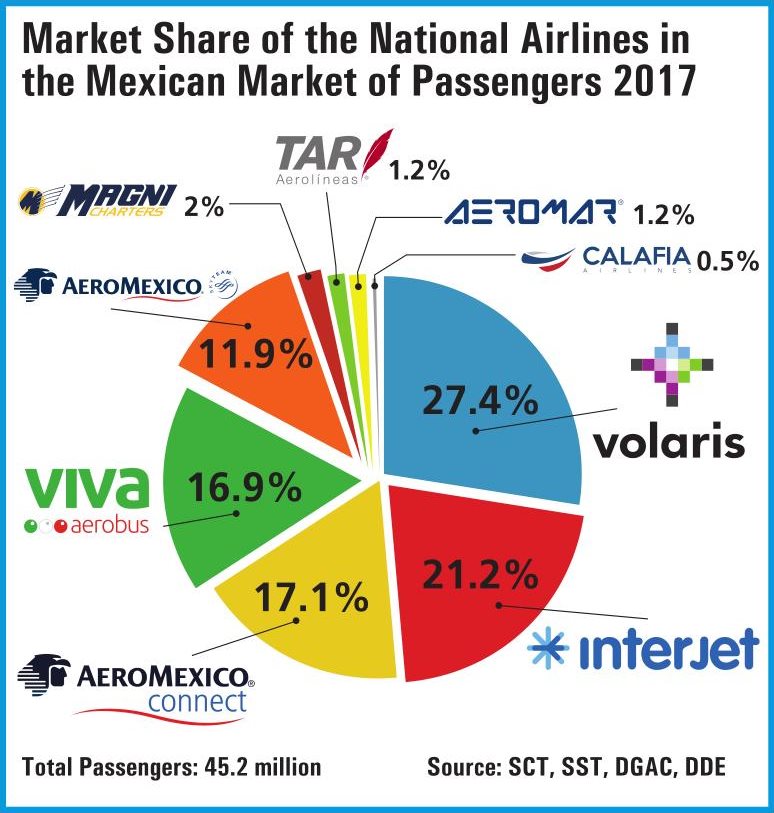 Grupo Aeromexico transported passengers reached 13,1235,231 representing an advance of one percent (97,357 passengers) over the year earlier. As a Group, Aeromexico still is the Company with the largest number of passengers transported during the year.
Aeromexico will expand seven percent the rest of this year, said Aeromexico CEO Andres Conesa. That is below a previous forecast of about nine percent, he said, citing the need for more discipline as the increase in fuel prices raises the pressure on revenues.
Aeromexico has been able to withstand some of the pressures related to capacity thanks to its partnership with Delta Air Lines, which owns 49 percent of the company, Conesa said.
The joint collaboration between Aeromexico and Delta, valued at some US$1.5 Billion, will allow both companies to operate in destinations between the United States and Mexico as if they were a single airline. With this new strategy, Delta Airlines and Aeromexico see the opportunity to grow 42 percent of their daily flights, reaching 100 flights a day between Mexico and the United States.
Since its partnership with Delta Airlines, Aeromexico has canceled more than 25 routes, and indicated that these measures were taken due to the replacement of Embraer model 145, with capacity of 50 passengers by Embraer for 76 and 99 passengers.
"It is important to mention that these destinations have not lost connectivity, as this is maintained through our main operations centers in Mexico City, Guadalajara and Monterrey," the company added in a public report.
Many of those routes have been taken by other Airlines in Mexico, taking advantage of the potential market of cities such as Puerto Vallarta, Los Cabos, Culiacan, Chihuahua, Cozumel, Merida, among other direct flights eliminated by Aeromexico.
Meanwhile, Volaris recorded 12,433,268 passengers in the year 2017, eight percent more than in 2016. Volaris remains in pace to be the leader in passenger traffic in Mexico.
Since it began operating in March 2006, Volaris has increased its routes from five to more than 172 and its fleet from four to 70 aircraft. Volaris offers more than 313 daily flight segments on routes that connect 40 cities in Mexico and 27 cities in the United States and Central America, with one of the most modern aircraft fleets in the Americas.
Most of the aircraft in the Volaris fleet belong to the A320cean family and have placed an order for another 80 aircrafts. The A320neo (new engine option) has more seats than its predecessor. "When you have a limited number of slots, like in the AICM, it is better to move a 230-passenger plane than a 180-aircraft," explains Volaris CEO Enrique Beltranena.
By 2026 (when the last of the 80 new aircraft has been delivered), Volaris expects to add 240 routes (174 today), of which 110 would be domestic and 130 international, with Canada as a key destination.
If the deal is maximized, Volaris would expand its route number by about 47 percent in the next few years, with the consequent increase in its international passenger traffic, according to an Intercam analysis.
Interjet will inaugurate this year three out of 10 of its routes outside of Mexico. This action reinforces the transformation of its business model that was originally low cost and that now emphasizes the mobilization of passengers in international markets.
In the last six years, the airline headed by José Luis Garza tripled its presence in the transportation of foreign passengers–the one that moves to and from Mexico–, going from a participation of 5.8 percent in the first quarter of 2012 to a of 23.3 percent in the same period of 2018, considering only the traffic of Mexican airlines outside the country.
Rosario Aviles, an independent aviation specialist, described the company's strategy of growing in international passenger mobilization as correct because a good part of the airline's costs are dollarized.
"There are many costs of airlines that are priced in dollars: the rent of aircraft, fuel and airport rates. Airlines like Interjet need a good mix of revenues in dollars and in local currency", said Aviles.
Meanwhile, Interjet transported 9,603,845 people in the 12 months of 2017, so the Company had a six percent increase compared to the year 2016.
VivaAerobus recorded passenger traffic in the year 2017 of a total of 7,652,281 air travelers, representing an increase of 28 percent over the same period for the airline a year earlier. It's important to remark the impressive growth that VivaAerobus has achieved during the past two years, which include also a 37 percent growth in 2016, compared with the year 2015. The Company remains focused in the same low budget market since its conception and the results remain impressive.
Magnicharters has lost height during the past years. The Company transported during the year 2017 a total of 908,481 people, representing an increase of one percent in passenger traffic compared with 2016. We need to remember its decline that recorded 11 percent in the year 2016.
TAR (1.27 percent), Aeromar (1.47 percent) and Aerocalafia (0.55 percent), have each less than the 1.5 percent of the market share of the commercial airlines.
The growing development of aviation in Mexico and the world entails great challenges:
To achieve greater energy efficiency of aircraft
The use of environmentally friendly fuels
To have a more competitive and efficient fuel supply
In order to achieve the growth of the aeronautic sector, strategies and actions have been developed, which have promoted investment and competition, such as the signing of eight bilateral air services agreements, especially that of the United States of America, which will expand participation spaces for the aviation sector.
In addition, the opening of new routes to increase connectivity has been facilitated and air traffic procedures were implemented, in order to promote fuel savings and costs for airlines.