First phase of the New Port of Veracruz to begin operations in June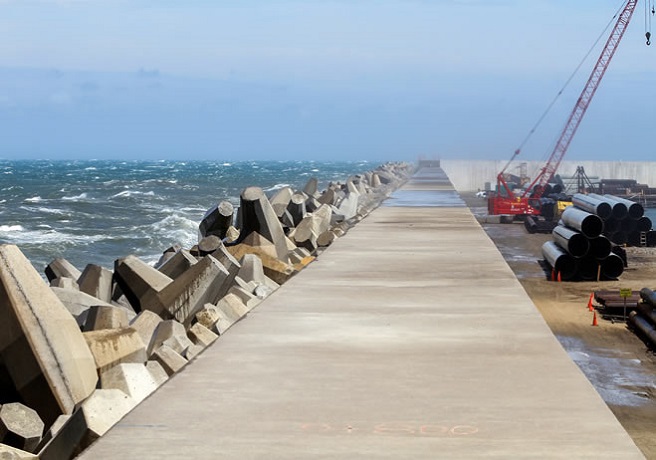 A 2.67-mile (4.3 kilometers) breakwater, the longest in Latin America, has been finished in the New Port of Veracruz, hence a new terminal facility is almost ready to begin operations adding capacity to the 116-year old harbor.
Such expansion is part of a US$ 3.69 billion (MXN$ 70 billion) project to be executed in two phases, with the first one set to begin operations at the end of June. Once the whole development is completed, cargo capacity in Veracruz will more than triple from 28 million to 95 million tons per year.
According to the local authority, Administracion Portuaria Integral de Veracruz (API Veracruz), the breakwater alone required a US$ 158 million investment to build the wall made out of eight million tons of basalt rock and 27,000 pieces of concrete (known as core-locs) of 20, 12, 9 and 3 tons, which will protect the large vessels arriving in Veracruz.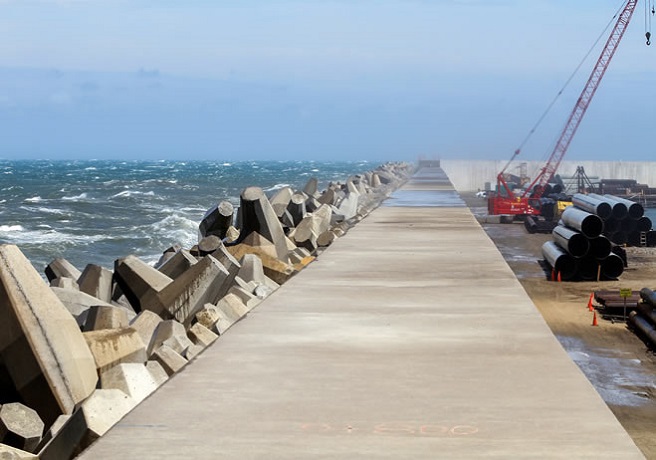 With a width of six meters, this breakwater will resist 26.1-feet (8 meters) high waves and winds of more than 124 miles per hour (200 kph). This engineering work carried out by the Spanish company Copasa is larger than those of ports such as San Antonio in Chile (3.9 kilometers), Panama (3.3 kilometers) and Sao Joao de Barra in Brazil (2 kilometers).
The project initiated in 2014 will increase the transit of ships from 2,200 to 3,200 per year, with the potential to receive vessels up to 400 meters long and 58 meters wide.
In the first phase of the construction almost half of the budget was invested, but the government through the port authority only contributed US$ 368.4 million (MXN$ 7,000 million) while the rest came from the private sector.

The new port will have five terminal buildings and 35 berths. Terminal operator Hutchison Ports will be the first tenant to handle traffic. Its US$ 450 million facility is expected to receive the new port's first ship on June 30
Another two operators, IEnova and Pinfra, have already started building their facilities. The first one will handle liquid fuels while the latter will focus on mixed cargo. Grupo Gramosa and Grupo Logra will begin construction work in May, the first to handle agricultural goods and the latter will manage bulk minerals. 
Environmental measures
The New Port of Veracruz is built next to the Veracruz Reef National Park, a major protected natural area formed by coral reefs.
For the construction of the new infrastructure, the Port Administration was obliged to rescue and relocate said reefs. Such task was undertaken two years ago by about 153 fishermen, who were trained in diving and rescue of coral colonies.
In total, 48,000 marine organisms were relocated 25 kilometers from their original site. Two years after their transfer, a survival rate of 85% was achieved, while environmental authorities demanded 70%.
For this task, the fishermen made about 3,000 trips, certified by the National Autonomous University of Mexico, the National Polytechnic Institute and the Universidad Veracruzana. These activities are already a global example of reef rescue.
MexicoNow
Related News
– Mexico's trade surplus hikes 39.9% in February, preliminary figures show
– Mexico's first Specialized Car Terminal formally begins operations
– Mexican ports handle more than 6 million containers in a year for the first time