Dart Aerospace Invests US$3.6 Million in Chihuahua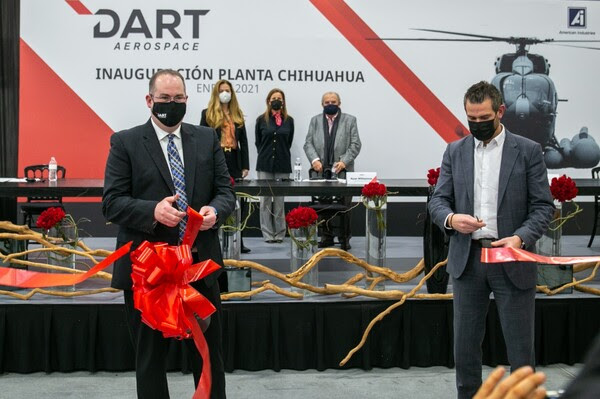 CHIHUAHUA – Dart Aerospace, one of the world's leading manufacturers of flotation equipment and parts for aircraft, inaugurated its new plant in the Chihuahua Sur Industrial Park, with an investment of US$3.6 million.
The event was attended by the head of the Ministry of Innovation and Economic Development, Alejandra de la Vega; the project director and plant manager, Eric Guernard; the president of American Industries, Luis Lara; vice president of Global Operations Ryan Williamsom and Mayor María Angélica Granados.
The building covers an area of ​​70 thousand square feet, where 107 new jobs are expected to be created in the first stage; manufacturing of parts, components and equipment for airplanes and helicopters will be carried out in this facility.
During her speech, Alejandra de la Vega highlighted that the state of Chihuahua has a broad aerospace vocation, as it was one of the first entities in the country where the first operations in this sector were installed.
"What is done in Chihuahua is unique, we are very happy for Dart and Chihuahua, but above all for the staff. This investment is one more example of the confidence that entrepreneurs have in the state, they have the confidence and certainty that just as we work together to be here today, we will continue working so that their operation is successful, "the official said.
She added that the entity has achieved exponential growth in the industry, by becoming one of the largest, most productive and advanced development points.
For his part, Eric Guernard stated that when reviewing the site where this new plant would be launched, several countries and cities were analyzed and they were oriented by Chihuahua, as it is one of the states that showed a greater capacity for teamwork.
"This is the first Dart center of excellence in Mexico, it is very important to emphasize the valuable support we have had from the government for the industry," Guernard said
Source: El Heraldo de Chihuahua