Demand for Baja Medical Devices Soars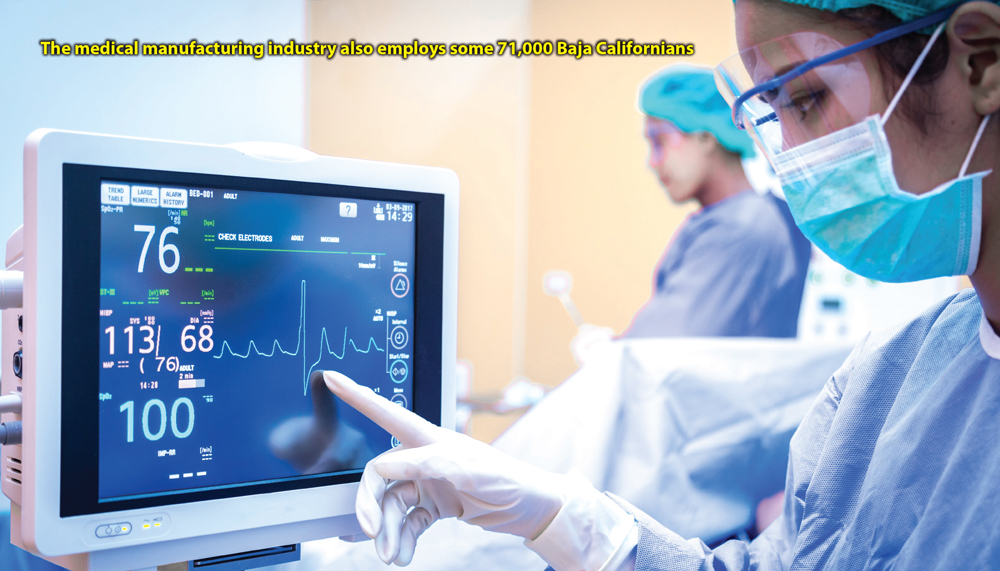 By Wendy Fry
Demand for medical ventilators has soared in Mexico in recent months as patients with respiratory conditions linked to the coronavirus pandemic overwhelmed hospitals in Mexico, the United States, China and Europe.
Tijuana Mayor Arturo González Cruz said the demand from around the world to the city's medical device manufacturers increased many times fold.
The city's medical device sector, which includes 48 manufacturers, contributes to Mexico's spot as the top source of imported medical devices for the United States. It's a US$17 billion industry nationwide – one of Mexico's biggest export sectors.
Mexico is the U.S.'s top supplier of medical equipment. It accounts for 17% of U.S. imports, according to Fitch Solutions.
The medical manufacturing industry also employs some 71,000 Baja Californians, said Baja California Secretary of Economy Mario Escobedo.
Some Baja California companies have retooled operations or ramped up production to meet the demand.
U.S. medical device firm Hillrom is starting to build ventilators in Tijuana while Vyaire Medical in Mexicali is boosting production of their ventilator parts.
U.S. medical device firm Hillrom is starting to build ventilators in Tijuana while Vyaire Medical in Mexicali is boosting production of their ventilator parts.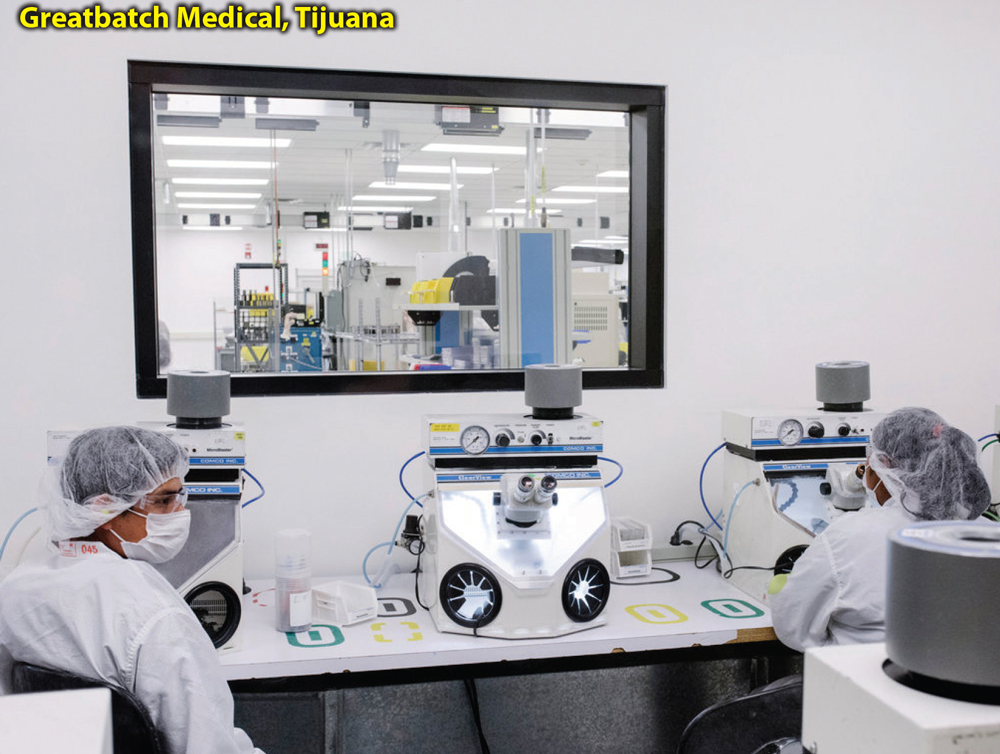 "Currently, based on the list of needs we have received for medical devices necessary for the pandemic, I am looking for companies that can develop these devices in Baja California," said Jimenez, who also worked as an engineer for Thermo Fisher, the company praised by U.S. President Donald Trump for ramping up production of coronavirus test kits.
New Zealand firm Fisher & Paykel Healthcare said it was increasing Mexico production of humidification devices and associated consumables, which are used alongside ventilators.
Secretary of Economic Development for Tijuana Arturo Perez said demand for thermostats was up 150%; probe covers was up 300% and medical anti-bacterial solutions was up 430%.
Integer, a U.S. company with a facility in Tijuana, said has been increasing production of ventilators and patient monitoring device batteries by at least threefold per month amid the pandemic.
Baja California's medical device industry is only expected to grow this year. Some hope it will be enough to slightly offset the devastating economic impact of the coronavirus stay-at-home orders.
Escobedo estimated the industry will bring the region at least another 9,000 to 10,000 jobs in 2020.
The secretary said the coronavirus pandemic is going to cause countries and companies around the world to rethink how they operate.
For example, he said, most of the medical devices produced in Baja California are shipped to Costa Rica to be sterilized there and then shipped back before being sold on a global market.
Now, two companies in Baja California are changing their operations to sterilize the products locally, he said.
Baja California Governor Jaime Bonilla said the U.S.-based Smiths Medical factory initially refused to sell Mexico some of its ventilators, which are badly needed across the state and country to treat patients with the coronavirus. Currently, the state has about 200 of the life-saving machines in both the private and public health sector.
"We said to them 'if you want us to consider you essential, you have to provide some benefit to the people of Baja California, by selling us ventilators, because we need them," the governor said.
Bonilla said the company declined, but wanted to continue using Baja California workers as labor, which would put more people in the local community at-risk for the coronavirus.
The Baja California governor said the company contacted Mexico's
foreign relations secretary, Marcelo Ebrard, who called Bonilla to pressure him to change his mind.
Bonilla said the company also enlisted the help of the U.S. Ambassador to delay the factory's closure order, but Bonilla said he was not going to budge.
"My priority has to be the health of Baja Californians," said Bonilla. "That is going to be my position to the end."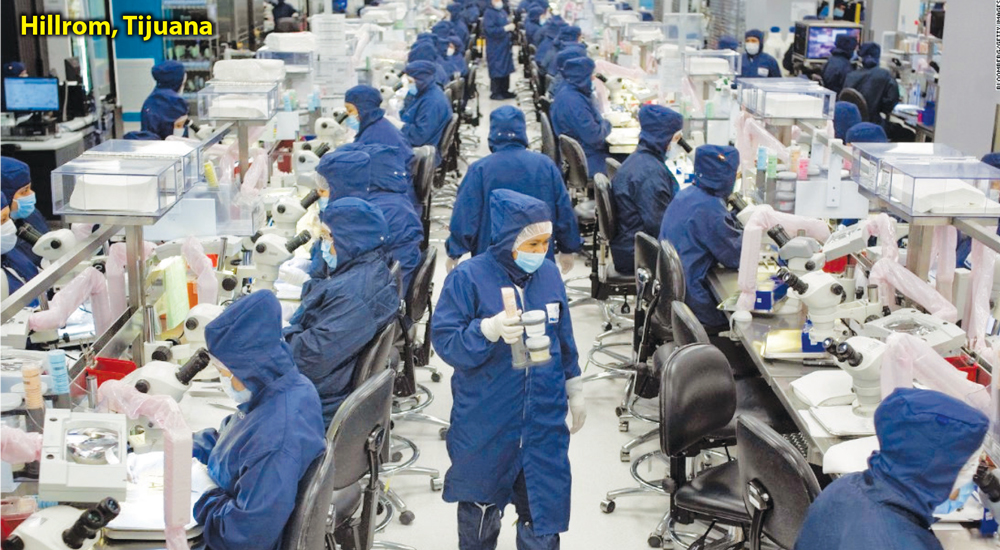 Headquartered in Minneapolis, Minnesota, the company is owned by U.K.-based Smiths Group.
Some factories in Baja California operate under "export only" rules that allow the companies to import raw materials without taxes on the condition they do not sell to local markets, industry experts said.
State officials said those rules can be waived in the midst of the unprecedented health crisis.
"We … must continue operating because we are going to save lives and mitigate the pandemic," said Miguel Angel Felix Diaz Alonso, a treasurer of the Mexican industry association that represents 76 medical manufactures in Baja California.
Baja California finally reached a deal Smiths Medical, the U.S.-based maquiladora that produces ventilators, after the company agreed to sell some of the crucial ventilators to Mexico.
The medical sector manufacturing industry is included on a governmental list of "essential activities," which has allowed many factories in Baja California to stay open despite the worldwide shutdown that has hit most businesses.
But officials say there's a caveat: a business must be producing medical devices to benefit Mexico.
"Obviously, all medical devicemanufacturing is considered essential, but only if you are selling to Mexico," said Escobedo. "The possibility of our workers contracting COVID-19 and risking their lives and the community is only going to be permitted if what they're doing is essential to Mexico."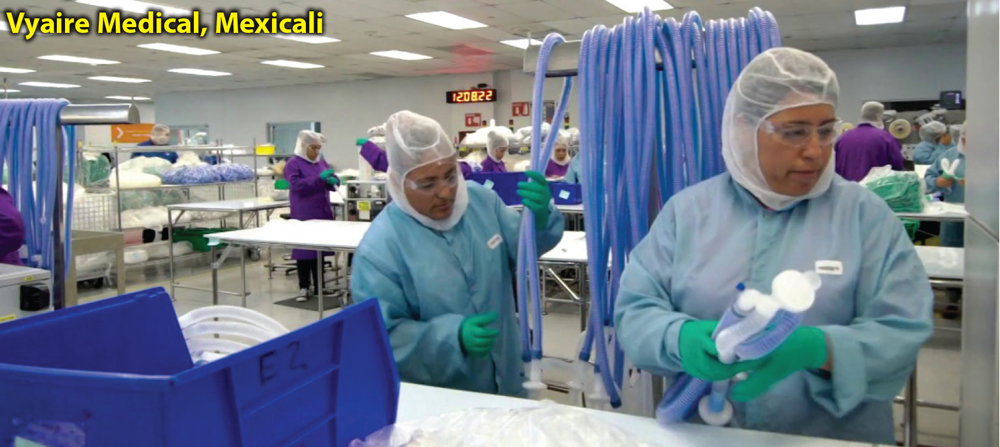 Escobedo said the state will need at least another 1,000 to 1,500 ventilators for its own residents to treat patients affected by the coronavirus pandemic. The majority of the ventilators in Baja California are not from local manufacturers, he said.
State officials said U.S.-basedSmiths Medical continued operating, despite being told their business did not meet "essential work" guidelines because they sold their ventilators exclusively to the U.S.
Baja California Gov. Jaime Bonilla announced mid-April the factory will be allowed to continue operations, after the company reached a compromise with state officials to also sell locally.
"It doesn't have to be a lot, but at least a percentage," said Escobedo. "And if they want to expand operations, we will do everything we can to help them expand."