DENMARK IN MEXICO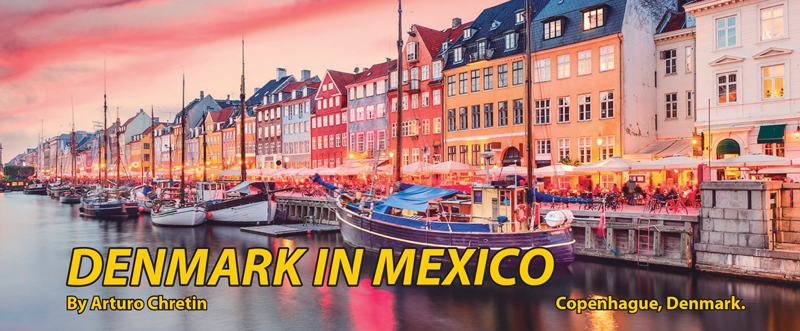 By Arturo Chretin
Denmark is a rich, modern society with state-of-the-art infrastructure and distribution systems, a highly skilled labor force, and a central location that makes it an excellent distribution point for the Scandinavian, Northern European, and Baltic markets.
The four main Nordics—Denmark, Finland, Norway, and Sweden—are advanced, high-income, and highly connected countries. While each country has their own unique market and characteristics, there are certain synergies that tie together these highly innovative marketplaces. With an aggregate GDP of US$1.47 trillion and combined population just shy of 27 million people, the Nordics are of genuine interest to a number of U.S. companies with products, technologies and services that are appropriate. Denmark's standard of living is among the highest in the world with a GDP per capita of US$65,147 in 2019.
Denmark has one of the strongest economies in Europe, characterized by a balanced state budget, stable currency, low interest rates and low inflation. The Danish economy is small, open and highly geared to trade with other countries.
European Countries like Germany, Sweden, Great Britain and Norway are by far Denmark's most important trading partners; outside Europe, the U.S., Mexico and Japan are also important trading partners. This reliance on trade makes Denmark keen to trade freely in goods and services with other countries.
As a result, Denmark is a member of collaborative organizations such as the European Union, OECD and WTO and has actively lobbied within this framework for the removal of barriers to free trade.
Economic and Political Integration
Denmark is a firm advocate of liberal trade and investment policies and actively encourages foreign investment. Denmark's major imports are industrial machinery, capital equipment, computers and telecom products, software, aircraft, and scientific instruments.
Mexico is a reliable destination for Danish investments and inspires to set up business or expand their operations in the country. There are approximately 230 Danish companies in Mexico. Over the years, both nations have signed several bilateral agreements such as an Agreement for Economic Cooperation; Agreement for the Mutual Protection of the Works of Authors, Composers and Artists; Agreement DENMARK IN MEXICO By Arturo Chretin Copenhague, Denmark. MAY – JUNE 2021 MEXICONOW 15 for Scientific and Technical Cooperation; Agreement to Avoid Double Taxation and Prevent Tax Evasion in Income and Property Taxes; and an Agreement for the Promotion and Reciprocal Protection of Investments.
In 1997, Mexico signed a Free Trade Agreement with the European Union (which includes Denmark). Since then, trade between the two nations has increased dramatically.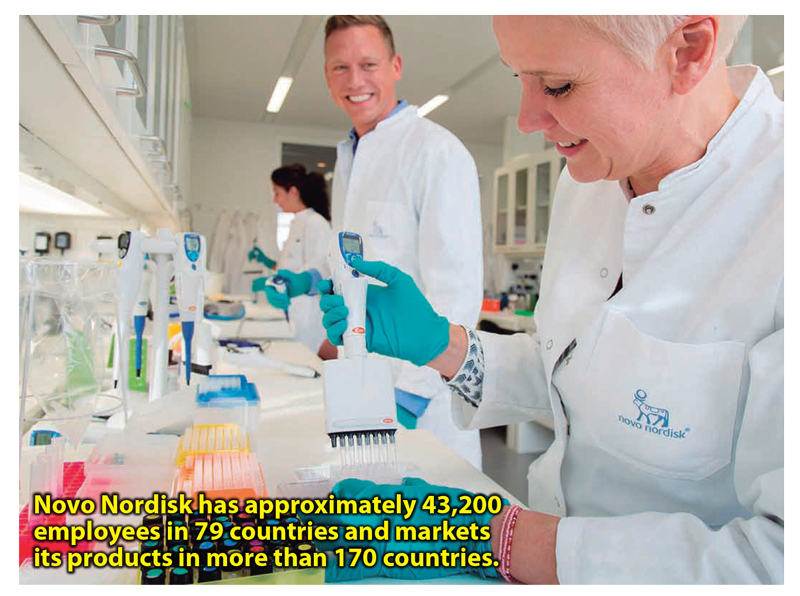 Strategic Sectors
Denmark's main exports to Mexico include energy, electronics, toys, medicines, surgical tools and industrial machinery. Mexico's main exports to Denmark include airplane parts, centrifuges, computers, motors, generators, medicines and telephones (including mobile phones).
Denmark is the largest investor in Mexico of all the Nordic countries. Danish multinational companies such as Maersk, Grundfos, Lego, Danisco, Nov Nordisk, FL Smidth and Danfross operate in Mexico. Lundbeck, LEO Pharma, Vestas, Demant and PolyTech also have a strong presence in Mexico.
Novo Nordisk is a global healthcare company with more than 90 years of innovation and one of the world's leaders in diabetes care. The company is also one of the leaders in hemophilia care, growth hormone therapy and hormone replacement therapy, and obesity. Headquartered in Denmark, Novo Nordisk has approximately 43,200 employees in 79 countries and markets its products in more than 170 countries.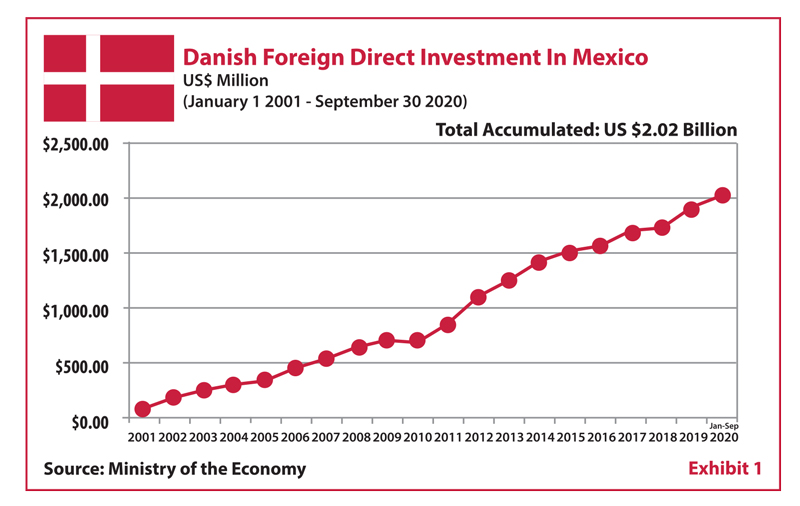 In an interview with MILENIO, Yiannis Mallis, general director of the company in Mexico, commented: "We are a company that has been the world's diabetes expert for almost 100 years, and part of our strategy is that we launched this platform, called Defeat diabetes. We have an ambitious goal, because we know that the disease has a very high impact."
The Danish toy manufacturer Lego has announced a several major expansions of its plant in Monterrey (Cienega de Flores), Nuevo León. Back in 2015, The Lego Group announced investments of up to US$800 million to bump capacity at the factory, generating as many as 3,000 new jobs. The Cienega de Flores plant covers an area of 144 hectares, but it still has land to grow.
Lundbeck Mexico is an international pharmaceutical company based in Denmark, specializing in diseases of the central nervous system. Lundbeck integrates Research and Development, Production, Marketing and Sales, being present in more than 90 countries and is considered a pharmaceutical company dedicated to Innovation.
More than 5,000 people from the five continents work in Lundbeck, with about 150 working in Lundbeck Mexico since the opening of the subsidiary in 2000.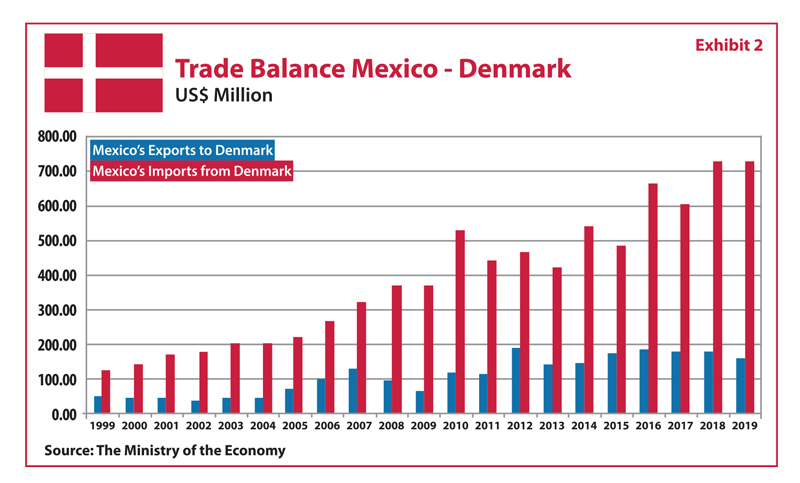 Grundfos is the world leader in the design and manufacture of pumps for the handling, extraction, pressurization, circulation, supply and treatment of water. It is the leading manufacturer of water pumps and its wide variety of submersible and surface pumping equipment lines meet domestic, commercial and industrial needs. Grundfos products are considered premium quality, long-lasting and easily accessible as they are available through its extensive dealer network in Mexico. They are used among other things for water supply, pressure boosting, industrial refrigeration systems, irrigation, air conditioning systems, boiler feed, sludge and effluent management.
Vestas WTG México is a company that operates mainly in the Electric Power sector and has important operations in Mexico. Some topics related to its developments are: Onshore Wind, Offshore Wind, Wind and Industrial Equipment Supplier.
Facts and Statistics
Regarding direct investments of Denmark in Mexico, the companies with Danish participation in Mexico have materialized, according to the data of the Ministry of Economy (SE) of Mexico, with investments for US$2.02 billion from January 2001 through the month of September of the year 2020.
Exhibit 2 summarizes the Trade Balance between Mexico and Denmark. It shows that commerce between the two countries reached its maximum level in 2020 (Data from January to November 30th), with US$974 million recorded in trade between the two countries.
The bilateral commerce has been always negative for Mexico. Important factors in the trade balance between Mexico and Denmark are interesting. For instance, take the fact that during the 20-year time span from January 1999 to December 2019, total exports from Mexico to Denmark increased from US$49.12 million to US$177.31 million. And at the same time, imports from Denmark to Mexico also showed a more impressive growth from US$126.45 million (1999) to US$727.84 million (2019). Another interesting detail is that in 2019 commerce stats (US$885.95 million) decreased 3% over the data of 2018 (US$904.62 million).
Conclusion
Denmark and Mexico have a respectful and common agenda for further economic integration. Both countries are among the largest oil producers in the world, but we need to address common goals in terms of energy, where we see different points of view between the countries nowadays. While Denmark is working to increase its renewable energies, Mexico has more interest to continue exploding oil and fossil fuels.
At this time, the technology, research and development of the Danish health companies take more importance than ever, and Mexico is an important target for its domestic market as well as the point of entrance to North America.
Obviously the Free Trade Agreement between Mexico and the European Union has helped in an important way to increase trade and investment in strategic sectors between the two countries, but we see a great opportunity for Mexican companies to look at Denmark as an important place to invest as well.