E-commerce and Industrial Real Estate: The Winning Combination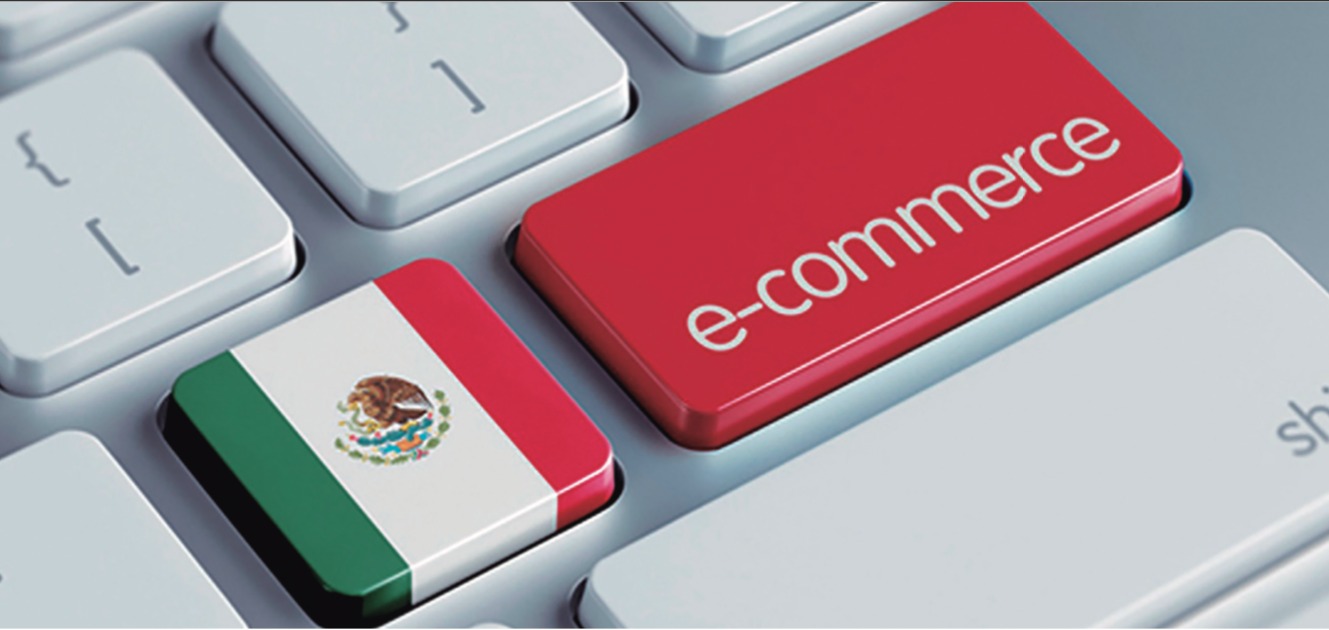 By Iván Iglesias
Current times are making the fate of many economic sectors in Mexico. While some have suffered for months the contraction and crisis of sales, production and lack of opportunities, others, with great fortune, have seen their market share and future prospects increase. This is the case today with the industrial real estate sector, since its demand is growing almost exponentially thanks to a commercial actor that has entered the scene in a leading way, in an environment with little social mobility and surrounded by a pandemic that does not slow down: e-commerce.
Given the contagion prevention measures and the needs of the quarantined population, the demand for logistics and distribution spaces accelerated due to the four-fold increase in the volume of products handled by electronic commerce through digital retailers, supermarkets and companies of consumption.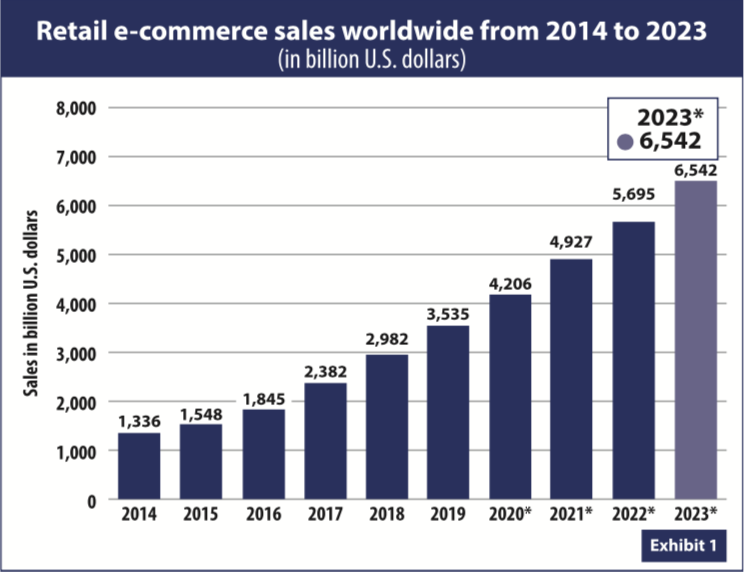 Real Estate companies forecast a boost in the industry in 2021 due to the creation of new distribution centers for last mile deliveries.
Pierre-Claude Blaise, general director of the Mexican Online Sales Association (AMVO), is clear that Mexico already plays a fundamental role in e-commerce and its future is looming with enormous growth possibilities.
"Mexico was the country with the highest growth in the world in 2019, with 35% of total sales in the world, while in the online retail channel its participation is 5%. For Blaise, the good news for us is that new technologies allow leapfrogging to avoid all the previous stages of technological preparation that other countries have gone through," Blaise said. "For this reason, it seems that for Mexico this growth will accelerate. [What we must do] is import good practices from the more developed countries to quickly increase that 5% to 10-20%."
E-commerce boosts real estate
It is commonly thought that an e-commerce supply chain requires up to three times more warehouse and logistics space than a traditional brick andmortar supply chain. A recent CBRE Research study found that for each incremental us$1 billion growth in e-commerce sales, an additional 1.25 million sq. ft. of distribution space is needed to support this growth.
"E-commerce in Mexico is a big trend now, too. We have Amazon, Mercado Libre, Liverpool, El Palacio de Hierro and Walmart have their delivery systems working at full capacity," said Gerardo Ramirez JLL executive director Industrial Services and Monterrey Office. "Moreover, if you add to this trend that logistics spaces are becoming scarce in urban centers such as
Mexico City, Leon, Puebla and Guadalajara, we can definitely say that ecommerce is shaking up the Mexican market."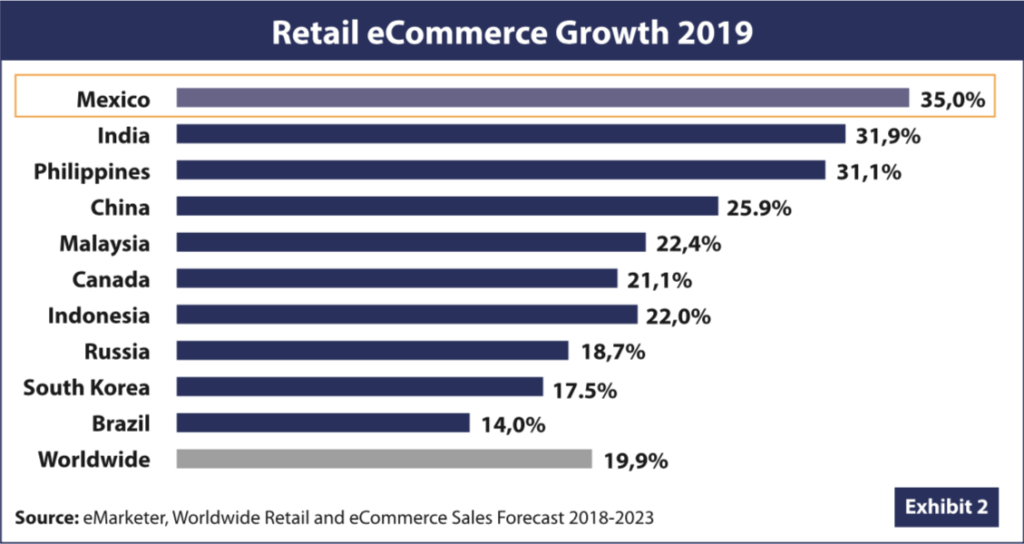 Ramirez added this new dynamic forced retailers to improve their processes to accelerate their deliveries and more companies are looking for space to establish a last mile delivery center.
Furthermore, Francisco Muñoz, senior vice president of the consulting firm CBRE México Industrial & Logistics, comments that at the trade level, the key factors of logistics operations are changing, such as supply chains, same-day deliveries, and even how the return of products is handled.
"The most relevant thing is that the volumes of products derived from online commerce continue to grow more and more," Muñoz expressed. "Thanks to this fact, companies are responding to the need to have distribution centers that have sufficient capacity to meet this growth in e-commerce users, which has unleashed a new demand for industrial buildings."
Muñoz added these new works underway have fueled the opportunities for custom-made industrial buildings, as is happening in the CTT North Corridor (Cuautitlán, Tultitlán and Tepotzotlán) in Mexico City, and it is expected that this will continue in the main cites of the country. The considerable increase in the activity of construction and absorption of square meters in Mexico City is due to the rise of electronic commerce.
According to Muñoz, many of the buildings that are in process exceed 30,000 square meters and are considered suitable for e-commerce. Thus, the new ways in which consumers buy merchandise "at a distance" inevitably impact the way in which products are transported, sorted and distributed. This has a direct effect on the industrial real estate market, and as a consequence, the required distribution model (necessarily) experiences priority changes.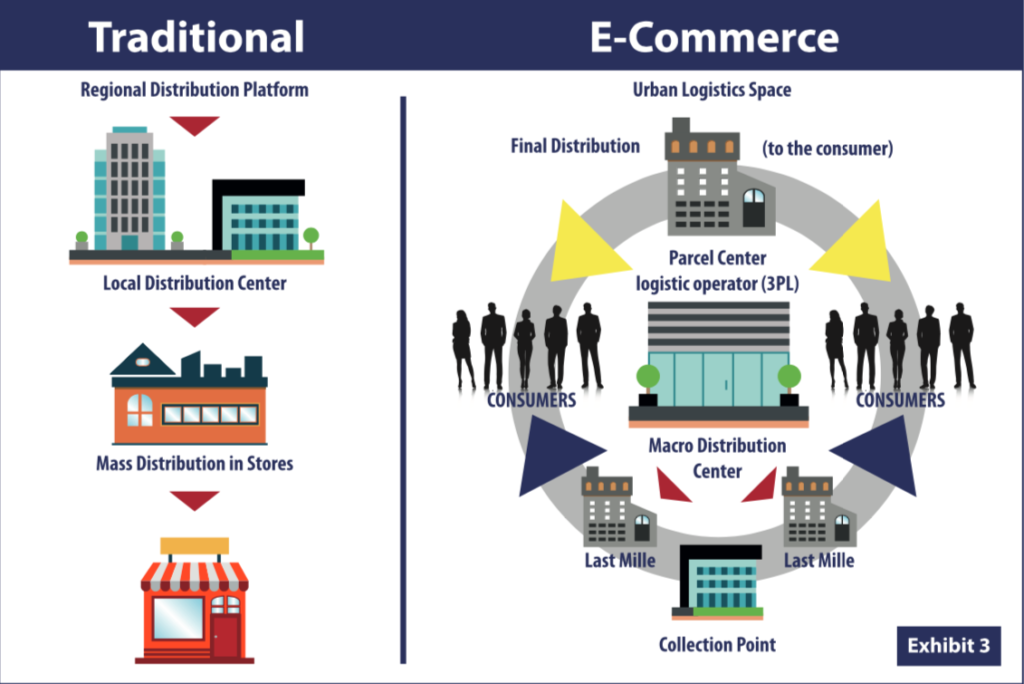 This situation did not go unnoticed by FIBRA Prologis. In 2020, this REIT has acquired a series of assets for an amount of around US$390 million, located in the three most dynamic markets in the country: Mexico City, Guadalajara and Monterrey. Several of these assets are logistics buildings.
"E-commerce, which we have seen as an important structural driver for real estate logistics, is accelerating," said Luis Gutierrez, CEO, Prologis Mexico. "The health pandemic is forcing many people to change their shopping habits and forcing them to adopt online shopping faster than they originally projected."
At the time of the first acquisition, back in April, Gutierrez said the transaction improved their portfolio with the acquisition of a state-of-theart logistics park that was fully leased to high-quality tenants across diverse industries.
"We have increased our presence in the Mexico City market while deepening relationships with key customers and adding several new ones," Gutierrez expressed.
Moreover, Hector Ibarzabal, Prologis Operations director, said the recent acquisitions are preparing the company for further demand.
"In the past, e-commerce operations accounted 23% of our operations, but recently, we have seen that this number has probably doubled," he added.
Key topic: logistics in supply chains
According to experts from the industrial real estate sector, the design of the supply chainpresents disruptive models thanks to e-commerce. For example, most of the online sales giants employ a distributed processing model, with multiple facilities to handle large shipment requirements in a short time and with delivery security. Due to this fact, the supply chain and logistics are two key points of intersection of the industrial real estate market, which is why many companies are already modifying their strategy when choosing how and where they should locate these distribution centers.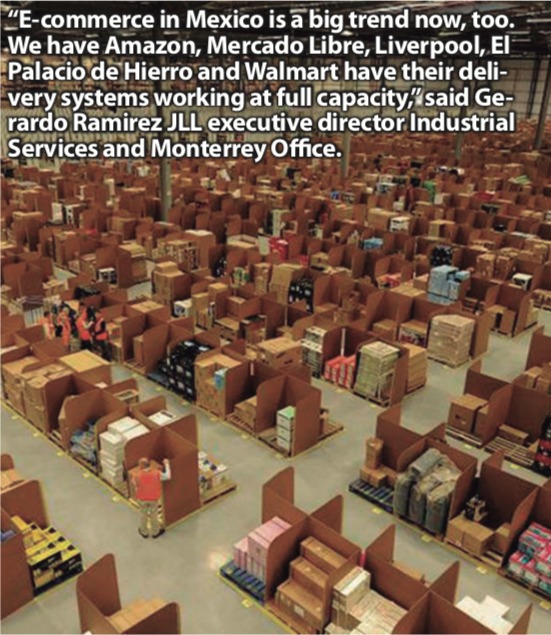 Today, the goal of many companies is to locate their distribution centers in metropolitan areas of cities or in areas with a high population density. From there, they can extend the supply chain network by establishing their processing centers with easy access to express delivery service companies, which will make same or next-day deliveries (this process is commonly known as a "last mile operation").
This proximity and the number of locations within downtown areas mitigate the challenge of needing an intermediate facility to house
smaller inventories for a short period of time. However, now there is a great challenge: to install quality last-mile hubs in Mexico City neighborhoods and other strategic areas in the country; it is necessary to counteract the lack of space and the high costs of construction or transformation of properties that currently have another use other than storage and distribution. In this regard, Blaise comments: "The problem of the last mile has not been solved, but this is a great opportunity to improve the work on different issues [and not lose business due to lack of skills, high cost and quality in service issues]."
The future
As you can see, e-commerce companies have established a solid presence in large-scale and regional processing centers. But there are challenges to face in order to ensure that the entire online sales chain does not suffer and, in addition, the demand for strategic industrial buildings continues to benefit. Regarding these challenges, Muñoz envisions that in order to make same-day deliveries efficiently, "a slightly smaller industrial space will be needed, which will drive the demand for light industry facilities located in neighborhoods of dense populations in Mexico City and its metropolitan area." Although the competition between these companies will be based on achieving the best shopping experience for the consumer, a good part of it will be based, first, on new technologies, and second, on an efficient supply chain, which goes from the product supply until distribution, "and this can only be supported by a suitable real estate selection, taking into account the size and correct location of each of the logistics centers and distribution points."
Finally, this synergy between the real estate sector and e-commerce must be supported by a priority strategic alliance between both economic activities. "My recommendation is that we start working hand-in-hand as an industrial real estate industry with the e-commerce industry to see where the greatest needs lie," said Blaise.