El Paso – Ciudad Juarez Industry Summit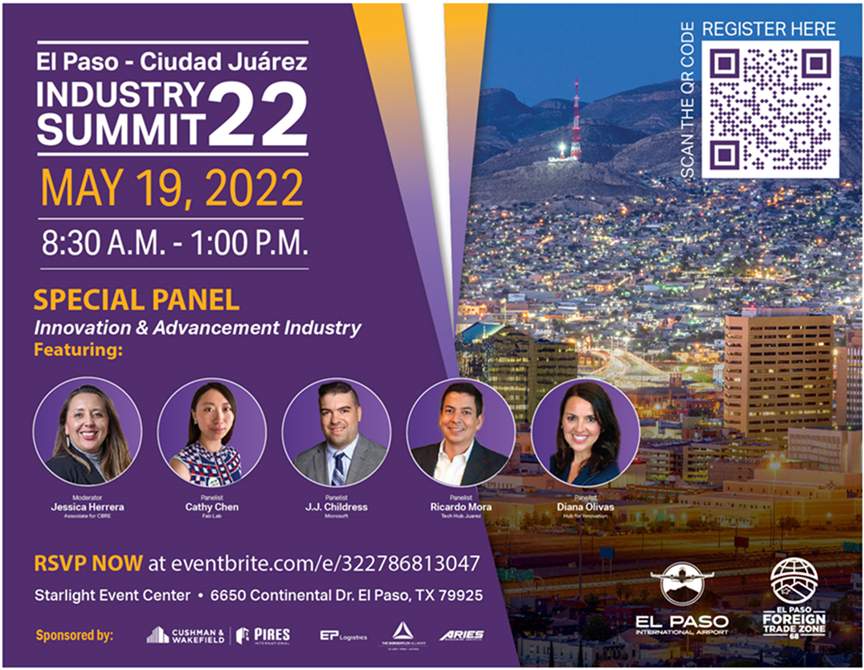 WHO: City of El Paso's Foreign Trade Zone 68, El Paso International Airport
WHAT: The El Paso- Ciudad Juárez Industry Summit 22
WHEN: Thursday, May 19, 2022 -- 8:30AM -1PM
WHERE: Starlight Event Center, 6650 Continental Drive, El Paso, TX 79925
WHY: Under the direction of the El Paso International Airport, Foreign-Trade Zone 68 has organized the El Paso-Ciudad Juárez Summit 22 to provide local businesses and industry an opportunity to meet together and learn about best practices and trends in international trade. This year's theme is Adapting for the Future and will feature a Keynote Speaker and two panels discussing this topic and how it relates to our region's industry.
This event serves as part of the FTZ 68's mission to help expedite and encourage international commerce, and to support local business and industry in achieving global competitiveness. More specifically, FTZ 68 has been helping optimize global supply chains for worldwide businesses since 1982.
The El Paso–Ciudad Juárez Industry Summit will feature a dynamic Keynote Speaker, Sylvia Acevedo of the Qualcomm Board of Directors and past CEO of the Girl Scouts of America. There are over 10 distinguished speakers including; Emma Schwartz of Ecotone Investment Fund (former CEO of the MCA), Matt Keats of Keats Southwest, Diana Olivar of Boost Human, Cathy Chen of El Paso Fab Lab, J.J. Childress of Microsoft, Brett Preston of Pires International, Octavio Saavedra of EP Logistics, Mia Romero of the El Paso Chamber of Commerce, Jose Zavala of Stoneridge, Ricardo Mora of the Technology Hub in Cd. Juarez, Jessica Herrera of CBRE, and Elizabeth Triggs of the El Paso Economic and International Trade Department. All speakers come have highly accomplished backgrounds in foreign trade, innovation, and advanced manufacturing and are renowned for their high levels of passion and enthusiasm.
The morning will feature two distinguished panels who will discuss what innovations and advancement in manufacturing are coming to us in the near future, and how the El Paso-Ciudad Juarez region is preparing to meet this future. Additionally numerous regional firms, including commercial real estate development companies, logistics providers, manufacturing suppliers, and industry service providers from El Paso and Ciudad Juárez have signed on as exhibitors and will be on hand to provide key information and resources.
What can you gain from attending? If your business is considering expanding to a foreign market (such as Mexico, Europe or Asia) this is the event you want to attend. If your business is looking for suppliers and connections in a foreign market, this is the event to get you started. If you are looking to network with other industrial leaders, this is the event to meet them. If you are looking for best practices to help optimize your operations, this is the event to learn. If you are looking to see the trends in the industry and the El Paso-Ciudad Juarez economy, this is the place to hear about them.
If you are interested in registering for the El Paso–Ciudad Juárez Industry Summit 22 this event, please see the event's registration link:
For additional information on the El Paso–Ciudad Juárez Industry Summit 22, please call EPIA's Foreign-Trade Zone office at 212-0480 between 8 a.m. and 5 p.m. or send an email to: ftz68@elpasotexas.gov