FEMIA and the AEM sign collaboration agreement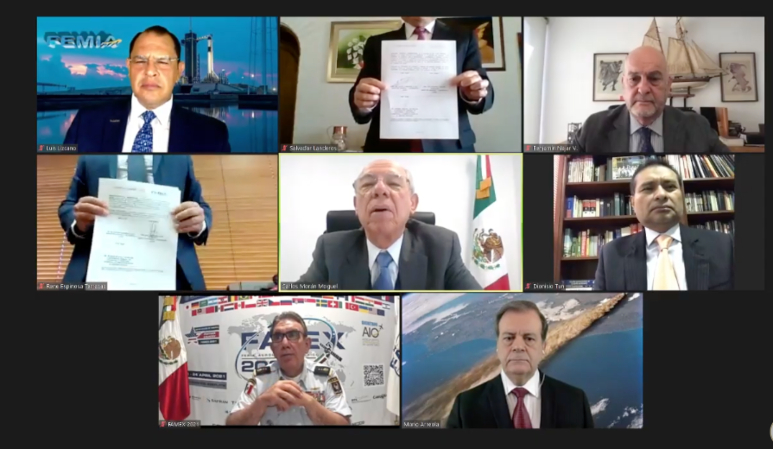 MEXICO – The Mexican Federation of Aerospace Industries (FEMIA) and the Mexican Space Agency (AEM) signed a collaboration agreement for the promotion of specific projects related to earth observation, telecommunications, science and space technology for the benefit of the Mexican population.
Likewise, they seek to scale the capacities of Mexican companies in the aeronautical sector towards the space sector, where only the segment of satellite construction represents a market of US$12.5 billion.
"Through this collaboration agreement between AEM and FEMIA, a new stage in the development of the space industry in Mexico begins. This collaboration is of utmost importance for the sustainable development of the national space sector, promoting innovation, public and private investment, job creation and increasing the country's competitiveness in this sector ", said René Espinosa Terrazas, new president of the FEMIA.
He added that the successful steps that the Federation has taken for 13 years will be replicated in the space industry to position Mexico in the 12th position regarding the global aeronautical industry and with the objective of turning Mexico into a key factor for the space industry.
Espinosa Terrazas revealed that, as part of the collaboration with the AEM, two initial projects will be carried out: the launching of the AztechSat 2 constellation and the Air Center Mission, in conjunction with the Atlantic International Research Center.
For his part, Salvador Landeros Ayala, general director of the AEM, highlighted the importance of the agreement for the use of space in the telecommunications areas, to reduce the gap in access to technologies and services for social welfare purposes, in addition to the observation of the earth for the benefit of agriculture, disaster prevention, security, surveillance, meteorology and the environment, among others, in addition to the development of national space science and technology.
"We have to ensure the future of our orbital positions and compatibility and competition with the low-orbiting satellite constellations that are emerging, as well as the arrival of other technologies that can put us at a great disadvantage. We must take advantage of the opportunities in the manufacturing of the space and terrestrial segment with the appropriate strategies, "said the head of the AEM.
Finally, Jorge Arganis Díaz-Leal, minister of Communications and Transportation, highlighted the opportunities that will be generated in order to take advantage of the benefits of satellite technology. "The sum of efforts between FEMIA and AEM will undoubtedly lead us to take bigger steps in an industry that will delineate Mexico's future horizons," he said.
The signing of the agreement was carried out virtually, with the presence of Carlos Moran Moguel, undersecretary of Communications and Transportation; Benjamín Najar, president of the FEMIA Space Commission; Dionisio Tum Molina, general coordinator of industrial and commercial development and competitiveness in the space sector of the AEM and General Rodolfo Rodríguez Quezada, president of the Mexico Aerospace Fair.
Source: A21