Getting Back to Work on the Production Floor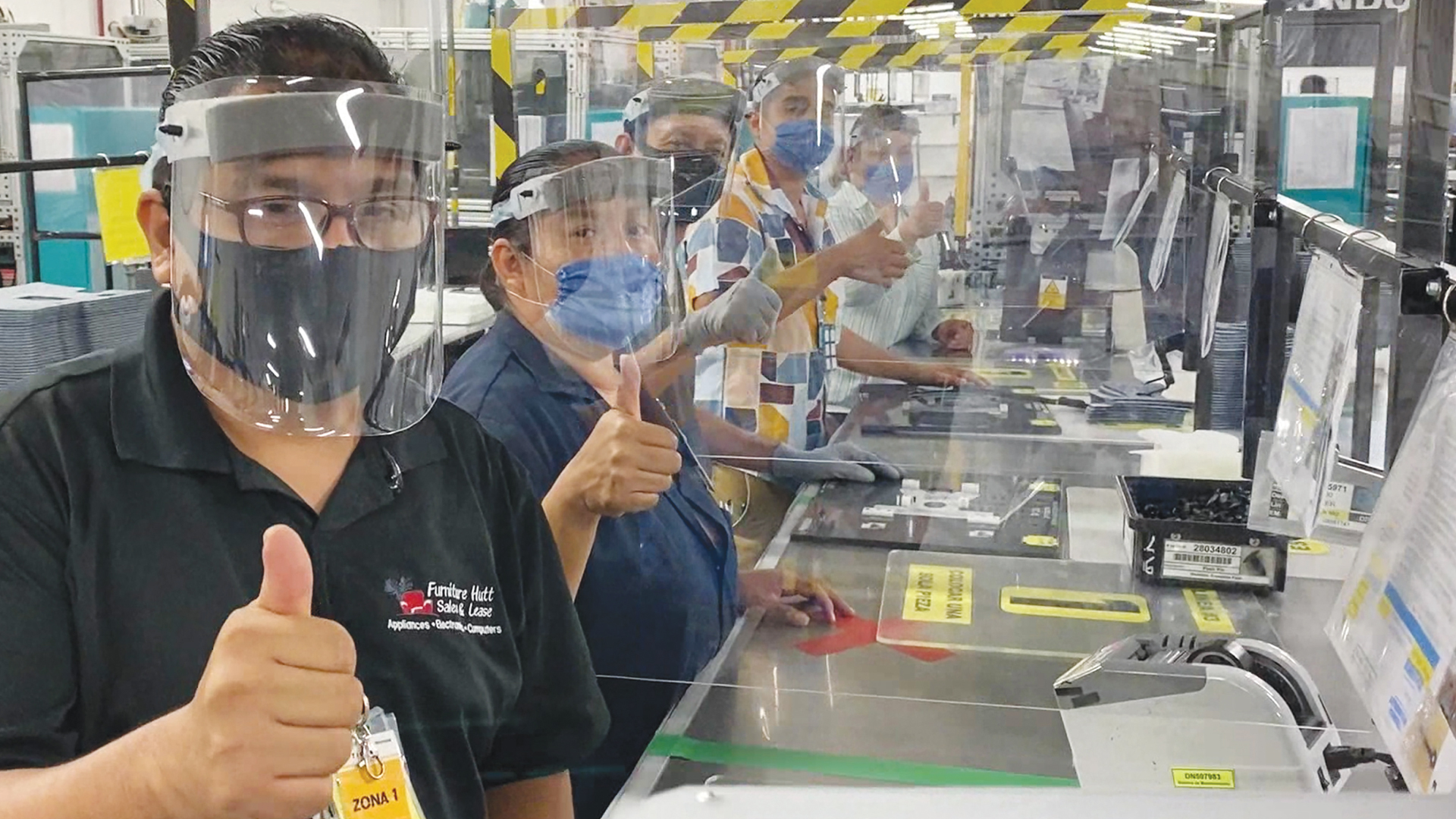 Warning
: foreach() argument must be of type array|object, bool given in
/home/mexiconow/public_html/sites/mexiconow/wp-content/themes/mexiconowwpnew/single.php
on line
253
By Nancy J. Gonzalez
Wearing a mask, being six feet away from each other, taking one's temperature before entering a public place, constant hand washing, and sanitizing public places is the new normal. These COVID-19 preventive measurements are easy to follow as an individual, but when a workplace is a manufacturing site, it is quite a challenge.
The "new normal" in Mexican factories required many maquiladoras to modify the production lines, to phase the beginning of each shift, and to redesign all the common areas. Also, many of them are working with half of
its workforce because state governments have not allowed full operations yet.
"Three months ago, the challenge was keeping the operations open and implementing all sanitary and safety recommendations for all of our employees. Today, as most of the economies are returning to their normal operation mode, we are experiencing some supply chain challenges around the globe. Now, we are focusing on working with our suppliers and logistic
partners to keep our supply chain healthy," explained Arturo Mendiola, vice-president of Operations at NEO Technology Solutions.
Mexico has 5,175 active manufacturing sites working under the IMMEX program. These factories employ more than 2.5 million workers. During the COVD-19 pandemic outbreak, most of these manufacturing sites had to close, just a small percentage considered essential, was able to remain open.
"Even though we had an extreme situation with the pandemic, our facility never stopped; therefore, we didn't suffer as much as other companies," said Jia-Jia He, Fiber Innovation plant manager. "We implemented social distancing during lunch break by setting a smaller number of chairs per
table and have the tables be more separated. We also require for everyone to use a mask inside the plant at all times, as well as sanitize and washing of
hands as frequent as possible. Because of the set-up of our machines, the distance between operators is big enough for social distancing standards
and the safety of everyone."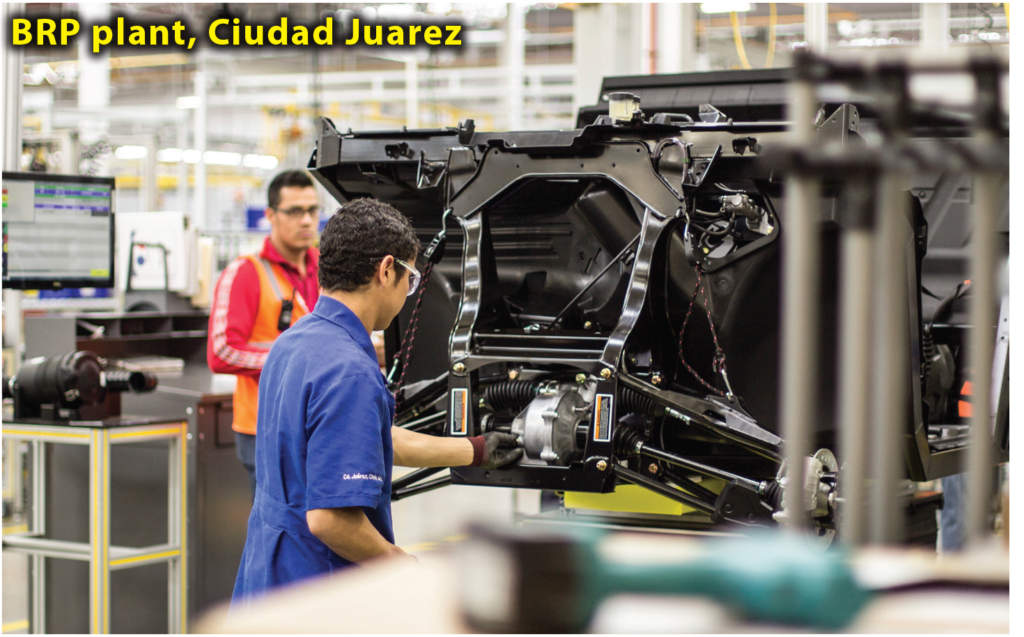 Even though some maquiladoras had the option to send its administrative personnel home, the people working in the production lines were not able to do this. Therefore, the dynamic inside the factories changed drastically.
"We're also modifying processes to reduce the density of operations and make it easier for employees to stay apart. Where we provide transportation to and from our facilities, we are running multiple buses and reducing the density of our operations by running more shifts," explained Pasquale Abruzzese, vice-president of Global Manufacturing at Aptiv.
He said training is also essential, while in the sites the physical separation is
delineated through markings on the floor and, in places where it's simply not possible to maintain distances, the company erected physical barriers.
But social distancing in factories employing thousands of workers is a constant challenge, not only because their job requires closeness, but also due to the cultural issues. The Mexican culture nurtures closeness, and social distancing is hard to embrace.
"It's hard. We are reminding operators the new measures during every shift and our supervisor spend 40% of the work hours doing safety checks," he said.
All the changes in the factories represented new costs for manufacturers, while the companies have to struggle with the economic losses caused by the pandemic. The losses depend on the sector they work at, since the automotive industry had significant losses while the medical and some recreational sectors broke even during the second quarter of the year or even increased their profits.
"Being an electronic contract manufacturer supporting several business markets, we have noticed different changes in different markets, our
entertainment and commercial markets are the main affected," said Mendiola. "On the other side, our medical markets are demanding 70% more production than regular demand while our industrial market continues being very strong. Several of our factories are producing at the highest rate than ever been."
For He, the pandemic had a negative impact. The production at his facility decreased 30%, and the new protocols do not allow clients to visit the facilities, which makes it more difficult to attract new business.
The global vehicle production decreased around 33% globally. This situation negatively impacted auto-related companies, the OEMs and many of its suppliers.
In its latest financial report, Aptiv reported a 28% decrease on revenue from the prior year period, which includes volume declines of 25% primarily resulting from the impacts of the COVID-19 pandemic. In Mexico, the company has restarted operations, but the workforce is not currently active in the production lines.
"Our second-quarter performance reflects the benefits of our strategically positioned product portfolio and our more sustainable business model. As we move forward, we are prepared for the possibility of continued variability in customer and market demand, leveraging our flexible cost structure, strong balance sheet and key growth initiatives to remain resilient in the face of these challenges while continuing to create long-term value for all of our stakeholders," said Kevin Clark, Aptiv's president and CEO during the financial report.

Moreover, Prof. Stefan Asenkerschbaumer, CFO and deputy chairman of the Bosch board of management, said in a company's recent financial report that in view of the coronavirus pandemic, Bosch anticipates considerable challenges for the global economy in the current business year.
"We are bracing ourselves for a global recession that will also have a considerable impact on our own performance in 2020," said Asenkerschbaumer, "A supreme effort must be made to achieve at least a balanced result. In this severe crisis, it is again an advantage for us that we are so diversified, with different business sectors."
Based on the effects known to date, Bosch currently expects automotive production to fall by at least 20% in 2020. In the first quarter of this year, Bosch Group sales fell by 7.3%, meaning they are already considerably lower year-on-year. The company felt unable to make a forecast for the year as a whole.
During the COVID-19 pandemic outbreak some companies surprisingly increased the demand of its products. BRP was one of them. Even though the company closed its worldwide facilities and sent workers home, their products were having a high demand.
The company explained in a written statement the new tendency to do "staycation" or vacations at home allow many families to use their vacation budget to buy recreational products.
"The fact that our products provide excellent outdoor experiences that can be practiced respecting social distancing, we have seen an influx of customers who buy our products and our production lines have a relatively high demand," the company said.
BRP disclosed that after a temporary slowdown due to COVID-19, retail sales went up by over 35% in May, compared to the previous year, and the trend continued in June.
"Despite the pandemic, demand for our products has remained strong, and even surpassed last year's figures for the same period," said José Boisjoli, president and CEO. "Our continued innovation and steady growth in SSVs make this additional capacity necessary to meet our goal of achieving 30% market share."
Moreover, COVID-19 disrupted the global supply chain, but companies have little by little restarted operations. Even though companies are working under new safety and health protocols, for many, the recovery might not come soon.
Mendiola expressed the company forecasts its entertainment and commercial businesses might take a while to recover, and it can be up to the second quarter of 2021.
Even though manufacturers doing business in Mexico have registered global losses, no company has made public it will close its Mexican operations or canceled its IMMEX program.