Government seeks to move flights to AIFA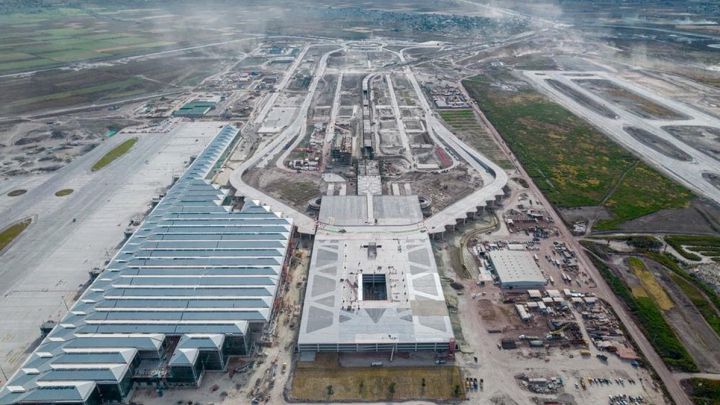 MEXICO CITY – The Federal Government is preparing a decree to reduce hourly operations at Mexico City International Airport (AICM) by 29%, from the current ceiling of 62 flights per hour to a threshold of 48 to 50 flights.
The purpose of this is to encourage airlines to place more flights at the Felipe Angeles International Airport (AIFA).
According to Rogelio Jimenez Pons, Undersecretary of Transportation of the Ministry of Infrastructure, Communications and Transport (SICT), the decree will be issued in the coming months, and is being worked on in conjunction with the Federal Civil Aviation Agency (AFAC) and Mexican Airspace Navigation Services (Seneam).
"Right now we are making a calculation; we have to start with cargo [flights], charters, with excessive flights, new airlines, in short, everything that is apparently in excess, and then we start with all the airlines," the official said.
The eventual decree is on the table two months after a declaration of saturation of the passenger terminals at the AICM was issued in the Official Gazette of the Federation.
Specifically, Terminal 1 was declared saturated between 5:00 a.m. and 10:59 p.m., and Terminal 2 between 6:00 a.m. and 7:59 p.m., for which the AICM Schedules Coordinator was instructed to review and even modify the general bases for the allocation of landing and take-off times (or slots) at airports under saturation conditions.
However, Jimenez Pons warns that the current situation at the AICM goes beyond the issue of slots.
"The AICM is saturated, not just now, it has been saturated for more than 20 years. It is not only the problem of slots, but all the airplanes have increased in size. We started with planes of 120 seats and now we have planes of over 200," he said.
To attract more airlines to AIFA, the undersecretary of transportation said that an incentive program is being worked on to motivate companies to place more flights at the new airport.
Source: EXPANSION