Hyundai's production paralyzed by strike in Korea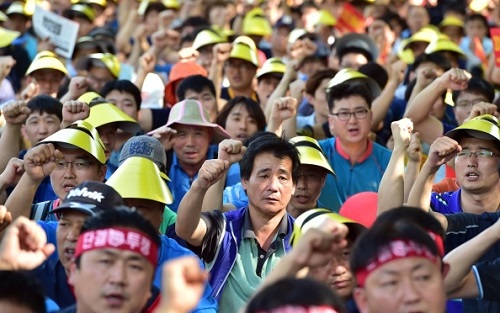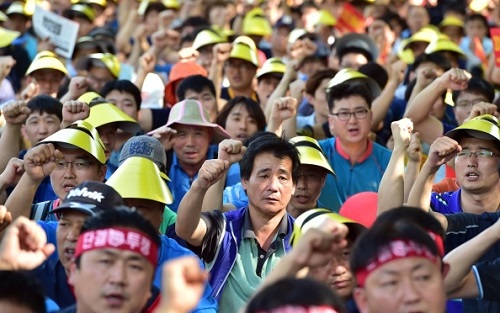 A strike by unionized workers paralyzed Hyundai Motor's operations all over Korea Monday, incurring tens of millions of dollars in lost production and tarnishing its corporate image, Korean media reported.
This is the first time in 12 years that Korea's largest carmaker has faced a full-scale walkout; one that paralyzed its domestic plants in Ulsan, Asan and Jeonju.
It is feared that Hyundai won't be able to meet market expectations in the second half of 2016, amid deteriorating business conditions here and abroad, if labor and management fail to conclude wage negotiations soon, analysts said.
The union at Hyundai Motor staged a one-day, full-fledged strike at all plants, pressing the company to offer more concessions.
Prior to the latest strike, the union staged partial walkouts 19 times this year, disrupting the production of 101,400 vehicles at the carmaker's domestic plants and incurring US$ 2 billion in lost sales.
Union members also plan to hold partial walkouts Tuesday to Friday, suspending Hyundai's domestic operations for six hours every day.
In late August, the company's union and management reached a collective bargaining agreement under which the company will raise the base monthly salary by 58,000 won, increase annual bonuses by 350 percent and offer a 3.3 million won one-time bonus, among others.
But workers voted down the agreement, sending wage negotiations back to square one. Union leaders then asked the company for more concessions, which management refused.
The escalating labor unrest is widely expected to hurt Hyundai's performance in the second half of the year. The firm earned 47 trillion won (US$ 42.3 billion) in sales in the first six months of the year, up 7.5 percent, but its operating profit fell 7 percent to 3.1 trillion won (US$ 2.9 billion).
Production disruptions caused by frequent strikes will make it harder for the company to deliver vehicles to consumers in a timely manner, while it becomes more difficult to sell cars amid the continued domestic consumption slump.
Kia Motors, a Hyundai subsidiary officially inaugurated a new US$3 billion plant in the northern Mexican state of Nuevo Leon earlier this month.
Kia, a unit of Hyundai, said in a statement that the newly inaugurated production facility, which began production in May 2016, would eventually have an annual production capacity of 400,000 units.
"Beginning in 2017, the plant will produce the all-new fourth generation B-segment Rio, which will have its world premiere on Sept. 29 in Paris at the 2016 Mondial de l'Automobile," the statement added.
Kia will be in a position to respond in a more efficient manner to the emerging market in Mexico and also to demand in North America and elsewhere in Latin America, Hyundai Motor Group's chairman, Mong-Koo Chung, said at Wednesday's inauguration ceremony in the Pesqueria municipality.
He added that the opening of the plant would serve to further bolster relations between Mexico and South Korea.
With the production from the Pesqueria plant, Mexico will become the fifth-largest auto-making country globally by 2020 with an estimated 5 million motor vehicles produced annually, Mexican Economy Secretary Ildefonso Guajardo said.
MexicoNow