KIA unveils the Mexico-made 2019 Forte in Detroit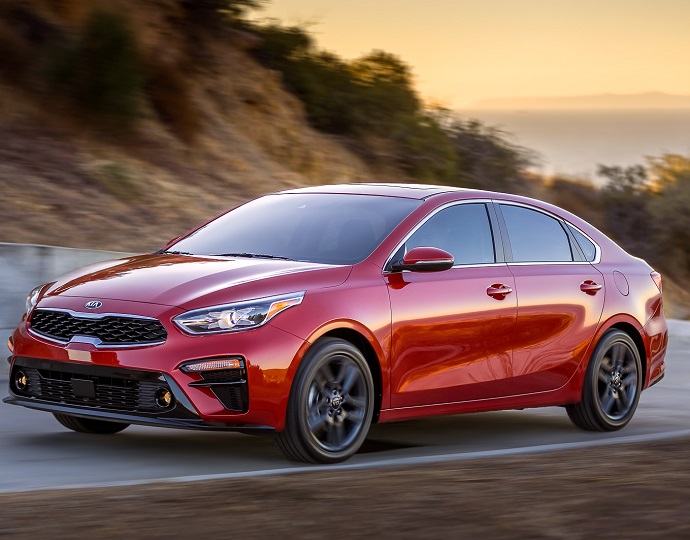 Today at the North American International Auto Show in Detroit, Kia Motors America hosted the global debut of the all-new 2019 Forte which enters its third generation with a more sophisticated design that transforms one of Kia's best-selling vehicles.
Thanks to a number of improvements, the Mexico-made Forte now offers drivers a higher level of comfort, fuel efficiency and advanced driver assistance technologies.
The cabin is now more comfortable and "class above," and integrates new driver assistance technology. In addition, the Forte ups its miles-per-gallon (MPG) game with an all-new powertrain that utilizes Kia's first IVT, set to deliver an estimated 35 MPG combined.
"The compact sedan segment is highly competitive, but with all the improvements the new Forte brings to market for the 2019 model year, it is more than prepared to take on the toughest the segment has to offer," said Orth Hedrick, vice president, product planning, KMA. 
Standard features in the compact sedan segment continue to be available across three trims – LX, S and EX – with the model line continuing to expand throughout its lifecycle.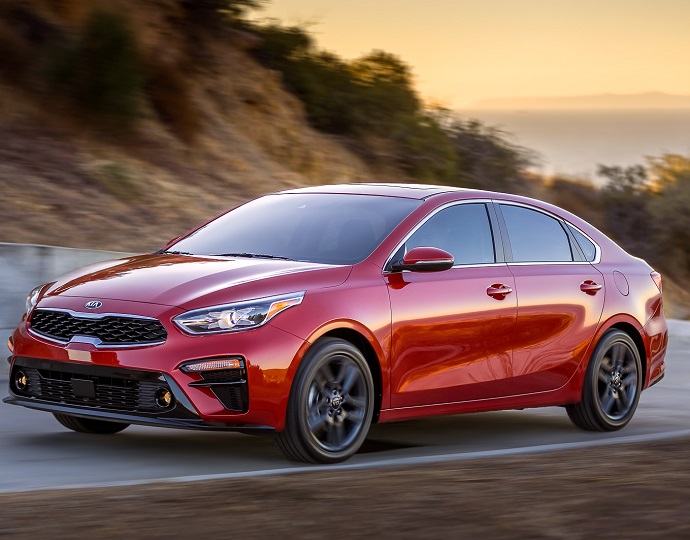 While the third-generation Forte retains its sporty and youthful image, it has graduated to a more sophisticated appearance thanks to a number of sleek and dynamic styling cues inspired by the Stinger fastback sport sedan. 
Creases in the hood contribute to the Forte's muscular appearance and distinctive design traits on the front fascia, including a fresh approach to Kia's signature tiger nose grille and an aggressive black lower valance, enhance its presence and individual character. 
The front clip is flanked by a Stinger-esque headlamp design and layout. Separate turn signal indicators are mounted below on the front bumper, where air curtains improve aerodynamic performance and enhance the Forte's technical appeal. 

Around back, the rear bumper gets the same treatment with separate reverse and turn signal indicators located beneath available LED taillights. Similar to the Sportage compact crossover, a sleek horizontal trim piece connects the taillights.
Creating the fastback shape strengthened the Forte's exterior appearance, but it also gave engineers an opportunity to expand the occupant compartment in several key areas so passengers are treated to a comfortable space no matter how long the journey. 
Overall length has increased by 3.2 inches to 182.7 inches, allowing for more legroom and additional cargo in the trunk. With 15.1 cubic feet, cargo room is among the largest in the segment and generous enough to accommodate gear for a group of friends on a road trip or a growing family managing a busy schedule. 
Additional headroom results from increasing the overall height nearly a half inch to 56.7 inches, while the overall width has grown to 70.8 inches.

Again, drawing inspiration from the Stinger, a horizontal theme creates a sense of openness and avoids clutter with clean lines and minimal buttons that are intuitively placed below an 8-inch color touchscreen. Aeronautically inspired spoked circular vents adorn the dash and increased soft-touch points create a comfortable and visually appealing cabin. Drivers and passengers alike will appreciate easier ingress and egress, plus improved outward visibility.
Building upon an already solid structure that helped the current 2018 Forte sedan achieve an Insurance Institute for Highway Safety (IIHS) Top Safety Pick Plus rating2, the all-new 2019 Forte strengthens its bones with additional hot-stamped components and 54 percent Advanced High-Strength Steel.
Stronger seat frames are lightweight and provide a more comfortable seating position with increased lumbar support and denser seat foam for more pleasurable long-distance drives. The all-new Forte offers projection or full LED headlights and is targeted to receive the highest ratings from the National Highway Traffic Safety Administration (NHTSA) and IIHS.

Housed underneath the Forte's longer hood is a second-generation 2.0-liter Nu four-cylinder engine that benefits from Atkinson Cycle technology and a cooled EGR system. The new powerplant can be paired with either a six-speed manual or Kia's all-new Intelligent Variable Transmission (IVT). 
The engine and in-house-built IVT are the first of a new line of highly efficient "Smart Stream" powertrains that will make their way into the Kia lineup in the future.
Horsepower and torque are expected to remain unchanged from the 2018 Forte, delivering an estimated 147 hp and 132 lb.-ft. of torque.
Staying connected with advanced technology and infotainment features allows the driver to dedicate their important attention to the road ahead. In that regard, the Forte comes standard with an 8-inch color touchscreen with Android Auto and Apple CarPlay that's integrated neatly on the dash and within the driver's line of sight. 
With select smartphone devices, the system also has the capability to read SMS texts aloud through Bluetooth. Eliminating the need for a charging cord is an available wireless charging tray perched up on the center stack for compatible Android devices, as well as Apple iPhone 8 and iPhone X. 
Another welcome and surprising feature in this segment is an available 320-watt premium sound system developed by Harman Kardon.
MexicoNow
Related News
– Kia reaches 300,000 cars milestone at its Nuevo Leon plant
– Kia says its Mexican plant is well positioned to deal with NAFTA renegotiation
– Here's how sales of Mexico-made cars ended up during 2017 in the US market