Lars-Steen Nielsen – Denmark Ambassador to Mexico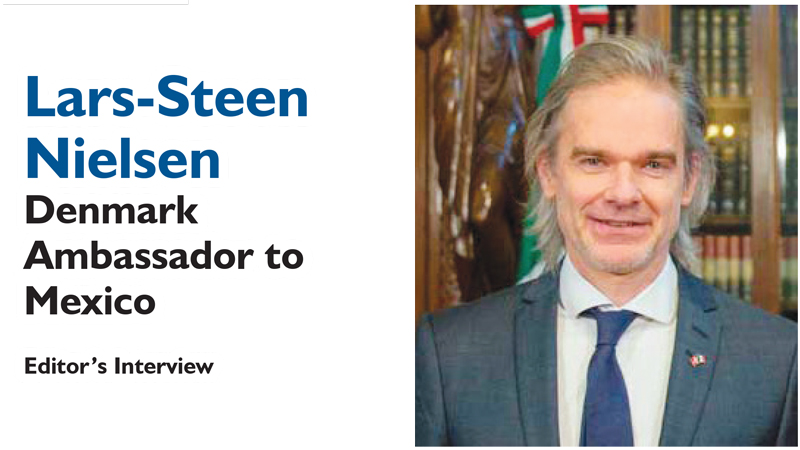 Editor's Interview
MEXICONOW. -) What has been your experience as Ambassador since you were appointed to Mexico?
Overall, very good and positive. It's tough with the COVID-pandemic, but hopefully there is a light at the end of the tunnel with the vaccine.
I say good and positive because we have a profound cooperation with the Mexican government, as well as with some of the Mexican states and the business community. Besides that, Mexico is an extremely rich country in culture, history and nature with a very warm and friendly and highly qualified population.
What is your impression on how the Mexican Economy has evolved since you were appointed to Mexico until now?
I think it was good at the beginning, and then came the pandemic, which hit the whole world economy hard and even harder for countries that rely on trade. Now it seems we have started the recovery and with the vaccine, hopefully the Mexican (like the Danish) economy can get back on track.
What is your plan of action to develop as Ambassador of Denmark to Mexico?
Mexico and Denmark have a strategic cooperation. So, my action plan is to develop it further and deeper, especially within the areas where we have strong sector programs in health, energy, environment and agriculture.
It is also important for me to promote Denmark as a climate frontrunner and supporter of sustainability in all its forms and shades. I also see it as my mandate to enhance the trade relations between our two countries and bring solid Danish investments to Mexico, something that benefits both countries.
Would you like to send a message about how the world is changing by COVID 19?
I think that when we reopen the world, we have two options: to continue as before or to use the crisis as an opportunity to make a more ambitious green transition—what we have labelled as "build back better and greener."
Denmark and the EU are taking leadership on the green post-COVID economic recovery. In Denmark, the biggest single infrastructure investment in Danish history has begun with the construction of two renewable energy islands that will contribute to the entire gross energy consumption in Denmark by 2028.

Furthermore, Denmark has introduced a cut-off date of 2050 for oil and gas extraction in the North Sea and cancelled all future licensing rounds. Denmark is currently the largest oil producer in the EU, and it is the biggest producer worldwide to establish a final phase-out date so far. Actually, Denmark comes in at number one in the global league table for green recovery as a result of the significant proportion of its pandemic spending being devoted to green measures. Furthermore, I think we have to consider our global supply chains when it comes to essential productions such as vaccines.
What economic changes do you think arrived to stay after COVID-19?
The COVID-19 pandemic has brought very negative consequences for society, the economy and international trade. The pandemic has also shown us how interdependent we are in the world today and that a crisis like COVID can only be solved in a combined effort.
However, the pandemic has also allowed us to reflect and rethink about how we work, do business and connect across international borders. If there is one economic development trend, I believe has arrived to stay, it is the immense opportunities within digitalization and e-commerce.
The world has become far more digitalized and the COVID-19 crisis has shown us the need for secure and reliable digital solutions, especially within the healthcare sector, which has been challenged to the brink of breakdown and thereby forced to identify new opportunities and solutions.
The Danish health sector had to innovate quickly to respond to the health crisis and developed digital health solutions that have ensured the well-being and health of medical staff as well as patients. This is an area where Denmark has great experience, and Danish companies are offering the digital solutions. As mentioned before, I also think we will see different kinds of supply chains.
What is your opinion on the Free Trade Agreement signed between Mexico and the European Union?
The upgraded Free Trade Agreement plays an important role in strengthening the relationship between Mexico and the EU. It is a more comprehensive and Global agreement covering a broader economic partnership also including political coordination and cooperation. It will deepen the trade relationship between Mexico and Denmark.
Besides, the agreement includes comprehensive trade and sustainable development goals, which go hand in hand with the Danish government's priorities regarding sustainability.
Mexico, with a big internal market and open economy, is an attractive destination for Danish investments and goods and services as it bridges not only commerce with North America but also South America and Asian markets.
How important is Mexico for the integration of the European Union with North America?
Mexico is a very important partner for Denmark and the European Union in North America as well as a bridge in Latin America, both politically, economically and culturally. The North American regional market is linked closely together within regional trade and supply chains, and a close cooperation with Mexico creates great opportunities in the entire region.
Besides the big Mexican market, the USA is Denmark's second-largest business partner worldwide and many Danish companies have in recent years decided to move their production facilities or part of it to Mexico. The short distance, the strong infrastructure, the welltrained and competitive labor force in Mexico as well as the recently signed USMCA creates immense opportunities for Danish companies to integrate with the entire region, while at the same time contributing to Mexican growth and creating thousands of good and solid jobs.
I think the recently signed USMCA gives stability to the market, and that is very important for the business community including Danish companies and their investment plans.
What is the state of the bilateral relationship between Mexico and Denmark?
Mexico and Denmark celebrate more than 190 years of diplomatic relations. Mexico and Denmark have a strategical collaboration which entails a deeper cooperation in selected areas such as health, energy and agriculture, among other things. We also share a lot of common interest with the United Nations and the international agenda, and I want to congratulate the Mexican government for taking leadership in the "Generation Equality Forum," a follow up on the Beijing+25 on women rights and gender equality.
We work in political and economic topics to promote common values such as sustainable development goals, human rights and the rule of law, culture, and gender equality
What is the current state of the investments of Denmark at Mexico
Denmark is the 14th largest trade partner within the European Union, and we continue to see growing interest from Danish companies to trade and invest in Mexico. Denmark's direct investments in Mexico in 2019 reached 8.7 billion Danish crowns, around 25 billion Mexican pesos.
In 2020, Mexico was the second largest market for Denmark in Latin America, with exports of goods of US$540 million, a figure that has nearly tripled since 2007.
How do Danish companies rate their operations in Mexico?
The Danish companies the Embassy works with in Mexico are here for the long haul and consider Mexico as a strategical place to be. It also makes me proud that besides contributing to the development of our two countries, the Danish companies have strong focuses on corporate social responsibility, the green agenda and a strong commitment to the United Nations 2030 goals, the so-called SDG's.
This aligns strongly with the Danish government's priorities and the Embassy's work. To mention a few Danish companies with such commitments in Mexico, we have Novo Nordisk, a global leader in diabetes care and other chronical diseases; LEGO Group which has its biggest production plant here in Mexico; Lundbeck, a leading company in mental health; LEO Pharma develops dermatology, bone remodeling thrombosis; Grundfos, one of the world's leading pump manufacturers which develops global water solutions; Danfoss, a leader in research, development and production of energy efficiency solutions; and Vestas is the energy industry's global partner on sustainable energy solutions.
Additionally, we see more Danish companies expanding their businesses into Mexico: Demant, one of the largest business groups in Denmark, established its hearing aid equipment manufacturing in the country, and PolyTech, an innovative energy industry manufacturer, established operations in Mexico in 2019. Some companies also expanded its operations, for example Palsgaard, offering solutions to the food industry in Mexico, and FL Smidth, with sustainable solutions to the mining and cement industries.
Would you expect further Danish investments for the industry in Mexico?
There are about 230 Danish companies in Mexico (established or by representation). Many are looking to expand their operations, and we see a clear trend of new companies that are interested in Mexico.

The Embassy is constantly being approached by Danish companies with the purpose to assist them getting a foothold in Mexico or, I hope, a qualified opinion on the possibilities in Mexico. Often, we do this in cooperation with our Mexican public or private partners.
Would you like to add any comment to the MexicoNOW subscribers?
Yes! If you have an interest in sustainable solutions both within the public and private sector the Danish Embassy, together with the other Nordic embassies in CDMX (Sweden, Finland and Norway) and with the Mexican Ministry of Economy, are organizing the second edition of "Nordic Sustainable Solutions," which will go for a full week this year from the 17th of May to 21st of May. You will soon be able to sign up for this digital event!!!