MANTTRA-GIMSA inaugurates new fertilizer plant in Coahuila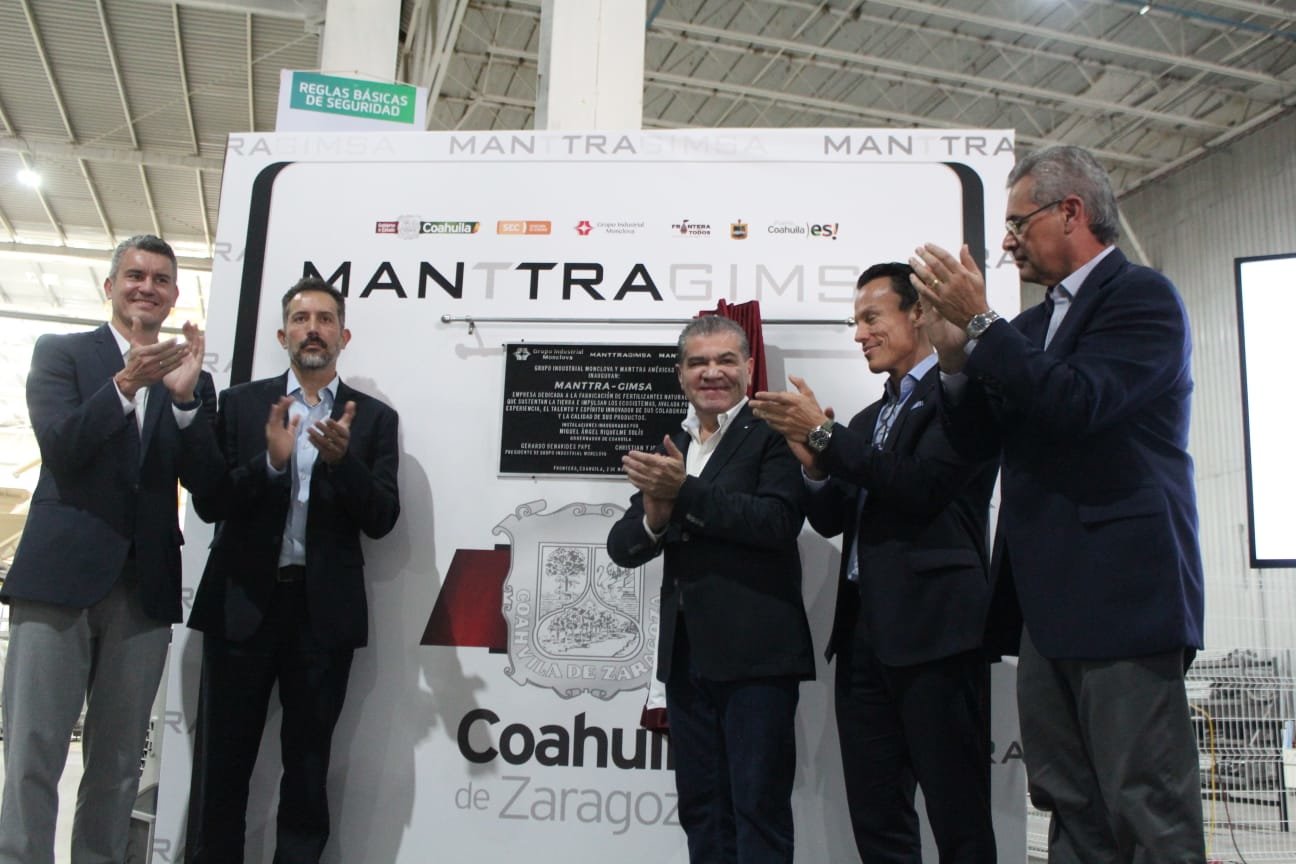 COAHUILA – MANTTRA-GIMSA inaugurated a new plant in the municipality of Frontera, Coahuila, with an initial investment of US$15 million.
The inauguration was attended by the Governor of Coahuila, Miguel Ángel Riquelme Solís; Gerardo Benavides Pape, Chairman of the Board of Directors of Grupo Industrial Monclova; Édgar Hernández, Chairman of the Board of Directors of Grupo MANTTRA Américas, and Christian Kaehler, Founder and Director of this company.
The plant is dedicated to the formulation, manufacture and marketing of specialized granular fertilizers of natural origin. At its maximum capacity, it will provide 200 direct jobs and 800 indirect jobs, with an annual production of 100,000 tons, which will nourish 1.7 million hectares of agricultural land for the markets of Mexico, the United States and Canada.
In his message, Governor Miguel Riquelme celebrated the start-up of this plant, and pointed out that in the Central and Carboniferous regions, with the union of wills and the sum of efforts between society and government, unprecedented challenges in health, economy and employment have been faced.
"With the coordination and work of unions, businessmen and authorities, we have established specific strategies that have allowed us to promote economic reactivation and the generation of new development alternatives", he mentioned.
Since its beginnings, more than 70 years ago, Grupo Industrial Monclova has distinguished itself for the synergy and diversification of its companies, which has allowed it to enter and serve multiple markets, having presence in different geographical areas of Mexico, creating jobs and value.
With this vision, MANTTRA GIMSA was born as a result of the alliance between Grupo Industrial Monclova and Grupo Manttra Americas, a Guatemalan company with presence in more than 18 countries and leader in the specialized fertilizer market.
The plant is the only one in the state with patented root technology for the production of specialized granulated fertilizers of natural origin, compatible with organic agriculture and adaptable to any nutritional need between soil and crop combinations.
In addition to agriculture, these fertilizers have other applications such as in sports fields and golf courses, so their use is diverse.
Also present at the event were the mayors of Monclova and Frontera, Mario Dávila and Roberto Clemente Piña, respectively; Claudio Bres, Secretary of Economy of Coahuila; Carlos Mata, General Secretary of the CTM; Johann Kaehler, Vice President of the Board of Directors of Grupo Manttra Americas; Luis Durán, General Director of Grupo Industrial Monclova; Miguel Martínez, Director of the Mining and Lime Division of the Group, and Daniel Pérez, Manager of Manttra GIMSA.