Mazda to formulate responses to U.S. market "when concrete policies come out"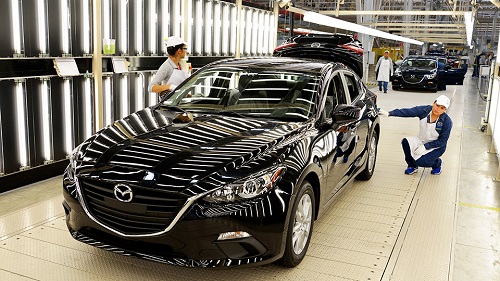 Warning
: foreach() argument must be of type array|object, bool given in
/home/mexiconow/public_html/sites/mexiconow/wp-content/themes/mexiconowwpnew/single.php
on line
253
Mazda Motor is not planning changes for now on its strategy for the North American market, which is centered on Mexican production.
Last week the Japanese automaker showcased its Roadster RF convertible sport car with a metal roof in Tokyo. As soon as the briefing was finished, reporters showered President Masamichi Kogai with questions about the potential impact of a Trump presidency following the real estate mogul's victory in Tuesday's election.
"North America is an important market and we are not thinking to change [the strategy]," Kogai replied according to Japan's media outlets. "We will formulate responses when concrete policies come out." 
During his campaign, U.S. President-elect Donald Trump offered erecting a trade barrier to bring back manufacturing jobs to his country.
Signs of a slowdown are emerging at Mazda. After four years of red ink following the 2008 financial crisis, the company managed to pull off a recovery with offerings that combine its fuel economy technologies and bold styling. But its profit will probably shrink for the first time in five years in fiscal 2016, due mainly to erosion from the stiff yen.
Although Mazda's global sales are seen climbing to a record 1.55 million units in the year ending March, strengthening its earnings base was viewed as inevitable. Then came the Trump shock.
Japanese production once accounted for around 80% of Mazda's global output. But in 2014, the company opened a Mexican plant with an annual capacity of 250,000 units, to shield itself from currency swings and to cultivate the North American market.
The North American Free Trade Agreement was a key consideration in picking the location, because the company would be able to utilize cheaper Mexican labor and benefit from the tariff-free arrangement for exports to the U.S.
But Trump has called NAFTA the "worst trade deal" ever signed by the U.S., saying the arrangement has put the U.S. at a disadvantage. The U.S. will either renegotiate or withdraw from the trade pact, Trump has said. He went even further to suggest America may impose high tariffs on shipments from Mexico. Mazda has no U.S. factories, its last production site was located in Flat Rock, Michigan, a joint venture with Ford that ended in 2012.
MexicoNow