Metso Outotec invests US$39.9 million for a new plant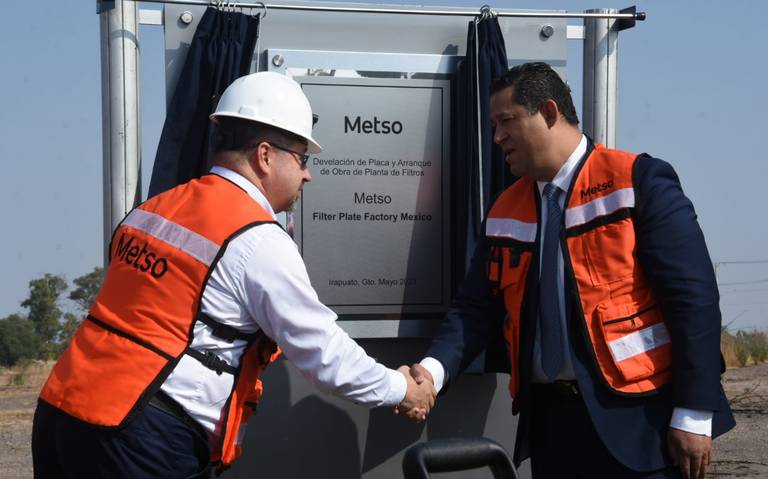 GUANAJUATO – During the current state administration of Guanajuato, 116 investment projects have been completed, representing more than US$5.4 billion and the generation of more than 44,000 jobs.
This was stated by the Governor of the State, Diego Sinhue Rodriguez Vallejo, at the laying of the first stone of the groundbreaking of the Filtros Mexico Plant and the third of the company Metso Outotec in the state of Guanajuato.
This new plant represents a total investment of US$39.9 million, generating 70 new direct jobs and 40 indirect jobs. The plant will start production of polymer filter plates in the second half of next year. Polymer plates are the core of filter technology, a business with great growth potential.
"We extend a warm welcome to the executives of Metso, who are visiting us from Finland, a country that is also a land of innovation and the future, two attributes on which we agree, since in Guanajuato we are working in the same direction with industry 4.0 and mindfacturing," said the State President.
Metso Outotec is a global leader in sustainable technologies, end-to-end solutions and services for the aggregates, mineral processing and metal refining industries worldwide.
It is a company that drives energy and water efficiency for its customers, increasing their productivity and reducing environmental risks with its expertise in products and processes, explained the Governor.
He emphasized that it is a global company, since it is present in more than 50 countries, where it employs more than 14,000 people.
Metso already has two plants in Guanajuato, both in Irapuato. In the first, it produces rubber components: rubber and poly-met; haul truck bed liners; wear liners; mill liners, among other implements.