Mexican Beers Conquer U.S. Market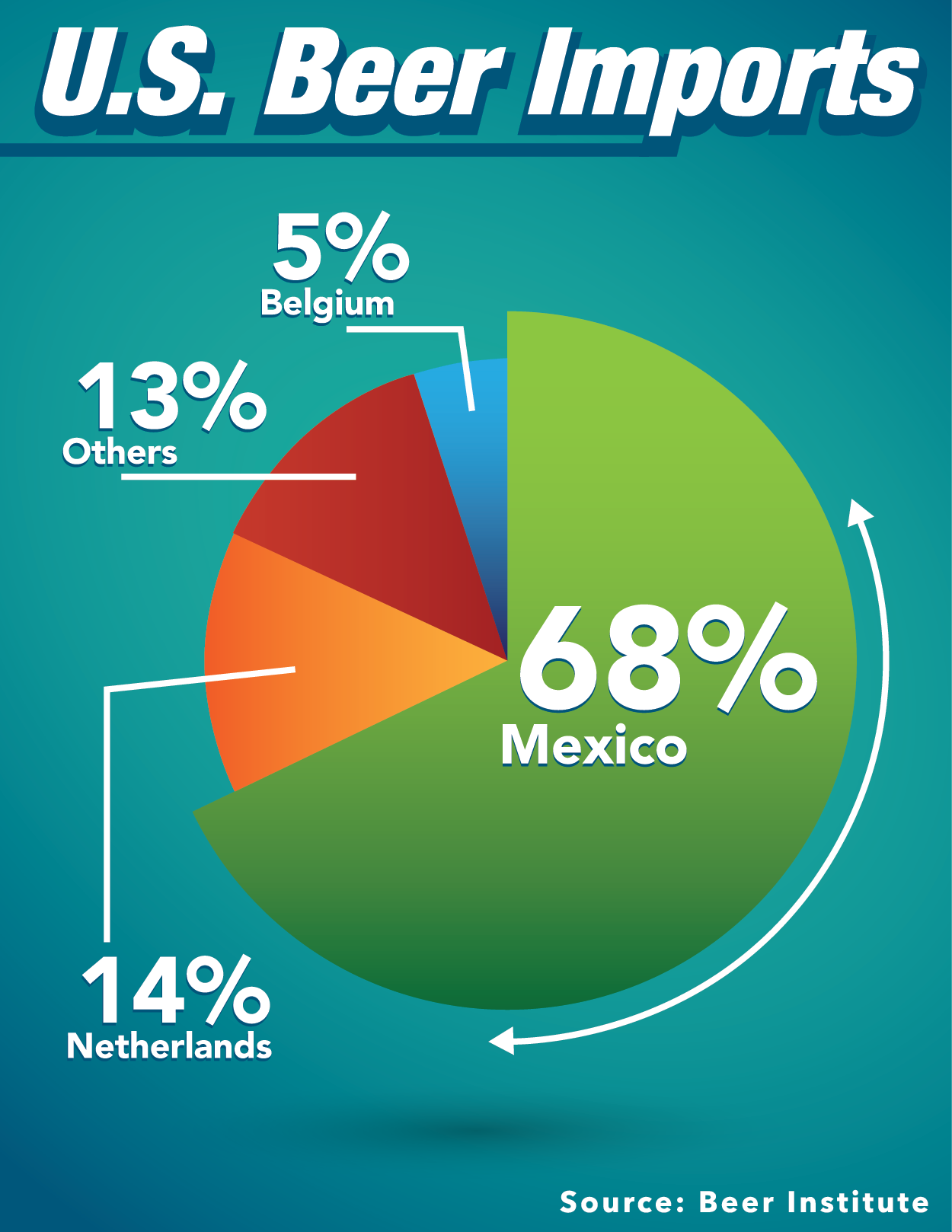 Warning
: foreach() argument must be of type array|object, bool given in
/home/mexiconow/public_html/sites/mexiconow/wp-content/themes/mexiconowwpnew/single.php
on line
253
Brewers Expand Aggressively in Mexico's Northern Region
Corona and Dos Equis (XX) lovers made Mexico the top supplier for imported beer in the U.S. last year. Mexican beers continue to conquer more beer drinkers in the U.S. and sales are increasing year after year.
Mexico exported more than 712 million gallons of beer to the U.S. in 2017, 4.4% more than in the previous year, according to the Beer Institute based on the U.S. Department of Commerce data, and it is the leading U.S. market foreign supplier (EXHIBIT 1).
Even though Mexico dominates the imported beer market in the U.S., it only accounts for one-sixth of America's total beer market, but the consumers are increasing their preferences for Mexican beer. While the volume sales of domestic beers -such as Bud Light and Budweiser- continued to lag, some imported beers -such as Corona- are preferred by more Americans, according to retail data provider IRI Worldwide.
As a result, major breweries are increasing their investment in Mexico, such as Heineken - Cuauhtemoc Moctezuma and Constellation Brands. These two companies have ongoing expansions, which include some northern Mexico cities.
Six Mexican beers are in the top 10 best-selling imported beers including Corona Extra and Modelo Especial manufactured by Constellation Brands, and XX and Tecate produced by Heineken.
The Beer Institute shows that most of the Mexican beer imports in the U.S. are packaged in glass bottles, accounting for 478 million gallons, while 205.7 million gallons were in cans and the rest on draft.
Ongoing expansions
Recently, Heineken – Cuauhtemoc Moctezuma inaugurated its seventh brewery in Mexico, located in Meoqui, Chihuahua. The company invested US$500 million in the facility.
The company has a 5-year expansion plan in the country and a US$2 billion ongoing investment, which includes the Toluca and Guadalajara facilities, as well as a distribution center in Hermosillo, Sonora.
The new brewery in Meoqui has a production capability of 6 million hectoliters per year, but it can be expanded up to 10 million hectoliters (Hectoliter = 100 liters = 26.4 Gallons).
Some of the brands produced in Meoqui include Tecate Light, Tecate original, XX (Dos Equis), XX Light, and Heineken. Most of the production will be for the domestic market, while only 14% will be exported, the company informed.
"Mexico is an important market for Heineken. With a developing economy, a rich geographical and demographic diversity and a flourishing beer sector, we see great additional potential here," Jean-François van Boxmeer, Chairman of the Executive Board, CEO of Heineken said. "I am proud that the Meoqui brewery will be one of our biggest and 'greenest' breweries showcasing our long-term commitment to the country, the region and the environment."
Mexico has become a key ally and market for the company. In Mexico, Heineken has an annual production capability of 45 million hectoliters. The facilities are in Monterrey, Nuevo Leon; Tecate, Baja California; Navojoa, Sonora; Guadalajara, Jalisco; Toluca, State of Mexico; Orizaba, Veracruz, and Meoqui, Chihuahua.
Heineken´s latest financial report shows Mexico generates 15% of the company´s global profit; 20% of the company's worldwide beer output and 12% of total revenues.
Another brewer increasing its presence in Mexico is Constellation Brands.
Five years after Constellation Brands added the Mexican brands Corona, Modelo Especial, Victoria and Pacifico to its portfolio, its beer market share in the U.S. has tripled. Now, the company plans to invest up to US$600 million at its Mexican breweries this year to keep up with its growth potential.
In 2013, the company bought from Grupo Modelo the rights to market these brands in the U.S. after antitrust regulators demanded this condition to approve the purchase of the Mexican brewer by AB InBev, in order to balance the competition.
The company has heavily invested in the Nava plant in Piedras Negras, Coahuila, where the company produces 10 million hectoliters per year and plans to increase it up to 27.5 million once its automation is completed. The production in Ciudad Obregon also increased from 2.5 to 3.5 million hectoliters.
"We also opened our Research Center in Nava, Coahuila, with US$20 million, and launched three new products: Corona familiar, a 32 oz bottle which already exists in Mexico, but we saw a niche in the United States; Victoria's spicy chelada, which is also doing very well; and Corona Premiere, which goes to an audience like women and athletes," said Daniel Baima, director of Constellation Brands.
In January 2016, Constellations Brands announced the investment of US$1.5 billion to build a plant in Mexicali, Baja California, which will have a capacity for 10 million hectoliters by December 2019.
Even though the project was endorsed by the Baja California State Government, the construction of the facility has been fiercely opposed by a group of Mexicali farmers who say the water is earmarked for agricultural use and should not be diverted to industry.
Constellation Brands said it is undeterred by the cancellation of the State's 30-mile aqueduct project and is proceeding with its own plans. The company expects to use about 7 million cubic meters of water per year once the plant is at full capacity and says that the volume represents less than 1% of the supply for the Mexicali Valley.
The company said it is building its own water delivery system to the plant, located south of Mexicali off the road to San Felipe; therefore, the plans for this facility are still on.
Constellation Brands was the only beer manufacturer among IRI's top four vendors to grow by double digits in the U.S. last year. Constellation increased dollar sales by 16% as the company's top two Mexican import labels — Corona Extra and Modelo Especial — both increased dollar sales by 9% and 25.2%, respectively.
In conclusion, Mexican beers are conquering many U.S. consumers and as a result, major breweries are increasing their production in Mexico to export north of the border, as well as to supply the domestic market.