Mexican women assembly the electric Mustang at the Ford Cuautitlán plant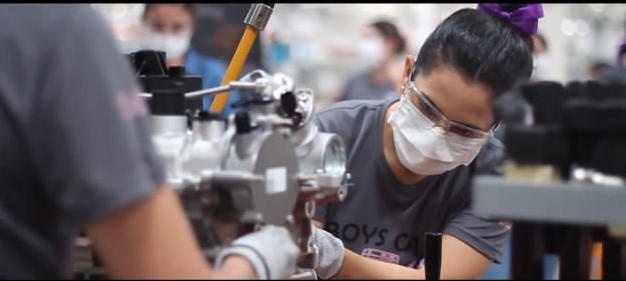 CUAUTITLÁN – The Mustang Match-E, Ford's electric car, is produced, assembled and painted only by women at the Cuautitlán, State of Mexico plant. For the brand, this fact shows the talent and effort of its collaborators who make possible the existence of vehicles of such magnitude on a daily basis.
To celebrate them, the brand contacted the plastic artist María Fernanda Ochoa, who intervened on the exterior of a Mustang Match-E unit. She stated that an eagle woman in the center of the car portrays every woman who works at the Ford plant; the sunflowers emblazoned on the trunk are a bond of strength and stability with the brand. In addition, the vehicle proudly displays the logo of Warriors in Pink, Ford's organization that fights against breast cancer.
In an exclusive Ford video, María Fernanda Ochoa stated: "I hope that with this message everyone remembers how powerful we are and how powerful we are when we are united." Through this message, Ford appreciates the participation of all the women who keep the brand as a key element for the world.
Source: Cluster Industrial