Mexico and South Korea seek free trade agreement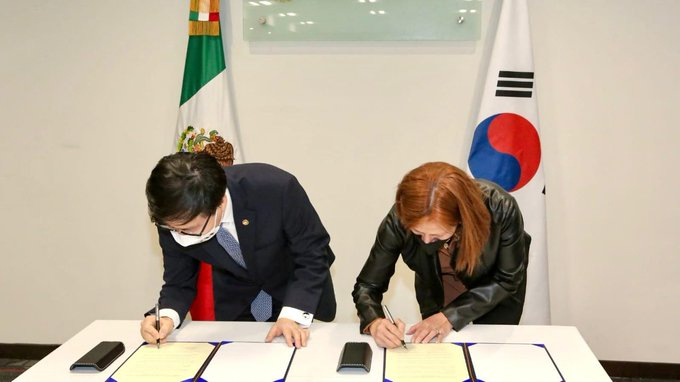 MEXICO CITY – Tatiana Clouthier, Mexico's minister of Economy, held a meeting in Mexico City with the minister of Trade of the Republic of Korea, Han-koo Yeo, to negotiate a bilateral free trade agreement between both countries.
Mexico and South Korea have had 60 years of diplomatic relations, in which they have worked together and strengthened their commercial and economic relationship, and such a bilateral agreement would boost the development of both nations.
Participants agreed that the negotiations seek to consolidate a free trade agreement that will help face the challenges and take advantage of the opportunities that arise in the 21st century, establishing an institutional framework that reduces barriers to trade in goods and services, as well as promoting technological exchange.
The treaty will strengthen emerging issues related to trade, resilience in supply chains, environmental sustainability and digital transformation.
Since 2006, South Korea has sought closer trade ties with Mexico with a free trade agreement, but this has not materialized, despite the fact that South Korea is Mexico's sixth largest trading partner worldwide and our country is the number one in Latin America for the Asian country.
It will be in March when negotiations will begin to carry out the treaty as of the first half of 2022. The meeting was also an opportunity to celebrate the negotiations for South Korea's entry into the Pacific Alliance as an Associate State during the first half of 2022, in accordance with the Declaration of Bahia Malaga, Colombia.
Source: Cluster Industrial