Mexico's Aerospace Industry and COVID-19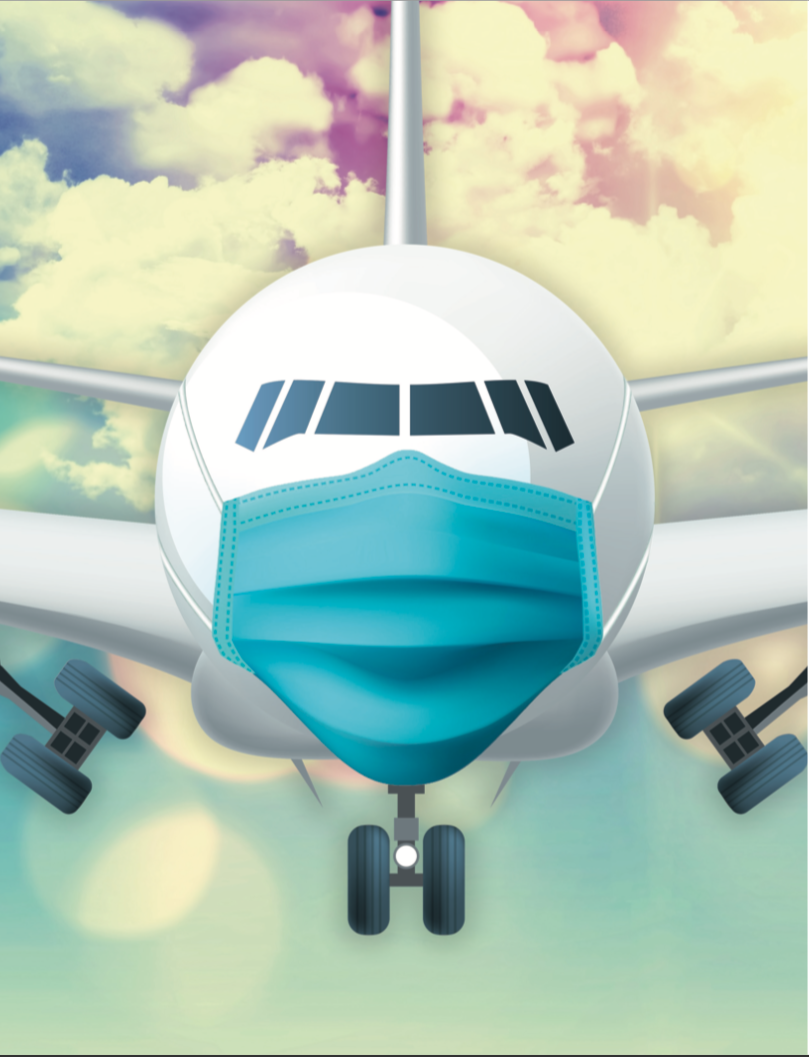 "Fasten Your Seatbelts, We Are
Experiencing Extreme Turbulence"
By Sergio L. Ornelas
MEXICONOW Editor
In a bid to convince nervous travelers that the air they breathe on planes is safe, OEMs and airlines are providing facts on jetliners cabin air quality, believing this is critical to rebuilding a travel industry floored by the novel
coronavirus.
In separate but similar studies, Boeing and Airbus explain that unlike office buildings where air is exchanged about four times every hour, on a modern jet aircraft it is done between 20 and 30 times; in addition, the air goes through medical grade filters that remove 99.97% of contaminants, including viruses.
Still, passengers are not buying in. The fact that an aircraft crams people into a small space and there are many common surfaces to touch weighs in a lot in consumers' decision to fly, at least until there is an effective vaccine available and the economy recovers.
According to Statista, a global data research firm, the number of global passengers in 2020 is expected to drop by 51% to only 2.25 billion from 4.7 billion in 2019.
And unless the pandemic recedes significantly, only 3.4 billion passengers are expected in 2021. Beyond that timeframe, it is anybody's guess.
Prior to the coronavirus outbreak, the forecast revenue from air passenger traffic worldwide in 2020 was estimated to reach US$581 billion. Now, that figure estimate drops to about US$267 billion, representing a 54% decrease.
There were over 900 air carriers in the world in early 2020, but due to bankruptcies and consolidation, this figure is expected to tank to only about 600 by 2023.
In late 2019, there were about 27,300 commercial aircraft in service; in mid-2020, over half of those planes are grounded, many of them never to be flown again as the retirement age for a typical aircraft gravitates from 25 years closer to 20.
Further to the left in the value chain of the aviation industry, the situation is quite dire for OEMs and their suppliers.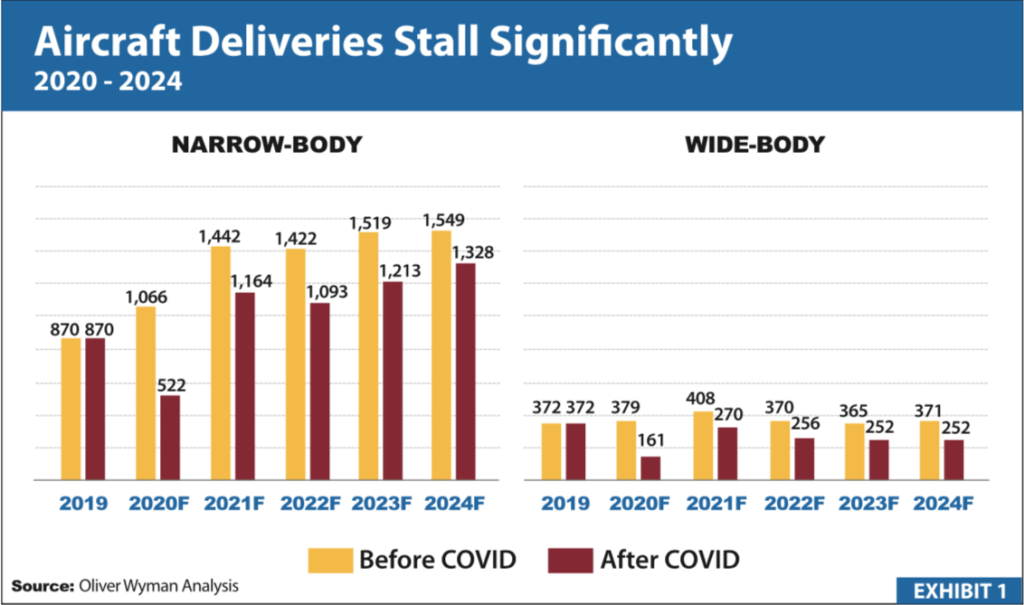 Please glance at Exhibit #1, sourced from OliverWyman, a global consultancy, comparing the forecast 2020- 2024 for both narrow-body and wide-body aircraft deliveries B.C. (Before Coronavirus) and A.C. (After Coronavirus).
During the five-year forecast period, the total of narrow-body deliveries B.C. was expected to be 7,018. This amount has now been corrected down for A.C. conditions to 5,320, a slip of 25%. Note that 2020 is the worst year when
less than half of the original expected deliveries would be reached.
Wide-body aircraft, which have lost some clout among airlines and currently make about 30% of all deliveries, are worse off during the forecast period, loosing 36% volume as they slid from 1,893 during B.C. to 1,211 in A.C.
Note that wide-body aircraft remain flat in both scenarios for B.C. and A.C. as narrowbody platforms or single-aisle aircraft, as they are also called, dominate the market.
Narrow-body airplanes such as the re-engineered Boeing's B737 MAX and Airbus' A320neo jets offer 500 miles more range than previous narrow-body versions, and thus have been able to substitute many transoceanic flights dominated by widebodies in prior years.
Since the great recession in 2009, until 2019, annual global air traffic passenger demand grew at an annual average rate of about 7% on the heels of an expanding Asian market, an increase in low-cost carriers and the growth of the global middle class.
It is dramatically startling how, in the span of a few months, the aviation industry of the world came to an abrupt stop.
Mexico Feels the Pain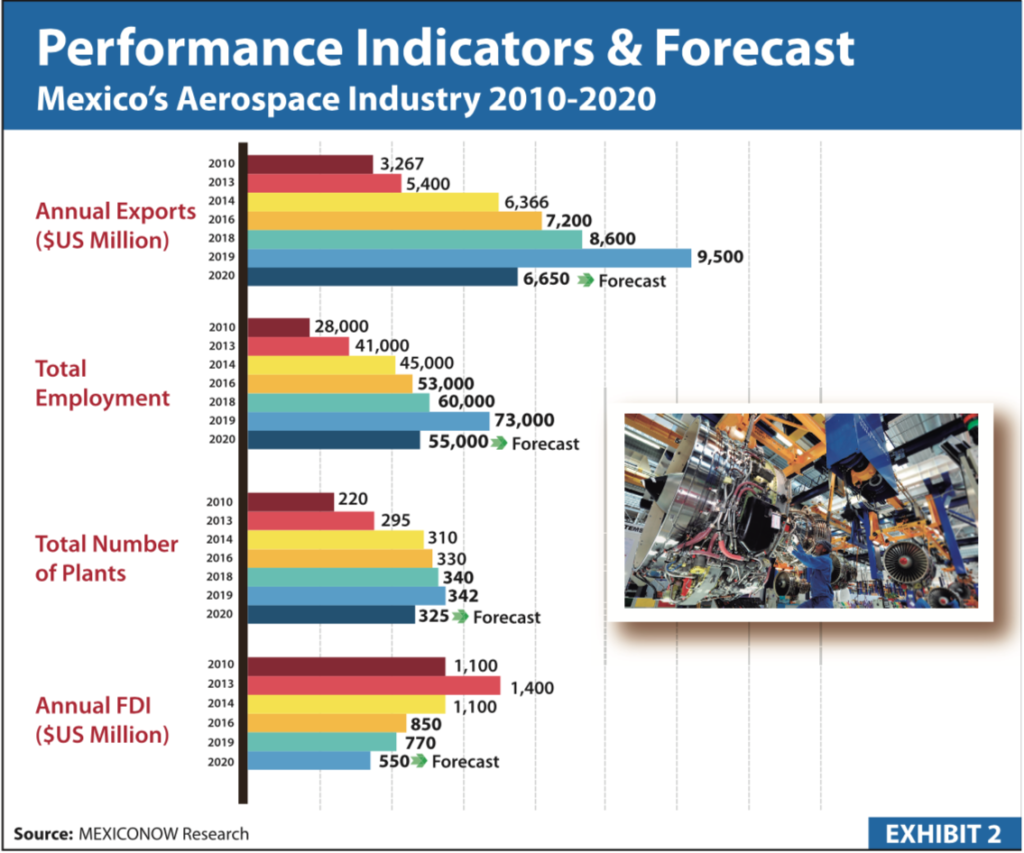 Evidently, the above chain of events has seriously affected Mexico's aerospace industry, which had been grown at a double-digit annual pace for the last 10 years.
According to Luis Lizcano, General Director for the Mexican Federation of Aerospace Industries (FEMIA), the sector's exports for 2020 will experience a reduction for the first time ever, going from US$9.6 billion in 2019 to approximately US$6.6 billion in the year of the pandemic.
The 30% significant reduction in Mexican aerospace parts and components
is mostly a direct result of the decrease in global commercial jet aircraft deliveries; although the contraction of general, business & defense aviation, which include piston, turboprops, jet engines and helicopter rotor engines
also contributed to the decline, as Mexico is now part of the supply chain of all aircraft types.
Please see Exhibit #2 illustrating the performance indicators of the aerospace industry in Mexico for selected years since 2010, and note in the top graph that the projected exports for 2020 would take the sector back to 2014 levels, a loss of about six years of development.
But the worst damage to the industry is depicted in the second part of the graph that shows the approximate expected 25% loss in employment from a headcount of 73,000 in 2019 to just 55,000 in 2020.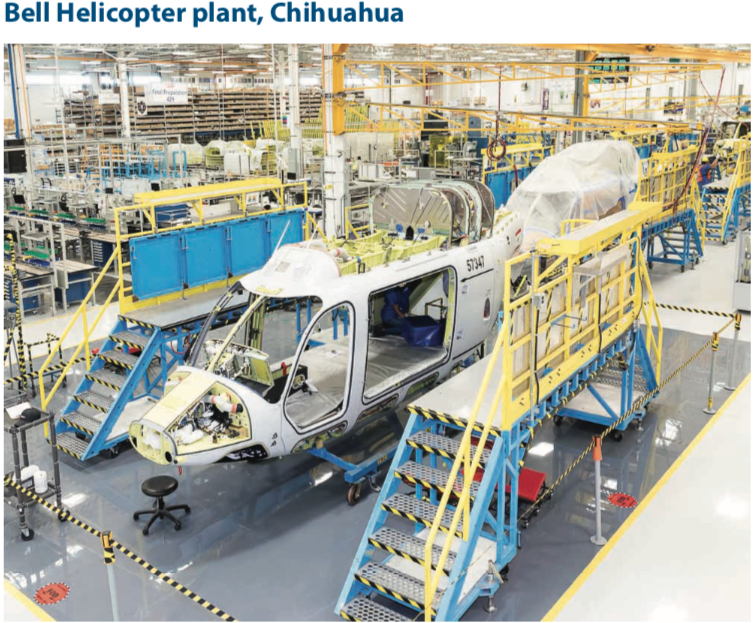 This is a devastating blow to all aerospace companies in Mexico because of the large financial and human investments it takes to properly train line workers, technicians and engineers in the cores of aeronautical manufacturing and design and engineering.
The governments of the states where the main aerospace clusters are located arelosers too, as they have paid the cost for the majority of those dismissed and to be dismissed workers during 2020 while they climbed in their learning curves as trainees.
Moving on to the number of plants or facilities in operation, the damage is expected to be only marginal as most manufacturing programs in aerospace have a very longterm business cycle commitment. Most international and domestic firms would continue to operate in 2020, albeit at lower output volumes.
At the bottom of the exhibit the foreign direct investment (FDI) outlook is negative as only about US$550 million are expected to show in the final tally at the end of 2020.
New investments in startup or expansion facilities would be minimal, but some organic growth in the form of reinvested profits would prevent FDI in the sector to collapse completely.
Silver Lining
The year 2020 has proven to be a chaotic and challenging time for the global aerospace sector in the age of COVID-19, especially for Mexico, where the pandemic surfaces on top of a flat economic record and questionable new public policies and decisions only to make things dramatically worse.
At the time of this writing, in mid-2020, the long-term effects of the health crisis remain largely unknown. We looked for comforting news or comments and found some in the voice of Felipe Sandoval, President of FEMIA.
He indicated that after extensive lobbying with the sanitary and labor authorities, the aerospace industry in Mexico was finally labeled as an "essential" industrial activity and manufacturing operations resumed recently.
The association produced a best practices guide so that production lines would comply with the sanitary protocols of protection and distancing to avoid any risk of contamination among workers.
Mr. Sandoval said that the silver lining of the pandemic for Mexico is in the potential restructuring of the supply chain whereby aerospace producers are going to be looking for competitive cost and technically skilled manufacturing countries such as Mexico that in addition offers excellent logistics, and thanks to the USMCA is a trade hub for North American markets.
"Mexico has a great potential to develop domestic suppliers and increase the scant current 3% of national integration in the aerospace productive chain in the country. To this end, one of the main initiatives at FEMIA is our program to develop local suppliers to the international OEMs and Tier-1 firms. This opportunity has been in front of us for years," said Mr. Sandoval.
He added that the most important action Mexico's federal government could take to improve the global competitiveness and promotion of the aerospace industry in Mexico is to create a state policy for the sector like the very successful one the country has for the automotive industry.
Going Forward
The aviation industry would not fly high without government help. Europe, Canada, the U.S., Brazil, Russia and China are all in the subsidies loop in one way or another. The COVID age could not be an exemption.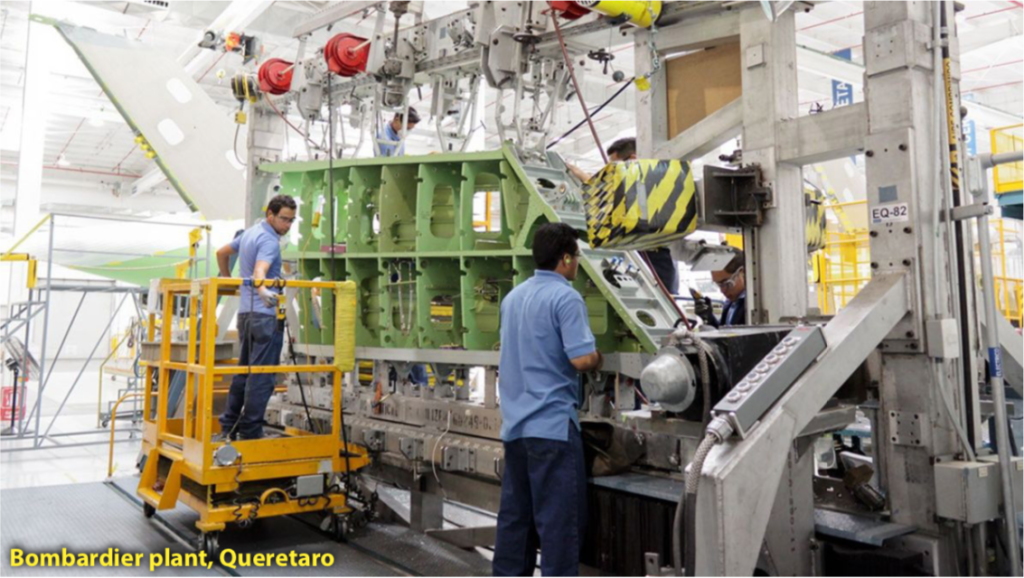 For example, the U.S. gave its airlines a US$25 billion bailout package and it reduced the balance sheet financial limits that allowed Boeing to raise a similar amount from private investors, while France recently announced a
15 billion euro plan to shore up Airbus and Air France.
Expect OEMs to move aggressively to protect their supply chains by direct and indirect aid, joint ventures and other means. Hopefully some of those initiatives would benefit suppliers in Mexico.
The global aviation value chain and its business models will likely change. For instance, commercial aircraft OEMs may move from a typical sell/buy to more lease options to move their product among cash starved airlines.
OEMs might consider doing maintenance and repair operations (MRO) in-house, which traditionally have been done by airlines and third-party firms, offering this service as part of a "turn-key" lease that also allows them to use parts, components and materials from the old grounded airplanes for repairs.
Leisure traveling would be slow to return A.C., and even if it does it is going to be under different conditions that need to be implemented to reduce the risk of contagion, such as temperature screens, use of face masks, physical distancing and enhance cleaning procedures, all of which would likely increase the price of the average ticket.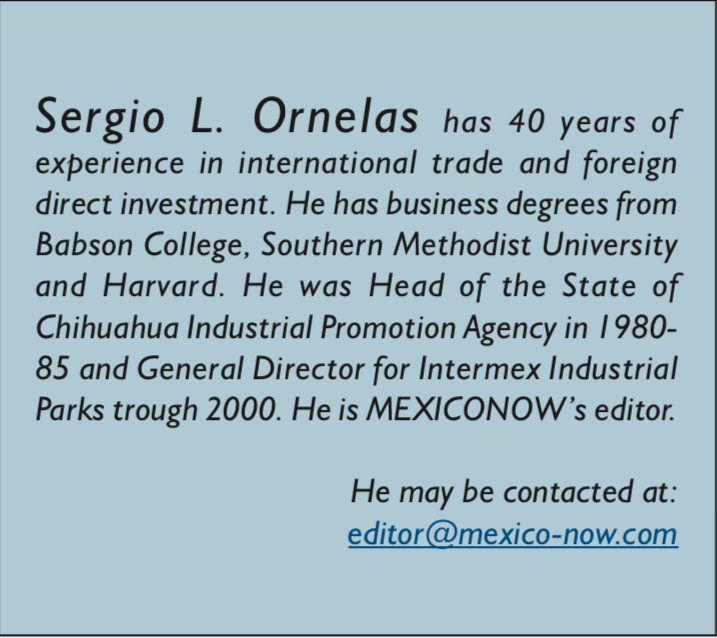 Businesses around the world just discovered that many business trips are not needed. During the pandemic, the use of live streaming meetings and conferences became commonplace and myriad businessmen from all corners of the world have found exciting advantages in virtual
communications over personal contact visits with customers and suppliers. This is a long-term trend that is with businesses to stay.
Anyway you cut it, flying as we knew it B.C. will not be the same A.C. Passengers will log less miles in the future meaning less aircraft would be manufactured and less flights and frequencies would be offered.
The ultimate irony for Mexico's president would be that the Santa Lucia Airport would not be needed after all during his tenure.
The recovery would be slow and painful. Industry experts' estimates vary from a minimum of two years and up to even the middle of the decade until a normal level of operations is reached again.
Boeing's new CEO, David Calhoun, gets the last word of this piece. He said recently: "It will take two to three years for travel to return to 2019 levels and an additional few years beyond that for the industry's long-term growth to return. When the turmoil in the airline industry does stabilize, the commercial market will be smaller, and our customers' needs will be
different."