Phillips Industries invests US$10 million in Coahuila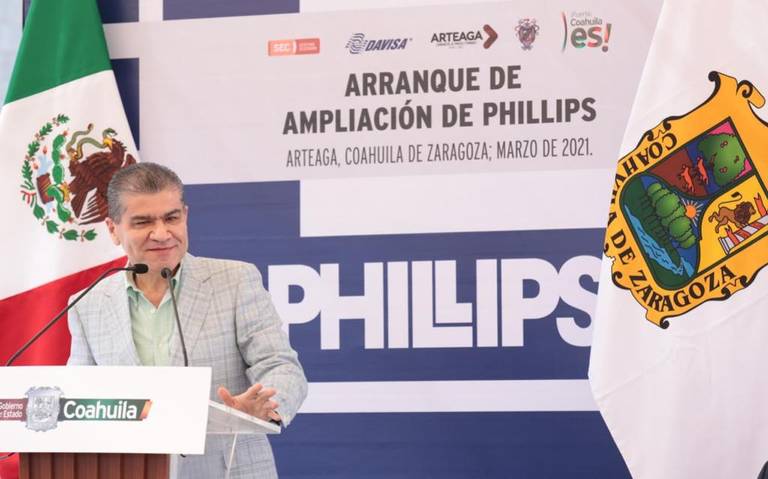 COAHUILA – Coahuila maintains its attractiveness for new investors because it generates certainty, confidence, job stability, security and qualified workforce, said Governor Miguel Riquelme Solís at the opening ceremony of the expansion of the Phillips Industries Plant located in Arteaga, Coahuila.
The company will generate 600 new jobs in the expansion, in which US$10 million are invested, and this factory manufactures electrical and electronic equipment for automobiles.
The governor pointed out that the gradual economic reactivation is advancing and all the jobs lost due to the health contingency will be recovered shortly.
"In the last few weeks alone, 6,000 jobs have been recovered," he said.
Riquelme Solís commented that trust, peace and job stability, in addition to security and the rule of law, have an impact on Coahuila maintaining its attractiveness among investors in this territory.
He stated that in addition to the skilled hand of the Coahuila workers, his loyalty to his sources of employment also characterizes him.
He highlighted that the close relationships between the three Powers of the State are reflected in progress and achievements with the attraction and arrival of new companies, as well as in the generation of jobs.
Riquelme Solís highlighted the determination of Phillips Industries to expand its facilities in Arteaga, while highlighting that the metropolitan area that makes up this municipality together with Saltillo and Ramos Arizpe is one of those with the best quality of life in the country.
In this context, the governor pointed out that currently the five regions of the entity are linked in a Supply Cluster that allows them to support each other.
Source: El Sol de La Laguna