Protech Global Solutions gets award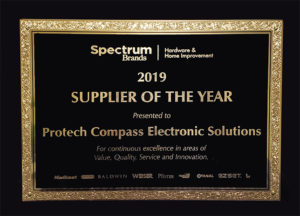 Electronics Manufacturing and Product Development company Protech Global Solutions was presented with Spectrum Brands Holdings Inc.'s Supplier of the Year award.
"This award is a credit to the hard work of all the Compass [Electronics Solutions] employees through the years," said Carlos Cano, Compass' lead Program Manager for Spectrum.
"Our ability to provide solutions for the challenges faced by Spectrum is what has made this key partnership so fruitful."
Spectrum recognized Protech as the supplier who best succeeded in providing continuous value, service, innovation, and quality.
Protech operates a 22,000-square-foot headquarters in El Paso and a second facility in Ciudad Juarez, which features four full SMT lines.