Santander Mexico and BYD join forces to promote electric car financing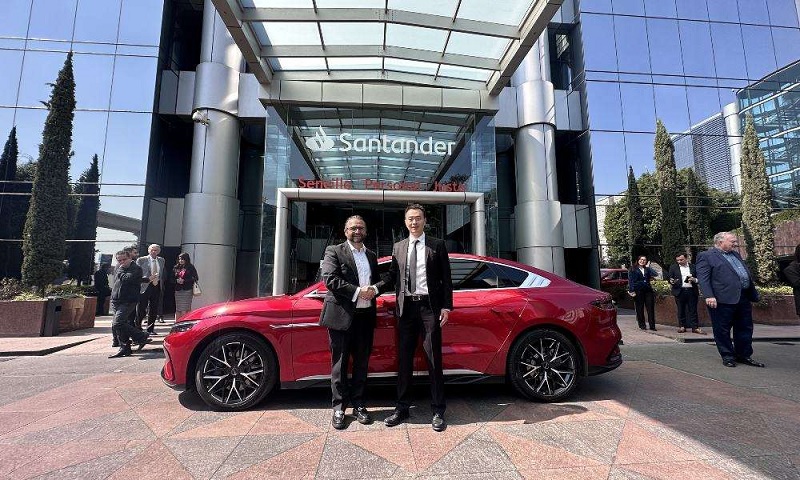 MEXICO – Banco Santander Mexico and BYD, the leading Chinese manufacturer of electric vehicles, announced a strategic alliance for the financing of its cars in the Mexican market, which will allow access to the latest technology and ecological units with special financing.
With this partnership BYD lays the foundation for its expansion in the Mexican passenger vehicle market, further promoting sustainable mobility in the region, where Santander will be the home financier chosen by BYD throughout the country.
Santander and BYD seek to facilitate access to all BYD electrified vehicles to customers and non-customers of the Bank, whether individuals with business activity or legal entities, with an offer from 10% down payment and financing of up to 72 months, in addition to plans with 0% commission for opening; something innovative is that credit will be open to students accompanied by a co-owner.
"Our strategic cooperation with Santander aims to provide local consumers with first-class auto financing services and solutions, and reduce the financial risks of dealers and customers, promoting the transformation to green mobility," said Zhou Zou, CEO of BYD Mexico.
Driven by explosive demand growth in recent years, the global electric vehicle industry has developed rapidly. As a leading player in EVs, BYD sold more than 1.86 million passenger vehicles worldwide in 2022, up 155.1% year-on-year.
BYD is actively facilitating the green and low-carbon transformation of the global transportation sector. With its global vision and international footprints, BYD is on the right track to explore global markets. This cooperation marks a new step in increasing BYD's presence in the Latin American market.