Small Businesses Buckle Under Shutdown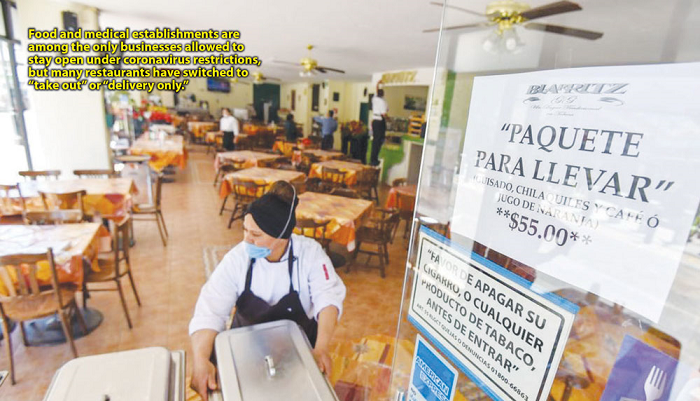 By Nancy J. Gonzalez
With the world's busiest land port deserted, dozens of small business owners in Tijuana and San Ysidro are struggling to remain open ahead of what experts say will be a long, strong recession.
The U.S.-Mexico border footbridge that connects Tijuana's northern tourist zone with San Ysidro's Las American Premium Outlets was shuttered April 5, after an unprecedented 70 percent drop in border-crossings in the region.
In March, the U.S. and Mexico agreed to restrict all nonessential travel across their shared border in an effort to slow the spread of the coronavirus. Officials on both sides of the border stressed the travel restrictions would not impede lawful trade and commerce everything from food and fuel to healthcare and medicines.
But, because of the strict "essential work" guidelines on both sides of the border, the new coronavirus regulations have effectively prevented millions of Mexicans from making daily trips north, including many who work in U.S. businesses.
The now-empty square in front of the El Chaparral border crossing looks abandoned – its vacancy exposing Tijuana's trash-strewn streets and crumbling sidewalks.
"It looks like something out of a scary movie," said Carlitos Vargas, who has worked for 20 years in a pharmacy at Plaza Viva Tijuana, directly across from El Chaparral.
"This really shows how much the two economies on both sides of the border are dependent on each other. We need each other," said Vargas.
Food and medical establishments are among the only businesses allowed to stay open under coronavirus restrictions, but many restaurants have switched to "take out" or "delivery only."
Some have had to close all together, from lack of business, despite technically being allowed to stay open under California and Baja California guidelines.
Esther Morales, a small business owner, makes tamales at the La Antigüita Tamaleria on Calle 4TA near the border.
She said she has barely been able to remain open during the partial border shutdown.
"Most of my business comes from people who are taking my tamales to
the United States, so if people aren't coming from the United States or going to the United States, business is very bad," she said.
Morales said she remains open, but the most she's sold in tamales since the new border restrictions went into place is about 500 pesos or about $20 in one day.
She said she keeps herself busy by donating her unsold tamales to Tijuana's various migrant shelters.
"Things are much worse there," said Morales. "Tomorrow, I will go to the market and make some fresh tamales and if I can't sell them, I'll take them again to the shelters, so they have some food."
Business is not much better in San Ysidro, a small border community that's part of the City of San Diego, across from Tijuana.
"We depend a lot on Tijuana residents coming across the border," said Enrique Jacobo, who just opened Maya's Gourmet Pizza in San Ysidro. "It's pretty hard staying open."
Jacobo said his restaurant had only been open four months, and he had just gotten its license to sell beer and wine two days before the partial border closure. He said sales are down 80 percent and most of his employees are on reduced shifts.
"Let me put it this way: Any given day here in border foot traffic, I'm not kidding you, we would see 60 to 100 people walk by every minute. Now, it's more like one or two people walking by," said Jacobo.
Paola Avila, vice president of international business affairs at the San Diego Regional Chamber of Commerce said retail tourism, the second biggest contributor to San Diego's economy, has taken the biggest hit from the border closure.
Avila said in 2019 that border delays alone cost San Diego $2.9 billion a year- the equivalent of 40,000 jobs.
"Those delays were based on two hour wait times: the trade and travel that the border wait times then discouraged. And the economic loss of productivity of workers, truck drivers and goods sitting, idling for two hours at the border," she said, adding it is difficult to understand the full economic impacts of the partial border closure with the crisis ongoing in Mexico.
"We're not going to truly understand the economic impacts for a long time, especially since Mexico has been on a different schedule than us and imposed restrictions much later," she said.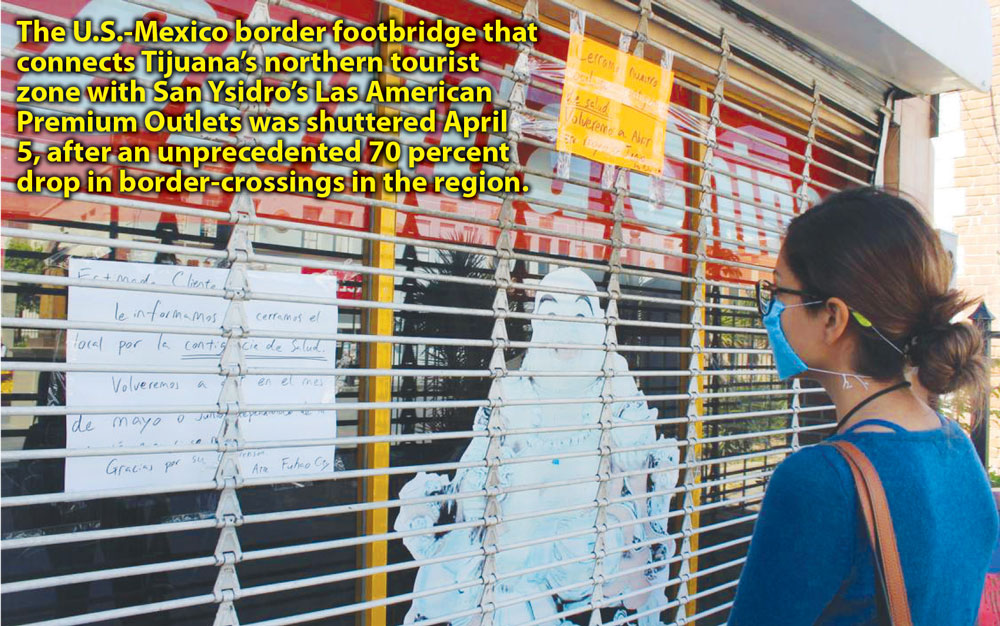 Commerce and cargo traffic has not been restricted, but it has seen at least a 20 percent drop in crossings, according to Alejandra Mier y Teran, the president of the Otay Mesa Chamber of Commerce.
The upside is there is nearly zero traffic at the typically heavily clogged Otay border crossing.
"There's always a silver lining," said Mier y Teran.
The novel coronavirus has put into motion what will likely be one of the worst recessions in generations, as both the U.S. and Mexico's economy grinds to a halt and millions lose their jobs.
Miguell Marshall, an entrepreneur and small business owner in Tijuana, said he and his colleagues are already trying to look ahead and strategies to adapt post-coronavirus.
He said he thinks the city and small businesses will be able to bounce back quickly by about August or September.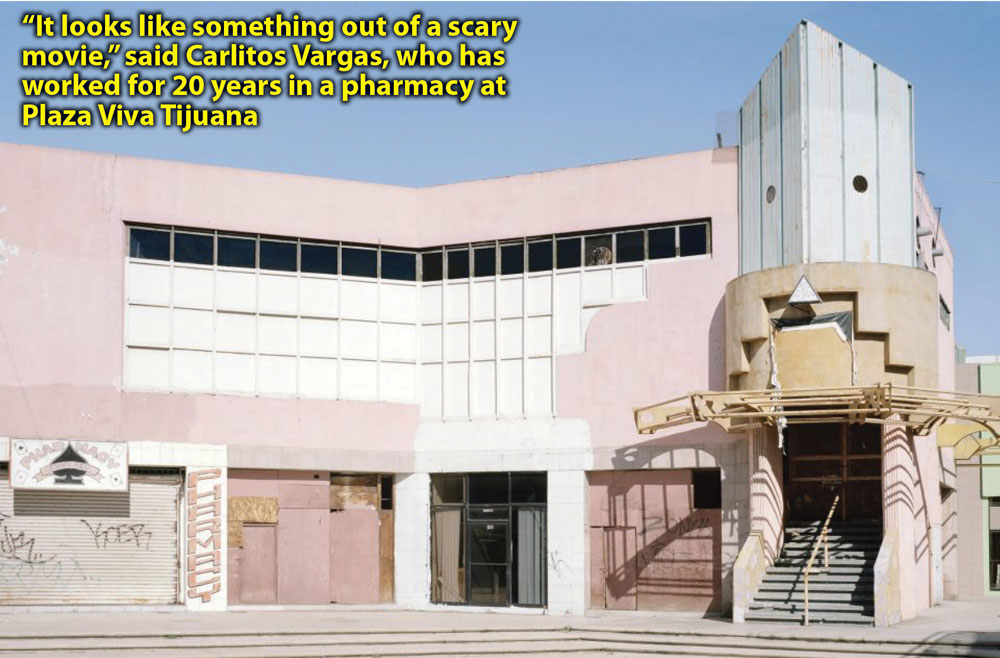 "I would say that people are resilient and supportive of local businesses," said Marshall. "They know the struggle and understand that a local economy's foundation is through small businesses. Tijuana has always been known because of its reinvention process, and today we are once again reinventing ourselves for a new era of business where health and awareness will be the main items on the agenda."
Santiago Levy, a senior fellow at the Brookings Institute, and an expert in global economy, said during a webinar with UC San Diego's Center for U.S.-Mexican Studies that Mexico is likely to face a very strong economic crisis, much worse than the recession in 2008 and 2009.
"One point in particular I want to make is that Mexico still has not taken the economic measures to allow it to overcome the health emergency," said Levy, pointing out the health and economy are not two separate issues, but inextricably linked. "More than half the workers in Mexico are informal workers. The government cannot ask them 'stay in your house' for two or three months without a source of income."
Avila said the longer Mexico, particularly Baja California struggles, the greater the economic impact to San Diego.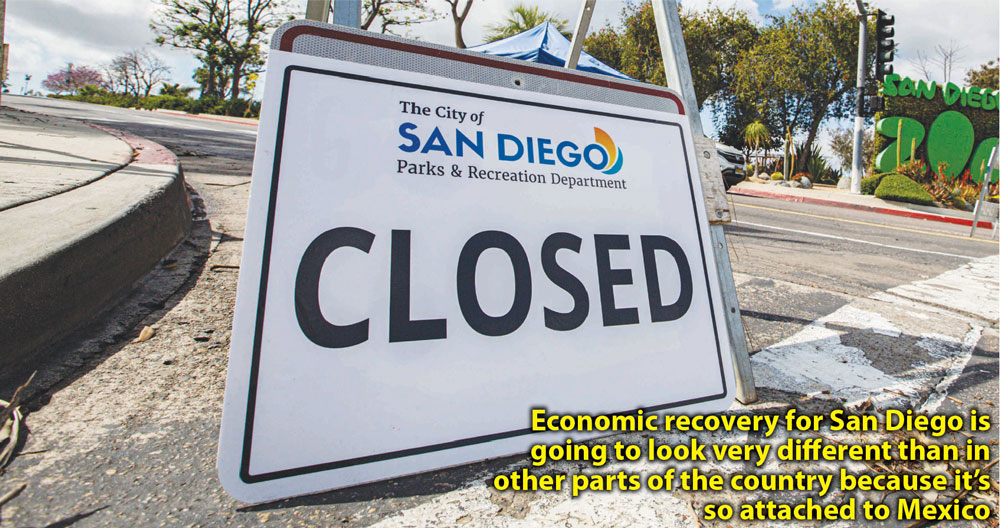 "Economic recovery for San Diego is going to look very different than in other parts of the country because we're so attached to Mexico," she said.
In mid-may, the border was still on an escential crossing basis only.