Swift Transportation to honor 207 truck drivers for loyalty, miles driven and safety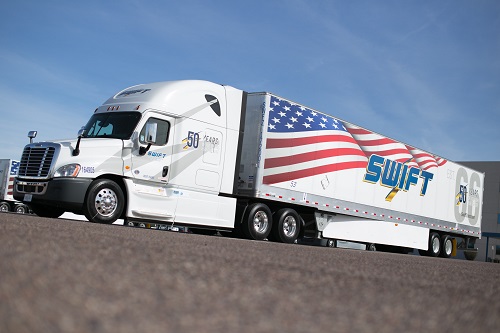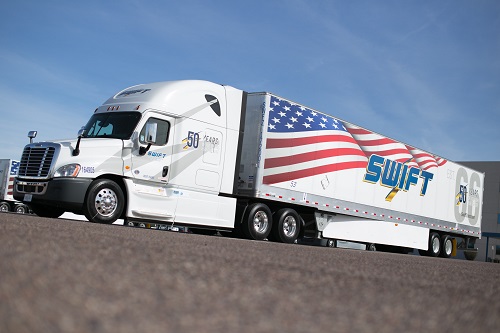 Swift Transportation Company will grant 207 truck operators the Diamond Driver distinction, the highest honor bestowed to a truck driver based on their fulfillment of stringent safety and service metrics.
As part of Swift's 5-Star Driver Ranking Bonus Program, the truck drivers will be recognized during a special Diamond Driver Day event on October 21 at Swift's corporate headquarters in Phoenix, the company announced in a press release.
The program, which features Bronze, Silver, Gold, Platinum and Diamond rankings, honors drivers based on their miles driven, commitment to safety, on-time deliverables, their low rate of customer service failures and total days of employment.
"We're committed to delivering a better life for the drivers who tirelessly go the distance for our customers, whether that be increased safety and comfort measures in trucks, enhanced technology to support drivers on the road, or ongoing education," explains Kenneth Runnels, EVP Fleet Operations, Swift Transportation.
"As a way to give back to these upstanding drivers, Swift's driver ranking program not only gives recognition to our extraordinary front line, but also provides them an opportunity to increase their earning and leadership potential. We're proud to honor our Diamond Drivers who inspire so many drivers in our industry," Runnels added.
After 90 consecutive days of employment at Swift, truck drivers can enter the ranking program at Bronze —then graduate to Silver, Gold and Platinum— before achieving Diamond Driver status.
From there, a driver can double, triple and quadruple his or her Diamond Driver status based on overall miles, safety record and on-time percentages. In addition to this ranking bonus program, Swift drivers are also recognized for every million miles driven, including approximately 1,300 Swift drivers who have received this designation. These drivers have provided at least 1 million miles of safe, accident-free service.
To honor all Diamond Drivers, Swift is hosting a special Diamond Driver Day on Friday, October 21. The event, held at Swift's corporate headquarters in Phoenix, will feature award recognition, a presentation by Swift executives, a special luncheon and gifts for the 207 drivers who have reached this designation.
About Swift
Swift Transportation, a leader in transportation solutions and North America's largest full-load trucking carrier, originated and is based in Phoenix, Arizona.
The company deploys a fleet of more than 18,000 trucks and 60,000 trailers – operated by 16,000 Company drivers and 5,000 owner-operators – across more than 2 billion miles of road each year.
It boasts a terminal network of more than 40 full-service facilities across the continental United States and Mexico and maintains a daily presence in every Canadian province.
Swift offers its world-class customers a broad spectrum of services and equipment, including temperature-controlled, flatbed and specialized trailers, in addition to rail intermodal and non-asset based freight brokerage and logistics management services. For more information, visit www.swifttrans.com.
MexicoNow
Related News
– Arizona rises weight limits for trucks coming from Mexico