Toyota updates its TRD Pro Series; the Tacoma gets a snorkel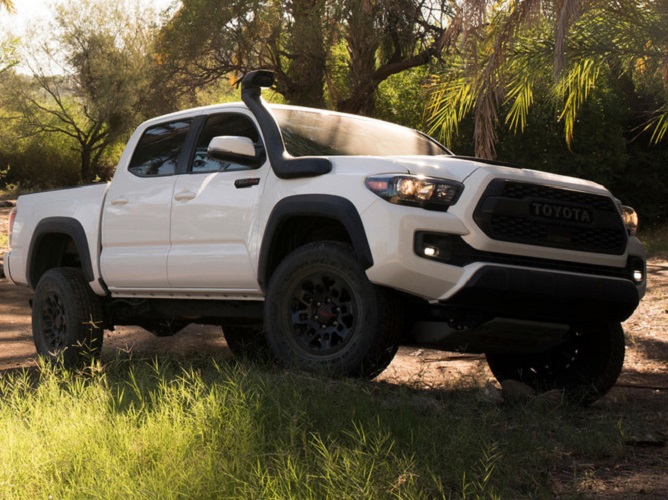 Last week, Toyota revealed at the Chicago Auto Show a series of upgrades to its TRD Pro Series. For 2019, Tundra, 4Runner and Tacoma will all feature Fox shocks and a host of impressive off-road equipment tuned and designed by the engineers at Toyota Racing Development (TRD).
Each vehicle will ride on 2.5-inch TRD Pro-exclusive Fox Internal Bypass shocks that have been tuned for specifically for the trucks. These shocks feature multiple bypass zones inside of them, designed to allow for the fine-tuning of damping pressure.
The front shocks are paired with specially-tuned TRD springs designed for excellent ride comfort and to also produce additional lift, giving each TRD Pro an aggressive, heightened stance for improved trail-conquering capability. A combination of high-temperature shock fluid and nitrogen gas pressure are employed inside each Fox shock to improve bump compliance and to help maximize seal life.
Every TRD Pro model features rear 2.5-inch Fox shocks that utilize a piggyback reservoir to house additional oil volume, which assists in maintaining peak damping performance during extreme use.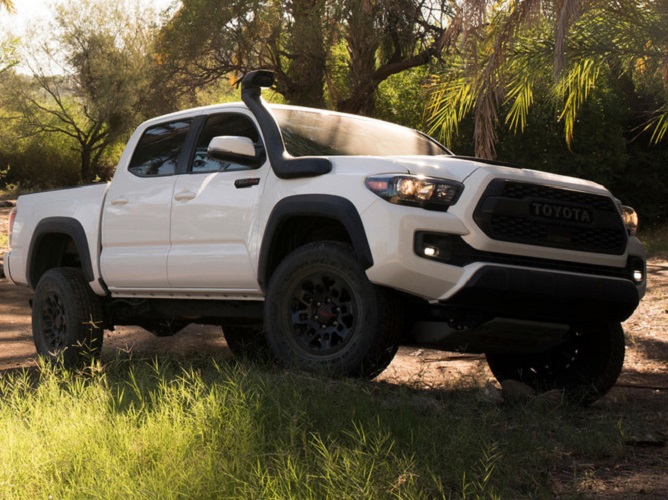 As for the Tacoma TRD Pro, which is assembled at the company's plant in Tijuana, Baja California, the unit ups the ante with enhanced 2.5-inch Fox front shocks that use large 46mm pistons and feature 8 bypass zones (5 compression, 3 rebound). They are paired with TRD-tuned springs that provide an additional 1 inch of front lift.
A larger front sway bar is employed to retain crisp steering and refined road manners. The Tacoma also features 2.5-inch rear shocks that use 11 bypass zones (7 compression, 4 rebound) and are paired with 2-inch piggyback reservoirs.
Thanks to the offset of the 16-inch TRD Pro black alloy wheels, Tacoma has a 1-inch wider track both front and rear for added stability. Trail and pavement traction comes in the form of P265/70R16 Goodyear Wrangler Kevlar All-Terrain tires.

The most eye-catching of the Tacoma upgrades, no doubt, is the available all-new TRD Desert Air Intake. 
Designed to sustain consistent off-road performance no matter how silty or dirty the terrain gets, the TRD Desert Air Intake takes the 278-horsepower 3.5L V6 engine's air intake away from dust that hovers inside the wheel well (where traditional air intakes are located) during off-road operation. 
This allows for air ingestion to occur in a cleaner space above the windshield, therefore, helping to benefit filter longevity and, ultimately, engine health.
The 2019 TRD Pro series will be available in fall of 2018, and each vehicle will be offered in three colors that include Super White, Midnight Black Metallic or Voodoo Blue (a TRD Pro exclusive color).
MexicoNow
Related News
– Toyota aims to increase sales in Mexico by 2% during 2018
– Toyota increased production volume in Mexico during 2017, official figures show