U.S. – Mexico Relations Outlook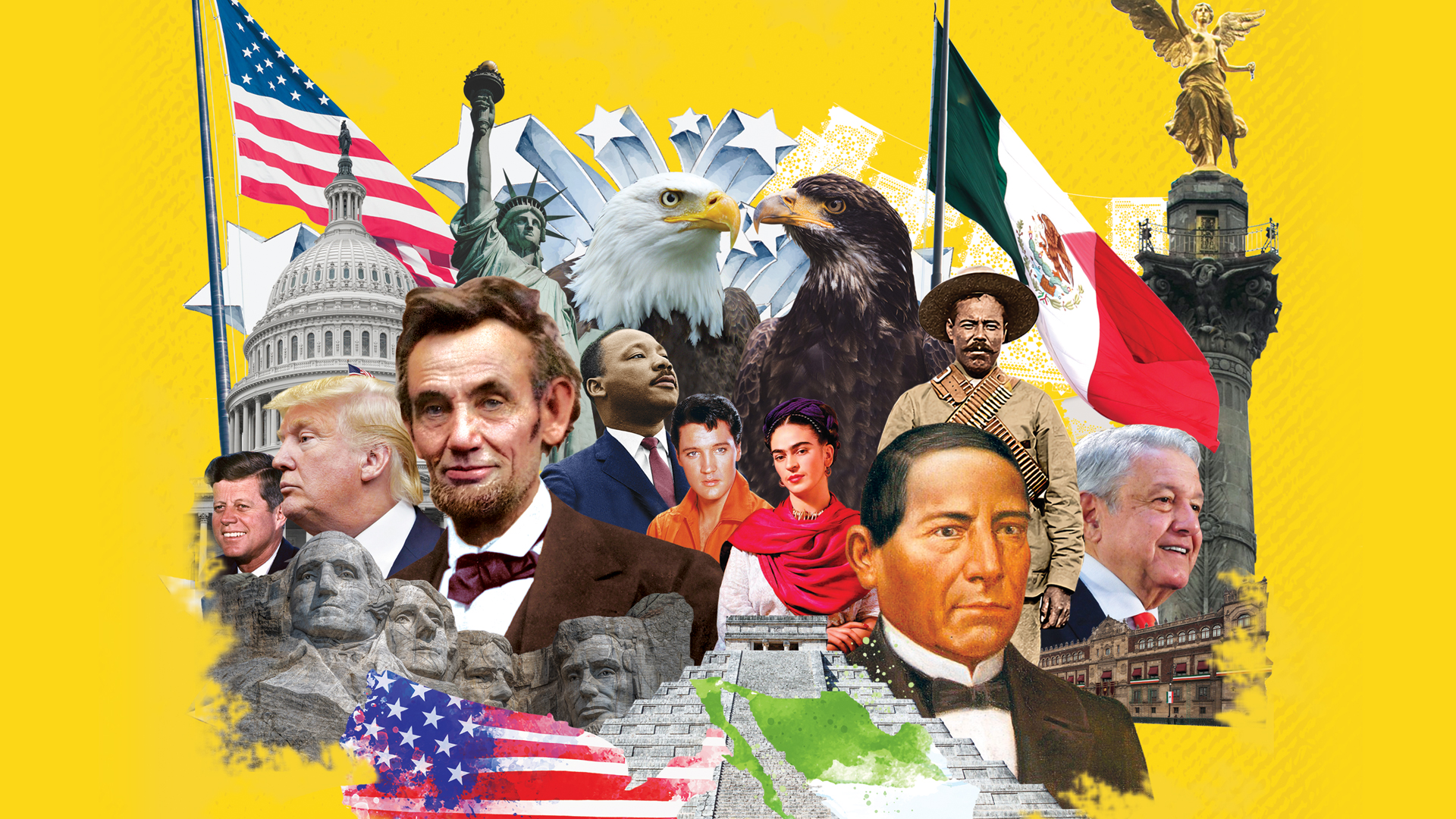 A Complex & Interdependent Relationship
By Sergio L. Ornelas
MEXICONOW Editor
Throughout its history Mexico has had a love-hate, lopsided relationship with the United States.
In 1836 Mexico took the Alamo in San Antonio but could not stop the state of Texas from declaring independence from Mexico; and in 1848, under General Antonio Lopez de Santa Ana, a debilitated army and country lost the war against the Americans and Mexico was forced to sell a third of its territory, including all of present California, Utah, Nevada, Arizona and New Mexico for US$420 million current day dollars.
Skip 172 years of muddled events between the two countries and witness the distant neighbors not quite detached as of recent, but actually cooperating in matters such as trade and immigration.
But given the economic difference between the two countries (The U.S. economy is 17 times larger than Mexico's) the relevance of the bilateral relationship is different for each country.
For the ample and complex U.S. international affairs, Mexico is just a slice of its agenda, while the U.S. is Mexico's bread and butter.
The U.S. is the top economic and military power in the world; it buys 80% of Mexican exports; it is home to a 35 million population of Mexican descent who send nearly US$40 billion remittances to families back home every year; it is the largest foreign direct investor in Mexico; it is the main source of Mexico's natural gas, refined oil products and technology.
Because of the unevenness in economic size and stage of development, Mexico is in a lower capacity to defend its interests against the U.S.
The bilateral relationship is also very complex because it involves multiple subjects (Immigration, illicit drugs, trade, border security, water, energy, supply chains, etc.) and multiple players (Presidents, cabinets, Congress, states, companies, media, critics, etc.), which make it very difficult to reach bilateral agreements and satisfy so many interests.
In this article we will review the current status of the main aspects of the U.S.– Mexico relationship and where they may be headed in the future.
Immigration
The Trump administration has meticulously destroyed immigration to the U.S. attacking every aspect of mobility, legal and illegal.
As a result of over 400 executive actions, annual U.S. net immigration fell by half to approximately 600,000 between 2016 and 2019. Mexico is no longer a factor as its net immigration is close to zero, but Mexico has become a transit and destination country for many trying to reach the U.S. including Central and South Americans and Asians.
Christopher Wilson, Deputy Director at the Mexico Institute for the Wilson Center in Washington told MEXICONOW: "Right now, the impact of immigration as a policy issue is negative. It is the major source of tension between the two countries. Massive pressure has been put in Mexico by the U.S. to help the U.S enforce its immigration policy."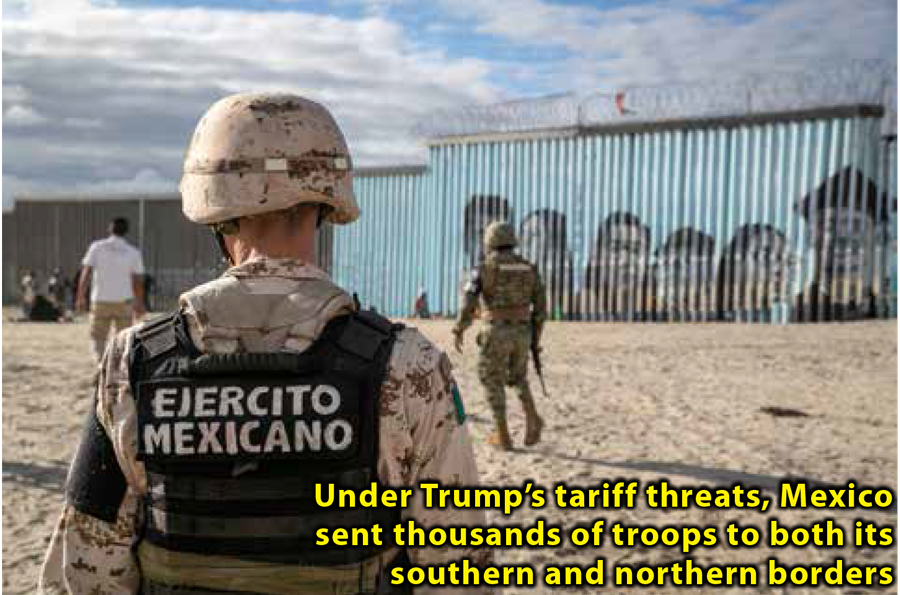 Under Trump's tariff threats, Mexico sent thousands of troops to both its southern and northern borders, and ironically, President Trump effectively "created a human border wall" paid by Mexico to crack down on Central American "caravans" of asylum seekers and mak ing them wait on the Mexican side while their cases were resolved by U.S. courts.
Because of COVID-19, the U.S. and Mexico have also entered into a month-to-month closure of the U.S. border ports of entry to everybody but essential travelers, which comes very handy to further deter immigrants waiting in
Mexico.
Evidently, the neighbors need to agree on a long-term immigration policy that provides the U.S. with the worker migrants it needs for agriculture, engineering and R&D through the establishment of special status visas and working permits.
This may be possible under a Trump second term or under a new democrat administration, but not before the virus is completely under control. Alas, undoing all the bureaucratic obstacles the Trump administration created might take a few years.
The War on Drugs
The recent apprehension by U.S. law enforcement of General Salvador Cienfuegos, a former Defense Secretary under President Pena Nieto tells the story about the U.S. Mexico relations on the subject of fighting drug cartels.
Evidently, the U.S. authorities have zero trust on their Mexican counterparts, as they did not even communicate them about the 14-month investigation of the general, waiting patiently to arrest him once he set foot on U.S. soil at the Los Angeles Airport.
It is a shame for Mexico's military and the AMLO administration that foreign enforcement needs to intervene to capture and trial Mexican
corrupt government officials and drug traffickers.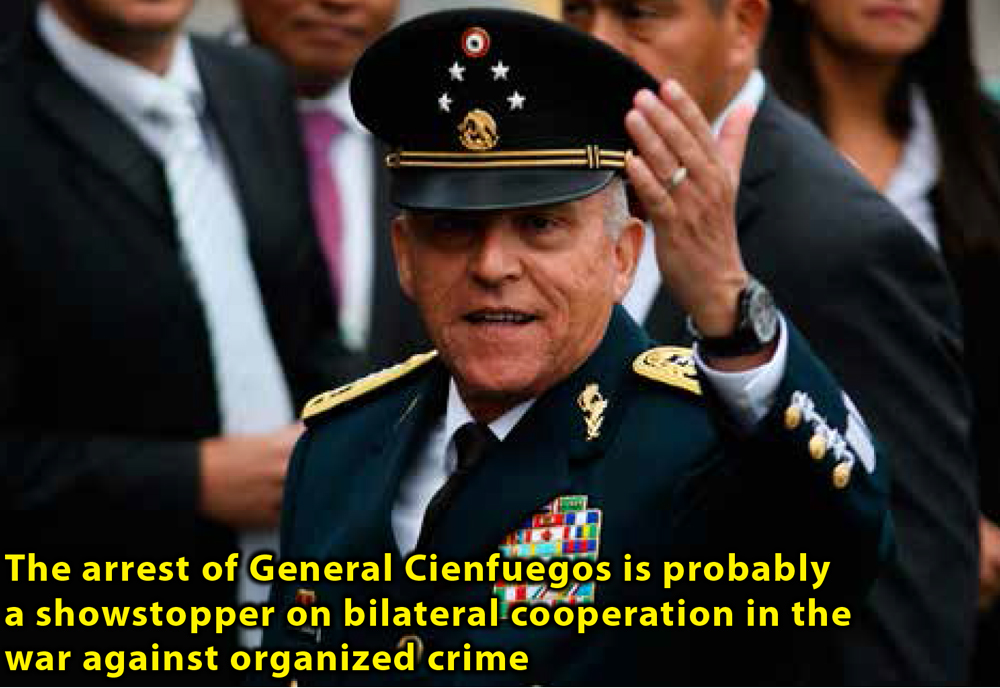 Enrique Perret, Director of the U.S.- Mexico Foundation in Washington told MEXICONOW: "There is a need for an institutional architecture to tackle the issues of drug cartels and security; however, there is no such institutional architecture and dialogue between the two countries and their high-level officials."
The fact that AMLO himself ordered to free a captured top drug cartel leader a year ago is certainly not helping this cause.
Mexico is a country where impunity and corruption reign as a social system. The challenge for Mexico is huge to right this systemic negation for the rule of law. Mexicans need to realize that corruption is not inevitable and exit their state of passivity with individual ethical actions.
AMLO has relied on the military for way too many tasks including staffing the National Guard, building the Santa Lucia Airport and the Mayan Train, distribute school textbooks and medicines and even removing algae from tourist beaches.
Going forward the questions remain: How deep is the corruption among high military ranks? Are U.S. law enforcers investigating other government and military officials in Mexico?
The arrest of General Cienfuegos is probably a showstopper on bilateral cooperation in the war against organized crime for the time being. As noted, the neighbors need a new, innovative and fresh institutional architecture, which may be pursued once the political dust settles in the U.S.
Trade
Trade is the bright spot of U.S. – Mexico relations as these two countries, together with Canada, finally agreed on the terms for the United States-Mexico-Canada Agreement (USMCA) that became effective on July 1, 2020 to replace the 24-year old obsolete NAFTA.
Interdependency is a structural characteristic that defines the relations between the U.S. and Mexico; this intertwined bond is quite evident in the vast supply chains of goods and services that the countries share through their daily trade of US$1.7 billion.
Monica Lugo, Institutional Relations Director for Prodensa and one of the 100 most influential women in Mexico according to Forbes, told MEXICONOW: "The three countries benefit with the USMCA, there is not one loser or winner. The new agreement preserves free trade, it modernizes the accord by incorporating e-commerce and small and medium enterprises, it is more responsible and sustainable for minorities through labor and anti-corruption provisions and preserves the dispute settlement mechanisms."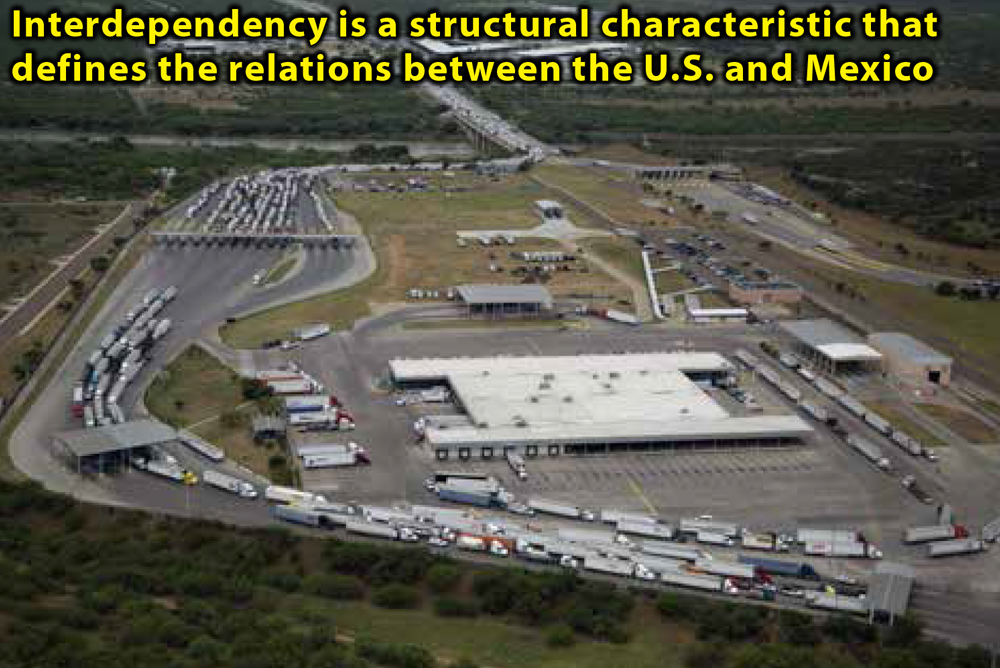 She added: "The U.S. wants to reduce its trade deficit with China, but there is no quick solution to their trade war, which represents an opportunity for nearshoring manufacturing in Mexico."
Juan Vazquez, General Director for The National Maquiladora and Manufacturing Export Industry Council (INDEX) told MEXICONOW: "Mexico is not taking fully advantage of its trade agreements other than the USMCA; but trade diversification can't go as far as we would like it to, we cannot replace the opportunity the U.S. represents with other markets, at least not mid-term. It is so much easier to trade with the U.S. in terms of logistics and the deep knowledge of the American market that we have acquired through decades."
Mexico and the U.S. are like Siamese Twins when it comes to supply chains in the automotive sector. Mexico supplies 16% of all new light vehicle sales in the U.S. and exports over US$80 billion worth of auto parts to the vast majority of U.S. automotive firms.
Under the 24 years of the extinguished NAFTA, trade of goods between the two countries grew from US$80 billion to US$614 billion in 2019, year in which Mexico and the U.S. became each-other's #1 trading partner, surpassing Canada and China reciprocal commerce with the U.S.
Once the pandemic ends, there is no reason to believe that trade between the U.S. and Mexico would not continue to grow. But for that to happen, the two countries may consider taking some initiatives to expand and exploit the benefits that are set forth in the USMCA, particularly those issues having to do with labor and border crossing.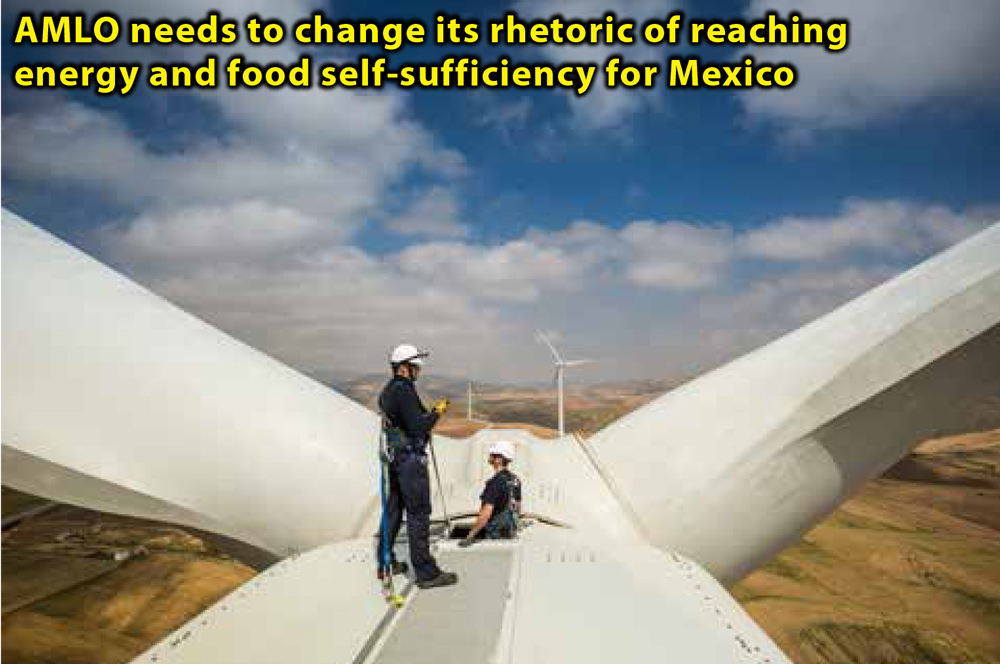 As you well know, technology is quickly substituting manual labor and even technical cores. Workers need to be retrained on both sides of the
frontier to reposition themselves in higher skilled and higher paid functions.
In addition, Mexico and the U.S. need to agree on a program that increases the international mobility and development of their respective workforces, at least in critical fields such as the digital economy, energy and farming.
People, not just goods, services and technology need to be able to move across the border for a region to really reap the benefits of free trade.
Border infrastructure is obviously a high priority to expedite border crossing of goods. Those mile-long cargo truck lines making time to cross north and south bound need to disappear. Investments on both sides in the physical trade corridors and the comprehensive digitization of export/import processes are in order.
FDI
You may be surprised to learn that Mexico's FDI in the U.S. is relatively or proportionally higher (by a lot) than the U.S. FDI in Mexico.
According to the latest data on the subject from the Office of the U.S. Trade Representative, in 2018 the stock of U.S. FDI in Mexico amounted to US$114.9 billion, while the stock of Mexico's FDI in the U.S. reached $18.5 billion.
The U.S. FDI in Mexico is about 6 times higher than Mexico's FDI in the U.S., but the U.S. economy is 17 times bigger than Mexico's; so, Mexico, proportionally to its resources, is 3 times a better foreign investor in the U.S. than the other way around.
U.S. FDI in Mexico is led by manufacturing, non-bank holding companies, and finance and insurance; Mexico's FDI in the U.S. is mostly in manufacturing including facilities by Bimbo, Rassini and Cemex among the most important ones.
In spite of the pandemic and AMLO, Mexico's FDI inflows were healthy for the first half of 2020 but inexplicable actions by the President against some FDI projects are casting doubts about the sustainability of the FDI inflows going forward.
The terrible and shameless change of rules to the energy reform tops AMLO's blacklist of actions against FDI, creating a climate of uncertainty among foreign investors.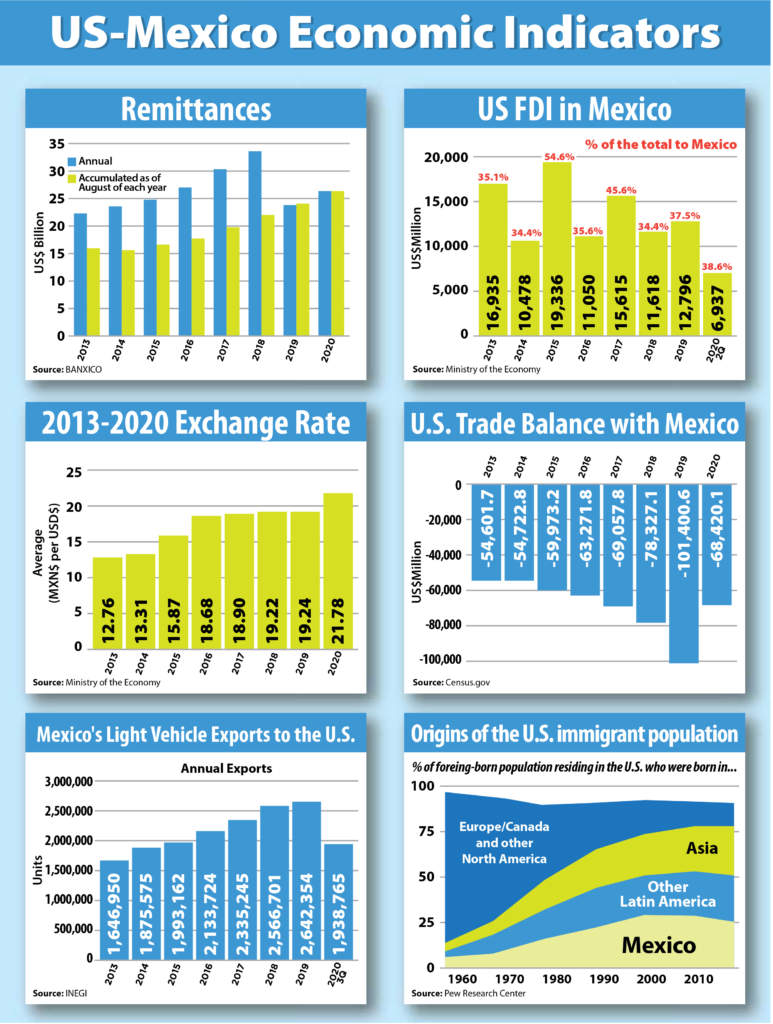 Evidently AMLO needs to change its rhetoric of reaching energy and food self-suf ficiency for Mexico, rejecting renewable energy projects and conducting "popular polls" to decide the fate of large FDI plants such as the controversial cancellation of the Constellation beer facility in Mexicali.
Fortunately, the USMCA framework does provide a good level of confidence for U.S. FDI in Mexico and hopefully the flow will continue in that pipeline.
The Reluctant Allies
Mexico's President smartly entered into a useful marriage of convenience with Mr. Trump, changing course on his 2018 campaign stance of severe criticism of the American leader.
Upon taking office as President, AMLO wrote a conciliatory letter to President Trump, the closing paragraph of the communication follows: "Regarding politics, I am encouraged by the fact that we both know to make good on our promises and to successfully deal with adversity. We both managed to position our voters at the center and displace the establishment. Everything is set to start a new era in our relationship, based on cooperation and prosperity. Let's do it. With an affectionate embrace. (Le mando un abrazo afectuoso.)"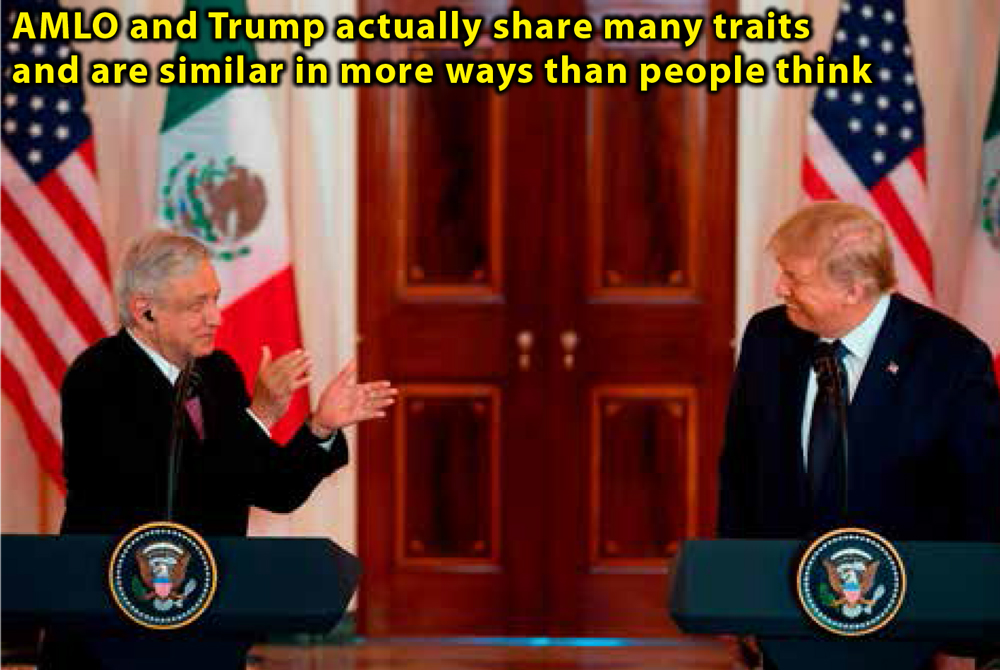 Later, Trump tweeted: "The new president of Mexico has been an absolute gentleman."
AMLO and Trump actually share many traits and are similar in more ways than people think. They are both populist politicians and share views in many issues such as the environment, globalization and the pandemic.
They also have remarkable differences, particularly in their life and leadership styles. Trump is an aggressive leader, a "poker player" with a luxurious lifestyle while AMLO's tone is lukewarm, he has a very austere way of life and his political strategy is akin to a chess player.
In the course of this figurative toxic marriage, AMLO has acquiesced to
Trump's tariff threats to stop immigrants, he agreed to most U.S. provisions in the negotiations of the USMCA and as of late, traveled to Washington for a photo-op that seemed to be a political endorsement for Trump's reelection.
Trump and AMLO are in a nutshell reluctant allies. They are allies because they need each other but must pose as reluctant to befriend their counterpart to save face with their voters.


Conclusions
The sociopolitical ambience is quite rarified in the land of the USMCA. There is of course the pandemic but there is divisionism in the U.S. and Mexico as a result of the populist presidents.
Nevertheless, the complex international relations of Mexico and the U.S. must go on and reach a higher and more qualitative level; nor only are the two countries geographically connected but now days that connectivity is
economic, demographic and cultural. The neighbors' interdependence is factual.
The last word goes to our U.S.-Mexico relations expert friends at the Mexico Institute of the Wilson Center and the U.S. Mexico Foundation who coauthored the paper "A vision for a Stronger U.S. – Mexico Partnership" (*), from which the following excerpts are taken: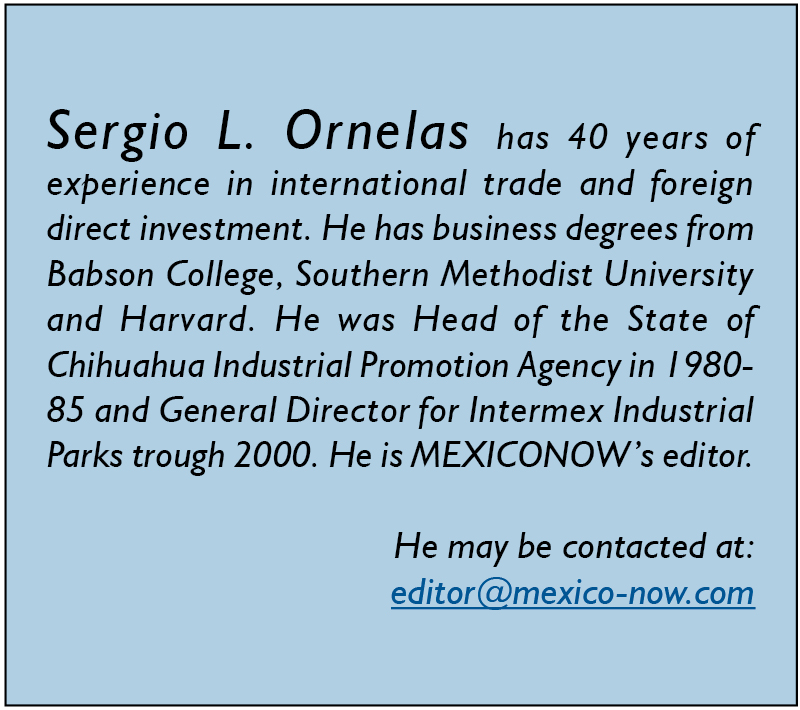 "After the inauguration of a new or reelected U.S. president in 2021, the United States and Mexico should host a joint cabinet meeting to kick off a new era of cooperation under the framework of the USMCA and to launch a new high-level mechanism for the coordination of bilateral cooperation across the economic, security and migration spheres."
"This moment of crisis exposes the importance of institutionalized mechanisms for cooperation. They provide spaces for officials to build
cross-border relationships and periodic reminders to think regionally, allowing the United States and Mexico to depend on one another during an emergency."
"We still struggle to understand one another fully. We each have a strong pride in our independence. Yet, we have become interdependent. The benefits of partnership are clear, and now we must work together to build understanding and trust so that the partnership endures and grows ever stronger."
*https://www.wilsoncenter. org/program/mexico-institute