UK firm predicts Mexico's Auto Industry will grow despite tariffs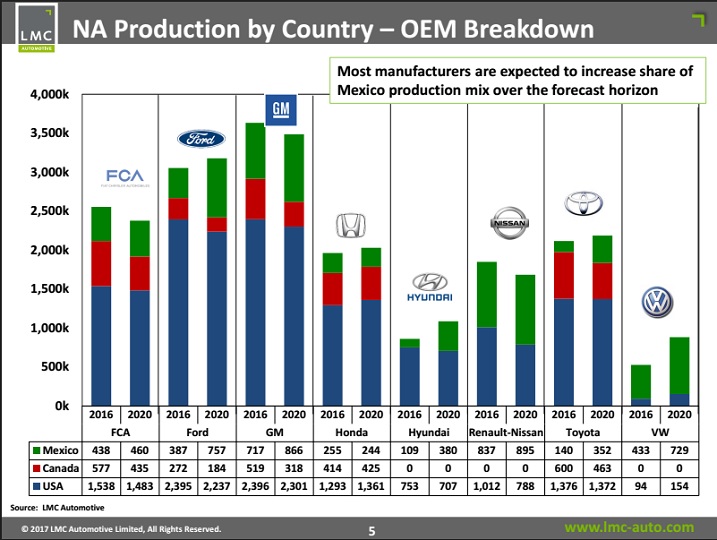 Auto market analysis and forecasts firm LMC Automotive predicts automakers will continue to invest in Mexico over the next four years despite tariff threats and social media bashing from President Donald Trump.
According to the LMC study (PDF), Mexican production for two of Detroit's three automakers will increase through 2020, while production in both Canada and the U.S. is expected to fall. The percentage of Mexico-built vehicles sold in the U.S. is expected to rise, too. And it predicts capacity investment in Mexico will grow faster rate than in the U.S.
"The U.S. currently accounts for two-thirds of North American vehicle production but significant investment plans and decisions to re-source capacity from Asia and Europe to Mexico are expected to bring Mexican production from 19 percent of NAFTA today to 26 percent in 2020," reveals the analysis.
Despite its projections, LMC acknowledges high risk that Trump's policies could impact future decisions. "The potential for penalty on vehicles manufactured within NAFTA but outside the US may impact existing vehicle sourcing and future North America production mix and vehicle decisions, many of which are already in process," the study said. "Until specific policy is detailed, the environment is fluid and uncertainty remains high, as the industry plans for the future. Aversion to policy risk, and to the threat of negative publicity, has become a significant consideration for planners."
LMC expects overall U.S. vehicle sales to keep steady around the 17.5 million mark through the end of the decade, "creating a highly competitive market that will likely out pressure on profit margins".
What's in for Detroit 3?
Among the Detroit 3, Ford's Mexico production will increase the most over the next four years, from 387,000 this year to 757,000 vehicles in 2020, thanks in large part to shifting production of the Focus compact sedan from its Michigan Assembly Plant to Hermosillo, LMC predicted. 
Over that same period, Ford's U.S. production is expected to fall slightly, to 2,237,000 from 2,395,000. GM's will dip to 2,301,000 from 2,396,000, while FCA's will drop to 1,483,000 from 1,538,000.
GM's Mexico production is expected to grow to 866,000 from 717,000 today, while FCA's is expected to grow to 460,000, up slightly from 438,000 today.
FCA will be the exception. The automaker's Mexico sourcing will decline as it re-sources vehicles both inside and outside the NAFTA zone, LMC says, although Mexico-built vehicles will still account for 10 percent of its U.S. sales mix.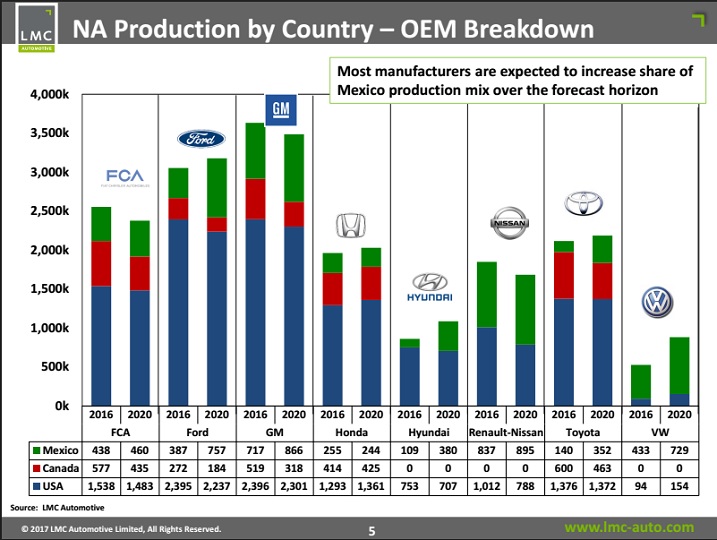 The percent of Mexico-built vehicles for sale in the U.S. will grow for nearly all automakers, LMC says.
Ford's percentage of Mexico-built vehicles for sale in the U.S. will rise to nearly 20 percent from around 10 percent today, while GM will see similar gains. Volkswagen's percent of Mexico-built vehicles is expected to rise to 40 percent.
MexicoNow
Related News
– BMW Mexican plant will be profitable even without U.S. market
– Mercedes-Benz relies on Mexico to expand its compact car line-up
– Infiniti unveils potentially autonomous crossover soon to be built in Mexico
– Volkswagen unveils the new built-in-Mexico 2018 Tiguan
– New built-in-Mexico Jeep Compass to be offered in off-road Trailhawk version
– Hyundai, Kia to rely on Mexico to achieve 2017 sales target
– Audi produces in Mexico its 8 millionth vehicle with quattro technology