US auto sales expected to drop in November, but average prices will hit record high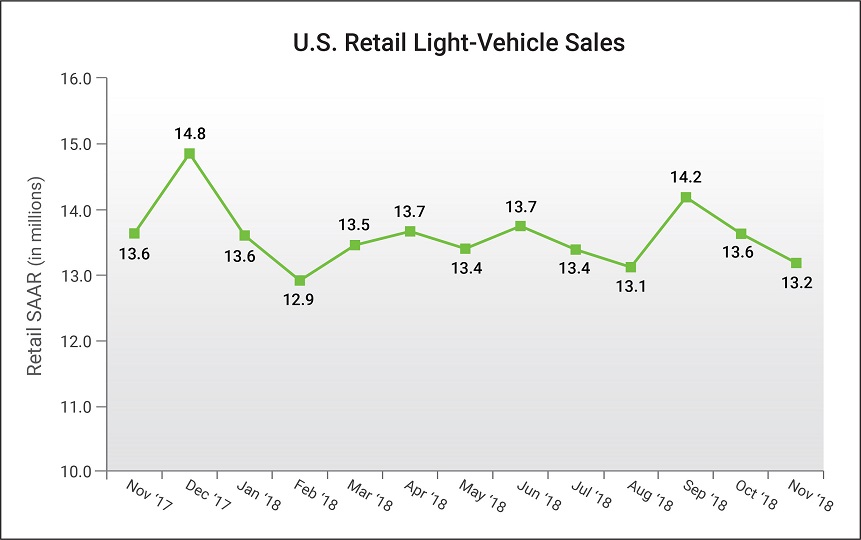 Analysis firms are expecting an auto sales drop ranging from 1.3 to 3.8% for November 2018 in the U.S. market. However, transaction prices are expected to reach an all-time record high boosted by the ever-strong demand of light trucks, a category that includes crossovers, SUVs, pickups and minivans. Such trend shows no sign that it will stop in the near future.
The United States represents the biggest market for Mexico automotive exports. In the first ten months of 2018 more than 2,115,000 Mexico-made vehicles were shipped to the U.S., which accounts for 73.5% of total Mexican light vehicle exports.
According to a forecast developed jointly by J.D. Power and LMC Automotive, retail sales are projected to reach 1,096,500 units, a 3.8% decrease compared with November 2017 on a selling day adjusted basis. 
"While the continued decline in retail sales is disappointing, record transaction prices remain an encouraging indicator for the long-term health of the industry," said Thomas King, Senior Vice President of the Data and Analytics Division at J.D. Power.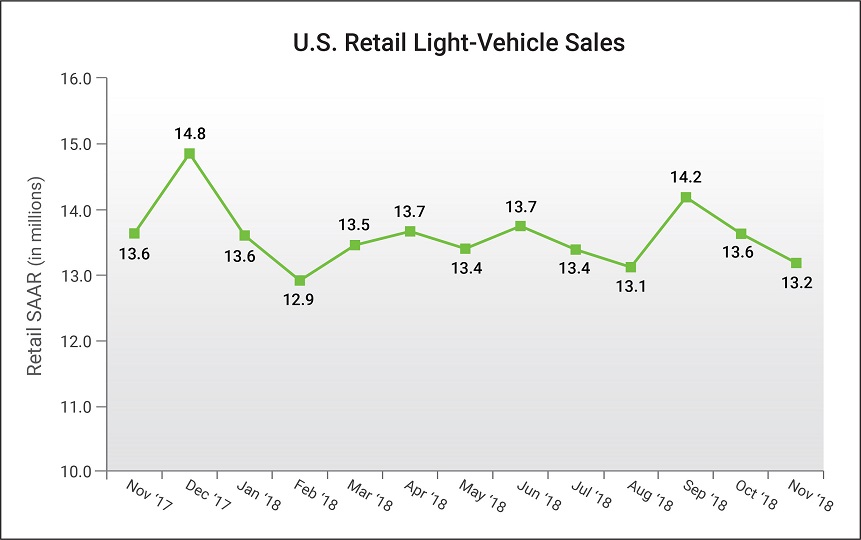 The average transaction price in November is on pace to reach US$33,697, the highest level ever recorded. The record prices reflect higher prices trending for both cars (up 4% to US$27,407) and trucks/SUVs (up 1% to US$36,123), coupled with the ongoing shift in sales from cars to trucks. So far this month, trucks/SUVs account for 71.2% of retail sales, compared with 66.6% in November 2017.
Thanksgiving weekend is one of the busiest selling periods of the year and is expected to account for nearly 20% of November sales.
Meanwhile, a forecast released today by Cox Automotive expects new-vehicle sales pace in November to be 17.1 million units on a seasonally adjusted annual rate (SAAR), a decrease from October's strong 17.5 million level, but on pace with the market's 2018 overall average. Monthly sales sales expected to be 1.36 million units, down 2.6 percent from November 2017.
"The market continues to outperform our earlier forecast with expected headwinds being offset by other market factors," said Charlie Chesbrough, senior economist at Cox Automotive. "Looking ahead, affordability concerns – attributable to increasing interest rates, weakness in home construction and volatility in the stock market are growing headwinds to watch. However, sales in 2018 will be above 17 million, which is a very strong market indeed. How long this pace continues is the key question."
Edmunds forecasts that 1,376,253 new cars and trucks will be sold in the U.S. in November for an estimated seasonally adjusted annual rate (SAAR) of 17.3 million. This reflects a 1.3% increase in sales from October 2018, but a 1.3% decrease from November 2017. 
Edmunds analysts note that this month marks the first drop since 2009 in November sales, which have grown year over year in part due to increasing demand following the recession, and in part due to November becoming a bigger sales month thanks to automakers and dealers capitalizing on Black Friday.
For the first time, estimates for Tesla are included in the Edmunds retail SAAR calculations, volume forecasts and market share estimates for November. Edmunds analysts note that Tesla's increasing impact on the market makes it necessary to include these figures as part of the overall industry sales picture, and as a result will continue to include them monthly moving forward.
MexicoNow
Related
– Despite a marginal increase of 0.4%, US auto sales beat estimates in October
– Here's how sales of Mexico-made vehicles ended up in the US market in October