Volkswagen's Puebla plant creates respiratory assistance device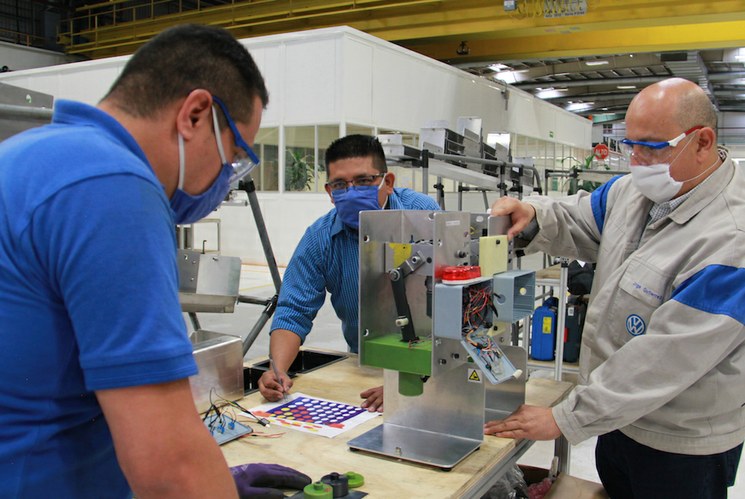 PUEBLA — Steffen Reiche, president of the Executive Council of Volkswagen of Mexico, presented via videoconference a prototype of "electronic emergency respiratory assistant" developed by the German firm, and intended for the treatment of patients with COVID-19, which is expected to be authorized by the Federal Commission for the Protection against Sanitary Risks (COFEPRIS), in order to be distributed to different hospitals within the country.
The plant installed in Puebla has developed these "electronic emergency respiratory assistance" devices, to support hospitals in the treatment of patients infected with coronavirus, the device works as an auxiliary during the procedure that a person performs while activating a manual resuscitator, allowing to control the patient's breaths per minute.
Volkswagen's engineers in conjunction with universities, health organizations and various companies, detonated this project within five weeks, according to the president of the Executive Council of VW in Mexico.
The "heart" of this device is a motor that is used in the Passat's windshield wiper system. This device has a medical pipeline circuit designed by Volkswagen health and engineering specialists; through a valve system they control the inhalation and exhalation branches, both with exact pressure and thus avoid lung collapse.
The director of corporate communication and government affairs of Volkswagen, Mauricio Kuri, stressed that the difference of the artificial respirators that have arrived in Mexico in recent weeks from China and the United States, are for serious cases that operate through a different mechanism and the device created by Volkswagen has as objective to treat delicate but not critical cases.
"The health authorities have already understood this difference and that is why we believe that we will soon have the necessary certifications to donate the first 50 devices," said Kuri.
Once certified, the fans made by Volkswagen will be sent to Mexican hospitals starting in Puebla and Guanajuato.
Source: Cluster Industrial